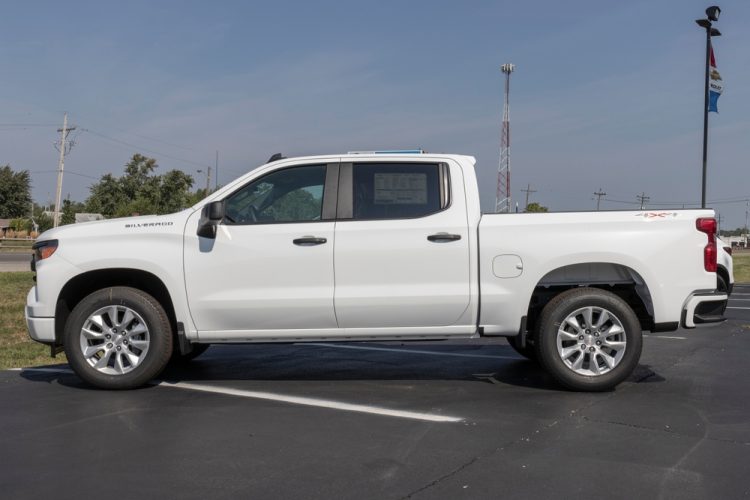 The towing capacity of your Chevy Silverado will depend on the model, the engine and the model year. Chevy has always used towing capacity as a major selling point of this particular model and, in most cases, you can tow an amazing amount when properly equipped. In general, the higher the series number, the higher the load-carrying capacity.
Understanding the towing capacity of your truck is vital since it can be a serious safety issue if you try to hook up too much weight. Learning the proper way to balance and pull weight is also a critical skill. Since you always want to be as safe as possible in your pickup truck, make sure you also have the appropriate truck insurance to keep you protected.
Understanding Towing Capacity
First things first. Before you hook something up behind your truck, you should understand exactly what towing capacity is, what affects your capacity and the difference between payload and towing capacity.
Definition of Towing Capacity
This refers to the maximum number of pounds that can be safely pulled behind a vehicle. This is determined by the manufacturer after extensive testing at the factory.
Factors Affecting Towing Capacity
There are numerous factors that go into determining how much weight you can safely pull. Some of these include:
The size of your engine and its torque
Transmission (rear- or front-wheel drive)
Load ratings
Frame design
Structural integrity
Wheel, tire and suspension load ratings
And more
Chevrolet Silverado Towing Features
Chevrolet prides itself on manufacturing trucks that excel at towing. This is one of this vehicle's main selling points. Some included and extra towing features are:
6-, 8- or 10-speed transmission
Extendable trailering mirrors
Trailer brake controller
Heavy-duty hitches
Tow/haul mode
Trailer light test system
And more
Difference between Payload and Towing capacity
Don't make the mistake of mixing up the payload and towing capacity. The payload is the amount of weight your Chevy can carry, while the towing capacity is the amount of weight it can pull. Your owner's manual can help you learn how to use these different weights to estimate your towing ability.
Chevrolet Silverado Towing Capacity by Model and Year
As mentioned, your truck's towing capability depends on the model, year and engine. You can decide which fits your normal towing opportunities the best. For example, towing a boat to the lake will be a different capability than carrying logs up a steep incline.
Silverado 1500 Towing Capacity
The Silverado 1500 is celebrated for its ability to tow. Many drivers choose this specific make and model due to its V8 max tow rating of 12,500 lbs. and 420 hp and 460 lb.-ft. of torque. Let's take a look at some of the individual year models.
Silverado 1500 Towing Capacity (2010-2013)
This truck can pull on average between 10,500 and 10,700 lbs.
Silverado 1500 Towing Capacity (2014-2018)
The 2014 Silverado saw an overhaul of sorts, with new EcoTec3 engines, revised steering, suspension and braking for a smoother ride and innovative connectivity features. Can tow up to 12,000 lbs.
Silverado 1500 Towing Capacity (2019-Present)
An improved towing capability of up to 12,500 lbs. depending on engine size. You can choose from 4 different engine options.
Silverado 1500 Towing Capacity by Engine
4.3L V6 Engine: Tow up to 7,600 lbs. with 285-horsepower and 348 lb.-ft. torque
2.7LTurbo Engine: Capable of payloads up to 7,000 lbs. with 310-horsepower and 348 lb.-ft. torque
6.2L V8 Engine: Capable of pulling up to 12,500 lbs., with 420 horsepower and 460 lb.-ft. torque
5.3L V8 Engine: Capable of towing up to 11,000 lbs. with 355-horsepower and 383 lb.-ft. torque
Silverado 2500HD Towing Capacity
The Silverado 2500 HD is said to match the towing capacity of other trucks on the market, like the Ford F-Series, but has a nicer interior, according to this review. Even though it's a big truck, with updates that have made it easier to handle and drive, people are even taking this beast off-road for fun on the trails.
Silverado 2500HD Towing Capacity (2010-2013)
These older model 2500HD trucks still have impressive towing abilities, coming in at around 16,000 lbs.
Silverado 2500HD Towing Capacity (2014-2018)
The 2014 models increased the standard towing ratings up to 17,800 lbs. with a payload ability of 4,200 lbs.
Silverado 2500HD Towing Capacity (2019-Present)
Joining the Chevy truck family, this newbie incorporates the latest in digital perks, including a standard Infotainment system and an optional Navigation package, Bluetooth, a heated steering wheel and much more. Towing capacity is over 20,000 lbs. and torque is increased to 910 lb. ft.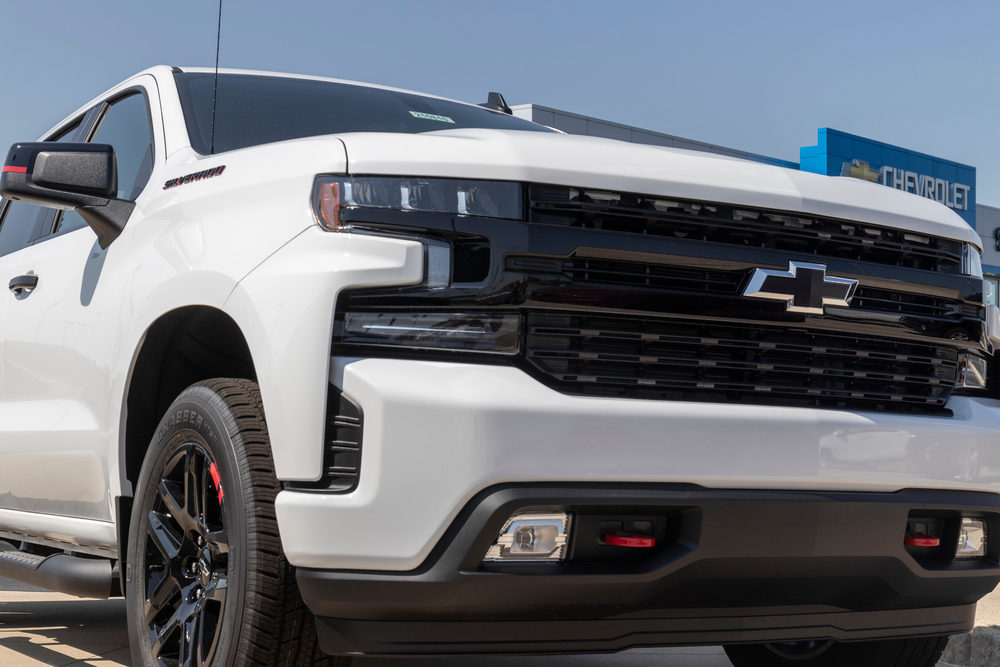 Silverado 3500HD Towing Capacity
Designed and built to handle even the toughest towing jobs, the Silverado 3500 HD tows up to 36,000 lbs., and comes in an optional luxury trim package, although it's not designed for the weekend gardener who is buying and hauling a couple of bags of mulch. This beast is for those who need to haul an excessive amount of weight.
Silverado 3500HD Towing Capacity (2010-2013)
Tows up to 16,700 lbs. and introduces a more comfortable interior and a Bose sound system.
Silverado 3500HD Towing Capacity (2014-2018)
New for 2014, standard towing ratings increased by 4,500 lbs. and the previously optional 4.10 axle became standard. By 2018, the 3500 could tow a 23,300 lb. fifth-wheel camper.
Silverado 3500HD Towing Capacity (2019-Present)
The latest 3500 HD truck has the ability to tow up to 36,000 lbs. It comes with a hefty 400 horsepower engine and all the latest innovative safety features.
Improving Your Silverado's Towing Capacity
Although the Chevy Silverado truck is built to handle heavy-duty towing, there are some things owners can do to help improve their truck's function.
Upgrades and Modifications
There are many options on the market for those who want to buy some after-market upgrades for their Chevy truck. Whether you are looking for a performance boost or just an appearance glow-up, you can find a variety of choices.
Suspension Upgrades
Eliminate sagging and swaying by installing a heavy-duty suspension coil springs upgrade. You'll notice a difference in how your truck handles and stops.
Performance Parts
The Superchips Flashpaq F5 Tuner is a pre-loaded tool that allows you to increase your torque, towing capabilities, mileage and horsepower. You'll be surprised at all the things you can adjust and improve with this nifty little gadget, designed for 2014-2017 5.3L models.
Another handy contraption is the Throttle Body Spacer, which are designed to boost off-idle to mid-range power and efficiency.
Towing Accessories
You can buy and use a Modular Intake Tube to increase the power of your truck. This little gadget improves the airflow between the airbox and manifold – giving you more power and your truck better air quality.
A single exhaust system upgrade improves the performance and power of your pickup through adding a polished tip to the exhaust system (plus it looks pretty cool, too)!
Safe Towing Tips for Chevrolet Silverado Owners
You can buy the truck that is more than enough for your towing needs, upgrade it to peak performance and add all the bells and whistles – but if you don't practice safety when pulling, none of that will matter.
Correctly Loading Your Trailer
There are several steps you should follow when loading a trailer. Of course, loading a trailer properly has something to do with the trailer itself, but these general tips will help.
Start with a level surface and chock the trailer wheels. You'll want to load the heaviest items first and distribute the weight 60/40 (60% over the front wheels and 40% over the rear wheels). Tie down your load.
Always check your light and braking systems before heading off.
Adjusting your driving habits for towing
As mentioned, before you even get on the road, check all the lights and brakes. Adjust your rearview and side mirrors so you can see correctly. Make sure all the tires have the correct PSI.
When driving:
Take corners slowly, steadily and more widely than normal
Stop at once if you feel something shift
Use wheel chocks whenever you need to stop
Towing laws and regulations
Towing is regulated by laws specific to each state. However, there are some rules and regulations that are generally the same everywhere, including:
Depending on what you are towing, your trailer may need to be registered.
Depending on what you are towing, you may need to have an endorsement on your driver's license.
Some states have trailer height, length and weight restrictions.
Ensuring a Safe and Enjoyable Towing Experience
Before you hit the road to tow anything, make sure you have the right insurance coverage to protect you – and other people on the road. At Freeway Insurance, we have affordable options to protect your truck and trailer. Check us out online for a quick quote, give us a call at (800) 777-5620 or stop by one of our convenient locations.
Ready to Get a Quick Quote?