Do you feel a twinge of jealousy when you see people pulling fifth-wheel campers while driving past you on the road? You want to enjoy that lifestyle, but you still need to learn more about it. Before you start shopping for one, get informed about fifth-wheel campers. It won't be long before people feel jealous of you when you whiz by with your camper.
What Is a Fifth-wheel Camper?
A fifth-wheel camper is similar to a travel trailer. However, a fifth-wheel is more spacious, making it much more comfortable for campers. Also, a 5th wheel's hitch is located in the center of the bed of the truck. A travel trailer attaches to a ball hitch on the back of the truck.
What Are the Best Fifth-wheel Campers?
If you're shopping for fifth-wheel campers, you might be overwhelmed with the options. You want to buy one that will last a long time, so what should you select?
If you're starting, consider the Keystone Avalanche. You can choose from floor plans that sleep 4-9 people, so you can go as cozy or spacious as you want. This fifth-wheel trailer is durable and easy to tow, so it's an excellent way to get used to this way of life. It also has some unique features, including frameless windows and a shower skylight.
Redwood's Redwood line is also an excellent choice. There are tons of floor plans, and you can get one that sleeps up to six people. Each floor plan is loaded with amenities that make it ideal for living on the open road.
The Heartland Bighorn 5th Wheel is also a massive hit with travelers. There are also different floor plans available, and you can upgrade features to make it even more luxurious. This 5th wheel trailer has a huge bay window in the back to take in the views when you're camping.
How Much Do Fifth-wheel Campers Cost?
People pay an average of $35,000 for a 5th wheel trailer. Depending on your budget and needs, you can find fifth-wheel campers above or below the average price. Some people pay up to $50,000, while others get one for just $20,000.
Are Fifth-wheels Safer Than Travel Trailers?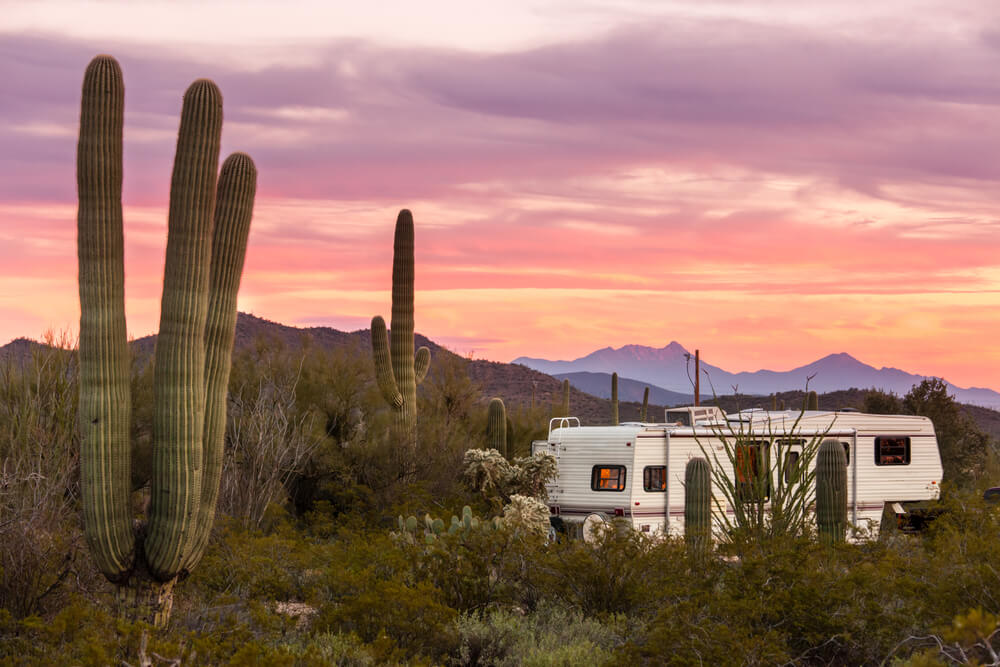 Fifth-wheel campers are generally considered safer to tow and easier to maneuver, making them more reliable than travel trailers. The hitch is located higher than it is for a travel trailer, so you get a better turning radius. The higher hitch also keeps 5th wheel campers stable when driving, so you don't have to worry about the wind knocking you around on the road.
How to Move a Fifth-wheel Trailer
If you want to hit the open road, you'll need to get a truck to handle the 5th wheel camper. While most people focus on the towing capacity when selecting a truck, it's not nearly as important as the payload capacity.
Ensure the truck's payload capacity can handle the weight of the truck's cargo, passengers, and 5th wheel hitch pin. Otherwise, you will put too much stress on the axles, overloading it.
Shop for 5th Wheel Insurance Coverage
If you get a fifth-wheel camper, you need to protect your investment. There are different coverage options for fifth-wheel campers that ensure you will have the protection you need if anything goes wrong. Reach out to a licensed insurance agent to find out more about specialized coverage for fifth-wheel campers.
Did you know that Freeway Insurance offers coverage for your camper? Get the peace of mind you need and start your free RV insurance quote online, over the phone or at one of our offices near you.
Ready to Get a Quick Quote?