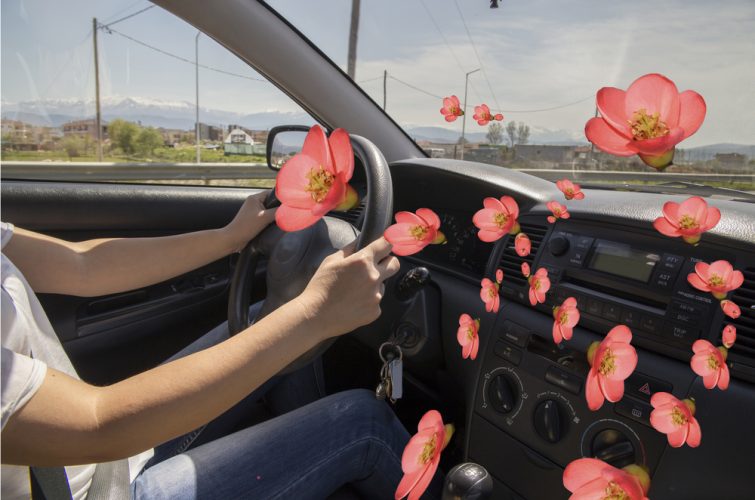 Some of us spend more time in our vehicle than we do anywhere else. That means the smells that accompany our daily lives end up in the nooks and crannies of our automobile and that contributes to strong odors, especially ones that come from food and things like cigarette smoke. How would you feel if someone told you your car smells bad? There could be many reasons why it smells bad, especially if it is an older vehicle. Unpleasant odors can come from no fresh air, such as during winter, as well as strong fragrances, like perfume.
What's the remedy? Besides buying a new vehicle, maybe you are considering a car air freshener. But the selection is huge! How do you know which one works the best – plus has a scent you can handle? Not to worry, we've done some research for you and have come up with a list of the 6 best ones based on different factors. But first, let's dive into what makes your auto smell good and how the different ones work.
Start with a Clean Slate
Most types won't eliminate bad odors, they'll make an attempt to mask the smell. But in the long run, the scent will simply become a part of the stink – and sometimes that's even worse than the smell by itself. The best way is to start with a clean slate. Follow these basic steps:
Dispose of trash – You should start by throwing away any old fast food wrappers and other detritus.
Remove mats – Take out removable mats and clean separately.
Vacuum – Next, vacuum. Get into and under the seats.
Wipe down – Wipe all surfaces with an approved interior surface cleaner. You may need to use some ingenuity or special tools to get inside your vents and other difficult to reach areas. Be sure and clean windows inside and out with a glass cleaner.
Shampoo – You should shampoo the seats and carpets.
Let it dry and air out. If this all sounds like too much – take it to a detailer and let them do the work for you! Once your car is clean, it's time to decide on an option.
What's in a Fragrance?
Did you know that some people actually like the smell of skunk? It's true and the data behind why we like the smells we do is one reason why it's so hard to find a scent everybody loves (or hates). Car air fresheners are manufactured depending on type. Solid and gel ones have scent or essential oils embedded, while sprays make use of compressed propellants. You can even make your own homemade type, if you like. You'll want to find something that is spill proof.
One popular scent is new car smell. It's something we associate with a brand new automobile and, for that reason, it cannot be exactly replicated. That smell comes from various components of a new vehicle, such as plastics and vinyls. However, there's no lack of trying to come up with this smell and the good news is you may find a brand of new car smell that appeals to you.
Let's take a look at the 6 best ones.
1. Febreze Car Air Freshener
Based on Amazon reviews, these are the best thing since sliced bread. The clip-on type has a 4.6 star rating and it's easy to understand why. You can buy them relatively inexpensively in the store or online, they simply clip onto your air conditioning/heating vents and use the flow of air to propel a fresh scent throughout. Enthusiasts claim the fresh scent lasts for a long time.
Most people seem to prefer the Fresh scent, which is mild and clean. However, it comes in a variety of scents.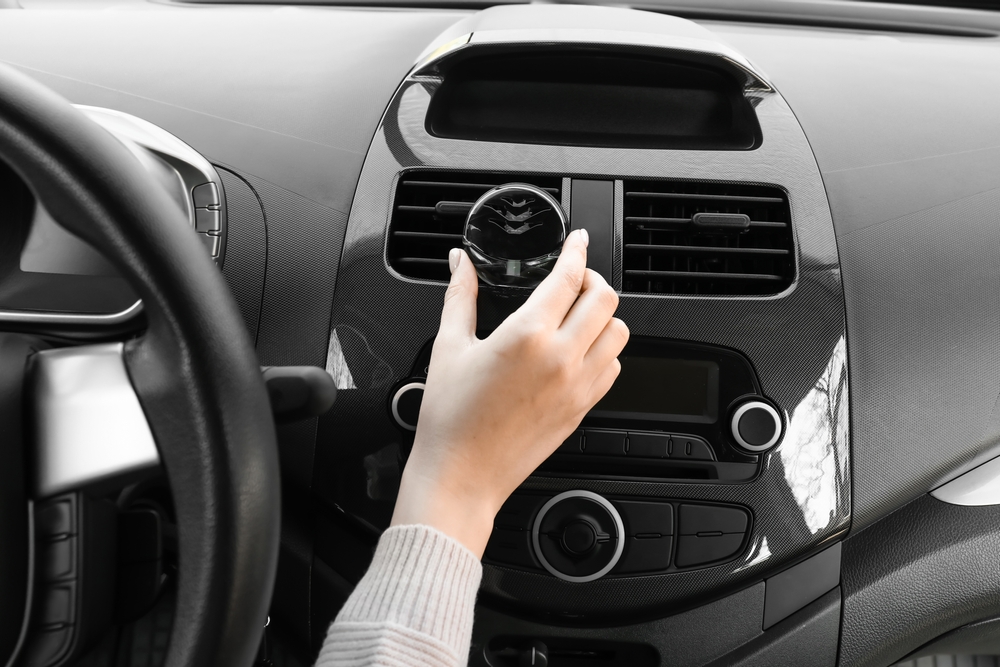 2. Moso Natural Air Purifying Bag
The secret ingredient in the Moso Natural Air Purifying Bag is bamboo charcoal. As most people know and appreciate, bamboo is a resource in nature that grows (and regrows) quickly. And it seems a majority of people feel that this method of freshening the air really works and, as a bonus, absorbs moisture.
The Moso Natural Air Purifying Bag comes in different small linen bag sizes and is affordable. Best of all, they can be used in a variety of small spaces in your home and vehicle that need some help with odors: tennis shoes, under the sink, near diaper pails and more. Another plus consumers brag on is how long they last – and they can be rejuvenated by placing them in the sun once a month.
3. Yankee Candle Car Air Fresheners
People who love scented candles will love these miniature hanging Yankee Candle jars. After all, more than 18,000 5-star ratings on Amazon can't be all wrong. They come in a pack of three and while most people think they are really cute, the smell doesn't seem to work as well in high heat. Since they come in more than 22 scents and are subtle (maybe a little too subtle for some), this is a good buy.
4. Little Trees
These rearview mirror hangers are more than a little iconic and have become beloved over the years. They are simple to use, easy to find, cheap and come in a wide variety of styles and smells – enough to suit everybody's nose. Little Trees are made in the U.S.A., which just adds to the attraction. Many people give the Black Ice selection top marks. It's described as a masculine fragrance comprised of sandalwood, bergamot and lemon, but it may be a bit strong for some.
5. Bath and Body Works
Leave it to Bath and Body Works to come up with a large assortment of great smells in really cute clip-on holder designs that can be used anywhere inside. From Pink Pineapple Sunrise to Champagne Toast, for those who want to decorate as well as get all the smelly feel-goods, these may be the choice. You can buy them in the store or on Amazon and they come in a four-pack. The Endless Weekend choice received 4.5 stars from consumers who said it's not overbearing, but some complained the smell wasn't strong enough, so as with most things, it comes down to your personal preference.
6. Air Spencer CS-X3 Car Air Freshener
Garnering 4.5 stars from more than 1,600 consumers on Amazon, the Air Spencer gets rave reviews for its strong and long-lasting smells. It comes in a cassette style casing that can be stuck on the dash or, probably better, stuck under a seat or some other place out of direct sunlight. The scent is called Squash and is described as a sweet with notes of citrus. For some, the freshener petered out too soon and it's a little more pricey than other options.
Homemade and Other Honorable Mentions
Our list is the top 6, but of course, there are many others to choose from, including homemade. This cheap and easy option is fun, customizable to your favorite scents and lasts for days. In most cases, you'll be putting your "brew" into a spray bottle and using it to mist the upholstery and floors occasionally. Just be careful that you don't over-mist and end up creating a water and essential oils stain.
20-30 drops of your favorite essential oil
2 Tablespoons baking soda
Water
Spray Bottle
Pretty self explanatory. Activated charcoal is another DIY method. Other honorable mentions include:
Refresh Your Car Odor Eliminator scented gel can, which comes in variety of "flavors" like cucumber melon and can be stashed under the seat for a long-lasting fragrance odor controller
The Chemical Guys, who put out a variety of scents in a variety of carriers (such as sprays, rearview mirror hangers and more) and have garnered 4 stars on Amazon from more than 33,000 consumers.
There are also plenty of products out there that claim to target specific stinks, such as wet dog (remember taking your furry friend to the beach?) or other pet accidents and Ozium, which consumers rate highly for helping get rid of old cigarette smoke odor.
Protect That Perfect-Smelling Car with the Most Affordable Auto Insurance
Now that you've got your vehicle smelling delightful for friends and family (and yourself), make sure you've got the right car insurance to keep it protected as you travel the roads. At Freeway Insurance, we can help you find the insurance that best suits your needs and budget. Get a fast and free online quote, call us at (800) 777-5620 or stop by one of our convenient locations.
Ready to Get a Quick Quote?