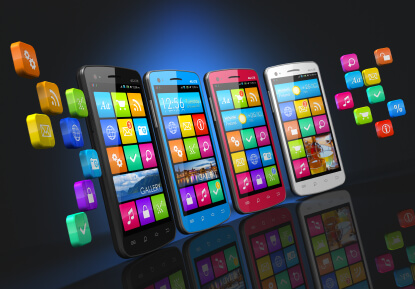 With technology and smartphones being so prevalent in today's culture, we have developed a list of 10 smartphone apps that all drivers should check out, including those related to auto insurance.
AAA Roadside Assistance
Platform: iPhone
Cost: Free
AAA has three apps available for the iPhone. AAA Mobile combines maps, directions and roadside assistance features along with discount information all into one app. Enjoy additional features on the iPad version. AAA Insurance helps you gather the necessary information in case of an accident and allows you to request a tow truck using your iPhone's GPS locator. AAA Auto Buying Tools has several features that help you throughout the car-buying process.
BMW Ultimate Drive
Platform: iPhone/Android
Cost: Free
BMW's Ultimate Drive app shows the best and most challenging roads — presumably to drive your new ride along — You can upload your own favorite routes that get added for others. When you're done, you can share your routes on Facebook or send to a GPS device to get you there quickly.
Nissan Leaf
Platform: iPhone/Android
Cost: Free
On the surface, the app allows users to see some of the Leaf's features in action. You can also turn on the air conditioning while it's plugged in, which brings the cabin temperature down (or up) while still on "free" energy.
GM's myBrand: myChevrolet, myCadillac, myGMC, myBuick
Platform: iPhone, Android
Cost: Free
GM has brand-specific apps that bundle a bunch of features into one free app for iPhone or Android devices. You can use it to find where you parked your car, and unlock it via OnStar when you get there. GM also uses the app to pass along current sales offers.
Scion Owners
Platform: iPhone, Android
Cost: Free
While its internet radio app is interesting, the Owner's app is more compelling. By registering the app, you connect with the Scion owners' website where you can join other people in the Scion community, watch how-to videos and keep abreast of events.
aCar
Platform: Android
Cost: Free
aCar is a free app that allows you to track fuel mileage, maintenance schedules, including service reminders. It'll even allow you to track mileage and expenses for business and claim reimbursements. And, if you have more than one vehicle, aCar will happily track them all.
Carrr Matey
Platform: Android
Cost: Free
While the Take Me To My Car app for iPhone is functional, the Carrr Matey app for Android produces more smiles. This pirate-themed program never lets you forget where you parked. Plus, it includes a timer so you'll always know when to feed the meter.
Trapster
Platform:Android
Cost: Free
Trapster uses the phone's GPS to cross-reference your current location against the list of speed traps and red-light cameras that millions of users have entered into the system. The app displays blue lines where other Trapster users have recently patrolled, and the alert area changes based on your speed and direction.
Motion X GPS Drive
Platform: iPhone
Cost:$0.99
Although you're forced to pay for it, the Motion X GPS Drive app for iPhone is the best GPS program going. It features door-to-door navigation, live search, and Wikipedia's point-of-interest information. It also has live traffic flow maps.
FuelFinder
Platform: iPhone
Cost:$2.99
Fuel Finder is the most expensive app listed, but when used properly saves you big at the pump. Like Trapster, Fuel Finder uses up-to-date prices that have been added by users searching for the best prices. It also breaks out stations that offer diesel fuel or have extras like car washes and ATMs.
Ready to Get a Quick Quote?