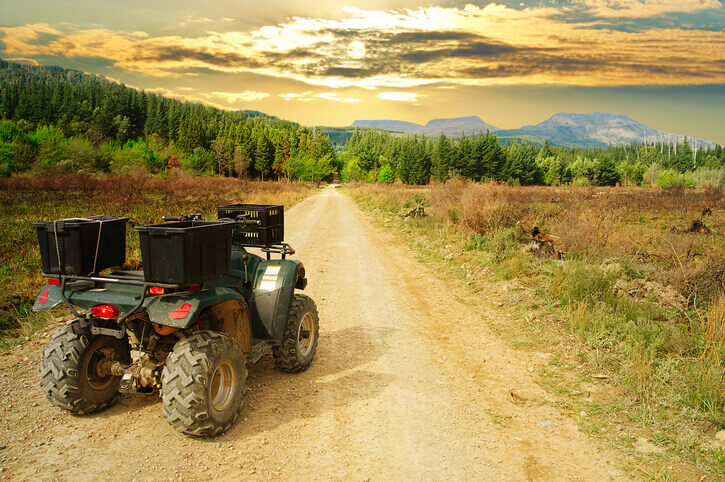 All-terrain vehicles (ATVs) give you the chance to drive through rugged, wild, remote places at high speeds. Few places in Florida are more well-suited for this intense kind of fun than Ocala National Forest. With all the natural beauty and high-speed excitement, it's easy to overlook the need for ATV auto insurance on a trip to the forest. However, it's an essential part of having a safe time in an off-road environment. Here are the top five ATV insurance tips we think you should consider.
1.) You Should Protect Yourself Financially in Case You or Another Driver Gets Injured.
ATV collisions aren't uncommon. People take corners too fast, turn too quickly, and roll off-road vehicles onto their sides. While major ATV injuries and ATV-related deaths are rare, minor injuries do result.
With ATV insurance, you give yourself an extra layer of protection in case you're the one who rolls your vehicle and breaks your arm. Your insurance will take care of your medical bills. In the event you collide with another ATV, the other party's medical bills also will be paid for. That alone could save you thousands, if not tens of thousands of dollars.
2.) You Should Protect Your ATV in Case It Gets Damaged.
A new ATV can cost more than $5,000. If you've chosen to invest in this fun vehicle, then you've dropped quite a bit of money. The initial purchase, plus any repairs, trailers, and towing costs, adds up. You don't want to lose that money if you get into an accident and total your ATV. ATV insurance lets you repair and, if necessary, replace your ATV in the event of a collision.
3.) You Should Have Coverage for Property Damage.
Off roading is a rough-and-tumble activity. Sometimes properties get damaged without ATV drivers realizing it. ATV insurance can cover that property damage and pay legal fees in case the property owner tries to sue you.
4.) You Should Examine What Kind of Liability Insurance You Need.
According to the National Off-Highway Vehicle Conservation Council, ATV use on private land frequently presents liability issues. ATV drivers assume liability as they drive on municipal, state, and federal lands.
These lands see regular maintenance, offer medical assistance, and employ rangers to protect riders as they travel in an off-road environment. They also have legal protections in the event that an ATV driver gets injured on public land and attempts to sue. Private lands, on the contrary, rarely have these kinds of protections. As a result, ATV drivers are responsible for checking which kind of liability insurance they'll need to travel on private land. It varies from state to state.
5.) You Can Find ATV Insurance Quotes Online.
ATV insurance doesn't need to cost you an arm and a leg. It should be affordable. It also should provide you the exact kinds of coverage you need. Don't let insurance providers talk you into additional forms of coverage and monthly premiums that you can't reasonably afford. You can find great ATV insurance quotes online.
Call Freeway Insurance today to find a great selection of ATV insurance plans. Our team is available to answer any questions you may have about your ATV insurance. To learn more, call us today at (888) 443-4662.
Ready to Get a Quick Quote?