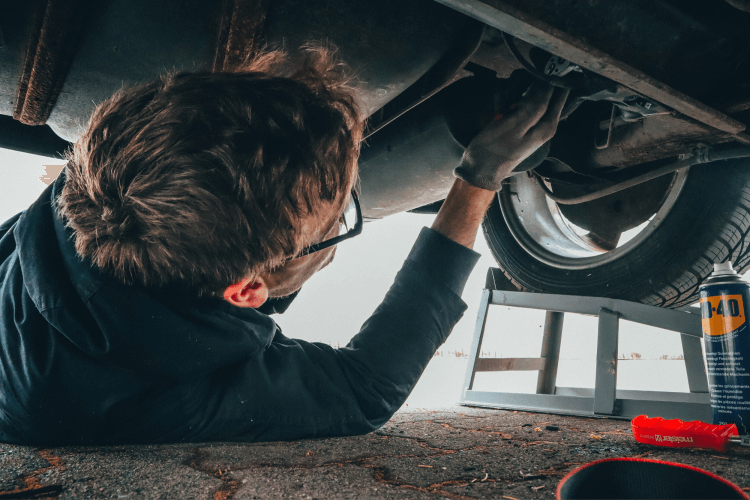 You don't have to be a mechanic to keep your car well-maintained and running like a well-oiled machine—literally. There are many things anyone can (and should) do to keep their car running efficiently and safely, which can also help you avoid costly repairs and keep your auto insurance premiums low. Here are some maintenance tips for checking on your car yourself, before having to head to the mechanic.
1. Check Your Headlights, Turn Signals, Brake, and Parking Lights
One of the easiest and most important things to check on your vehicle are your various lights. Not only could you get a ticket for not having properly functioning lights on your car, but it's a very important safety issue.
The best way to check all your lights is to have another person assist you, with one turning on and off the lights while the other stands outside the vehicle to be sure they are lighting up when they should be. This should be checked about once a month. If any lights are out, replacing the bulb is fairly simple or you can reach out to your mechanic.
It's also a good idea to keep your headlights and brake lights clean. One cleaning hack is to mix toothpaste with baking soda and apply in small circular motions to your headlights. Once dirt is gone, wipe off the leftover paste.
2. Maintain Proper Tire Pressure
Keeping your tires in good condition is simple and can save your life. In fact, according to the National Highway Traffic Safety Administration, In 2017, a total of 738 people died on the road in tire-related crashes.
"Not having enough air in your tires and failing to rotate your tires, among other maintenance requirements—can lead to a flat tire, blowout, or the tread coming off your tire," the National Highway Traffic Safety Administration advises.
It can also save you money! Properly inflating your tires can save you as much as 11 cents per gallon on fuel. Some say overinflating tires can save even more money by increasing mileage, but don't forget that car and tire manufacturers work side by side to develop tire pressures that are optimal for each type and size of vehicle. Following their suggestions is best.
In order to maintain your tires, you'll need a tire pressure gauge to check your tire pressure. Check the pressure of all of your tires (including your spare) at least once a month. You'll want to do this when the tires are "cold," meaning that the car hasn't been driven for at least three hours. You can find your tires' proper tire inflation pressure on the Tire and Loading Information Label on the driver's side door edge or in your owner's manual.
If the tire pressure is too low, you can add the missing pounds of air pressure to each tire that is under inflated at most gas stations. You can also use a motorized portable air compressor or many tire shops will properly fill your tires for free.
Additional proper tire maintenance, such as rotation, balance and alignment, can help your tires last longer, which will also save you money. Nearly any and every auto mechanic can perform these services quickly.
For help safeguarding your tire against unforeseen road hazards, you might check out Freeway's Tire Hazard Protection Plan, which can help ensure that your tire is repaired quickly while saving you high repair or replacement costs*.
3. Wax Your Vehicle
This may seem like a vanity task, but on top of helping keep your car's exterior shiny, it can also help keep the paint in good shape and reduce the chance of rust. You may be surprised how many environmental things can damage your paint, like dust, sand, and salt, which can build up and other environmental factors, like ozone and ultraviolet light, which can cause microscopic damage.
Don't attempt waxing your car in direct sunlight or freezing conditions. Be sure to wash your car thoroughly beforehand and get it nice and dry. Also, don't confuse waxing with polishing. The downside about polish is that it contains abrasives that essentially remove parts of your car's paint job. Waxing, on the other hand, adds an extra layer over your car's finish, which provides more protection.
4. Check Your Air Filter
Air filters prevent problematic materials from reaching the engine and other important car parts. They also contribute to keeping the appropriate balance of fuel being consumed, ultimately helping your car and engine last longer.
Some symptoms of a dirty air filter could be your check engine light turning on, lower horsepower, black, sooty smoke leaving the exhaust pipe, or the smell of gas when the engine starts.
The best way to tell is to lift it out and hold it up to the sun or to a strong light. If it's too dirty to see through, you need a new one.
5. Replace Your Windshield Wipers
Knowing when to change your wiper blades can save you money, prevent damage to your windshield glass, and keep you safer. Most windshield wiper manufacturers recommend replacing them every six to 12 months. Before the rainy season in your area is a good rule of thumb. In fact, there are certain maintenance things to check on your vehicle specifically for the hot months and for winter.
If you're not sure if it's time yet, any signs of squeaking noises, vibration or chattering noises, excessive streaking, and wet spots could indicate they need replacing. For when more than just your wipers are causing windshield issues, Freeway Insurance offers a windshield repair plan.
While these are minor auto tips you can easily check on yourself, if you find yourself dealing with huge repairs due to an accident, you'll need the help of an auto insurance company. We can get you covered today. Request a free auto insurance quote right now, online or over the phone at (800) 777-5620. Our helpful agents can get your vehicle insured for a great rate. Get started today with Freeway Insurance.
Ready to Get a Quick Quote?