Bellevue was mostly farmland in 1920 when businessman James Ditty predicted the city would grow to over 200,000 residents. Today, Ditty's prediction is close to becoming true. In 2021, the city has a population of over 150,000 people.
Quick Facts
The average cost of car insurance in Bellevue is $1,493 per year.
According to the website City-Data.com, the average commute time in Bellevue is 22.5 minutes.
How Much Does Car Insurance Cost in Bellevue?
Car insurance rates in Bellevue are in between the national and state average. The average cost of car insurance in Bellevue is $1,493 per year, which is cheaper than the national average of $1,548 but more expensive than the Washington state average of $1,368.
Rates for car insurance premiums fluctuate for the different cities in Washington state.
| City | Annual Insurance Premium |
| --- | --- |
| Tacoma | $1,692 |
| Seattle | $1,665 |
| Spokane | $1,320 |
| Bellingham | $1,186 |
| Bellevue | $1,493 |
Bellevue Car Insurance Rates by Zip Code
The city of Bellevue is made up of five different zip codes, and the cost you'll pay for car insurance can differ depending on which zip code you live in. For example, zip codes with a history of accidents or auto thefts will have higher insurance rates.
The average monthly rates for car insurance in the different Bellevue zip codes are:
| Zipcode | Monthly Insurance Premium |
| --- | --- |
| 98004 | $84 |
| 98005 | $70 |
| 98006 | $83 |
| 98007 | $89 |
| 98008 | $106 |
Bellevue Car Insurance Rates by Age
Your age heavily impacts the price you're charged for car insurance premiums because of the risk factors in different age brackets. In Belleville, drivers in their 50s will pay the lowest rates of about $1,315 per year. Meanwhile, teenagers, who are often higher-risk drivers, will pay almost three times as much for car insurance as drivers in their 20s.
| Age | Annual Insurance Premium |
| --- | --- |
| Teens | $6,735 |
| 20s | $2,023 |
| 30s | $1,460 |
| 40s | $1,378 |
| 50s | $1,315 |
| 60s | $1,372 |
| 70s | $1,766 |
Driving Conditions in Bellevue
How Many Fatal Accidents Happen in Bellevue?
In 2019, five people were killed in traffic accidents in Bellevue. Only one of those fatalities was due to drunk driving. Although relatively low, that year saw more fatal accidents than in 2018 and 2017.
To eliminate traffic deaths and serious injury collisions on city streets by 2030, the city of Bellevue passed a resolution in 2015 to pursue a Vision Zero program. Funding for the Vision Zero program was included in Bellevue's 2021-2027 capital budget.
Vision Zero is a nationwide initiative that many cities have adopted. Bellevue's "Safe Systems" approach to Vision Zero incorporate four elements — Safe Speeds, Safe People, Safe Vehicles, and Safe Streets.
How Are the Road Infrastructure and Bridges in Bellevue?
The state of Washington gets a C- on its road infrastructure, with about 92% of the state's pavements in fair or better condition. Ongoing maintenance on the roads is needed as the number of vehicles on Washington highways continues to increase.
The state gets a C+ when it comes to its bridges. Of the 7,410 vehicle bridges in the state, 321 are in poor condition. There were a total of 4,979 bridges in Washington state in need of repair in 2017.
In 2021, the Bellevue City Council voted on a new I-405 interstate interchange. Critics of the interchange said that it went against the principles of the city's Vision Zero Safe Systems approach.
Minimum Car Insurance Requirements in Bellevue
Drivers in Washington state are required to have a minimum 25/50/10 liability coverage. That is:
$25,000 bodily injury liability per person
$50,000 bodily injury liability per accident
$10,000 property damage liability per accident
Factors Allowed in Bellevue Car Insurance Rates
When looking for cheap car insurance in Bellevue and the state of Washington, it's important to know what factors insurance companies look at to determine the rate that you will pay. Things you don't have control over, such as your age and gender, can impact your car insurance rates just as much as things you can control, like your driving record and credit score.
In Bellevue, the factors car insurance companies can look at when determining your rates are:
Age
Gender
Marital status
Credit score
Vehicle type
Driving record
Education
Occupation
Discounts for Car Insurance in Bellevue
To ensure you get the cheapest car insurance rates you can get, you should look into different discounts available to help bring the cost of your premiums down. For example, a Good Driver Discount rewards drivers with lower premiums if they haven't had any moving violations or at-fault accidents within the last three years.
Washington state law prohibits insurance companies from offering customer loyalty discounts, which reward customers for not switching companies.
Other discounts that could be available to Bellevue residents include:
Good Student Discounts

— These discounts are given to young drivers who maintain a "B" average or higher in school

Continuously Insured Discount

— If you've been insured for six months or more and haven't let your policy lapse, then you may be eligible for this discount.

Driver Education

— Drivers over age 50 qualify for a discount on their car insurance if they complete a defensive driving course.

Vehicle Safety Discount

— You could be eligible for a discount if your car has certain vehicle safety equipment, such as anti-lock brakes, airbags, and anti-theft devices.
What Are the Penalties for Driving Without Insurance in Bellevue?
If you're driving in the state of Washington, you should be prepared at all times to show proof of insurance if you get pulled over by law enforcement. You could face a fine if you don't have proof of insurance on you, even if you have coverage.
Drivers without at least the minimum 25/25/10 liability insurance coverage can face stiffer penalties, including suspension of their driver's license and misdemeanor charges. If you're driving without insurance and get involved in an injury accident or one that causes more than $1,000 in damage, your driver's license could be suspended for up to three years.
Get a Quote for Car Insurance in Bellevue Today!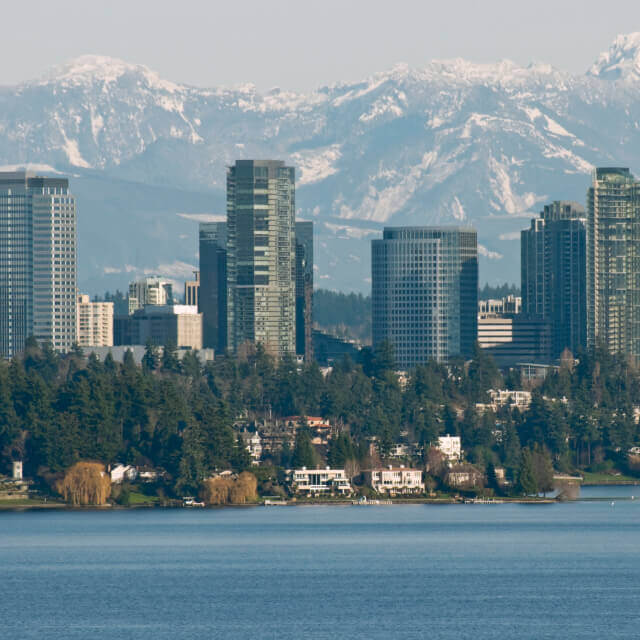 Don't get caught driving without the required car insurance coverage. Freeway Insurance can help find you the cheapest car insurance in Washington state.
Get started with a quote online, visit us at a Belleville office near you, or call us at (800) 777-5620 for a quote.