Ah, Las Vegas. The bright lights, the glitz, the glamor, the questionable lifestyle choices. There's a reason why "What happens in Vegas stays in Vegas." However, Vegas isn't just a vacation spot — it's home to over 634,000 people.
Despite its reputation as "Sin City," Las Vegas can be a great place to live. There are things to do 24 hours a day, it's more affordable than other major cities, and the variety of communities mean there's something for everyone. From the Arts district to family-friendly neighborhoods, you can find something you love in Vegas.
Quick Facts
The average cost of car insurance in Las Vegas is $2,640 per year
There are over 22,000 car accidents a year in Las Vegas
How Much Is Car Insurance in Las Vegas?
On average, car insurance in Las Vegas costs $2,640 per year. That's higher than the U.S. national average and the Nevada state average, but that's to be expected. Over 90% of Nevada's population lives in the Las Vegas area, and it's a major city with the associated higher costs. Your exact Nevada car insurance cost will depend on the types of car insurance you need, your driving history, and more.
| City | Average Annual Premium |
| --- | --- |
| Las Vegas | $2,640 |
| Henderson | $2,312 |
| Carson City | $1,736 |
| Reno | $1,733 |
Some of the rating factors that impact your car insurance cost in Las Vegas, NV, include your zip code, age, driving history, and the car you own. Those who have had a lot of accidents can expect to pay more, as can young drivers with little experience.
What's important is that you have enough insurance to cover your needs if there's a car accident. If you cause the accident, you are financially responsible for both your damages and injuries as well as the other party's. Fortunately, there are steps you can take to reduce your premiums, such as asking about discounts.
Las Vegas Car Insurance Rates by Zip Code
One of the biggest impacts on your car insurance rate is your zip code. A zip code has a lot of statistics that show how common car accidents and thefts are in the area. The insurance agency will also know how much they pay, on average, in that area. The more likely accidents are, the higher the rates will be.
Las Vegas has 77 zip codes, and each one may have different auto insurance rates. Knowing the average rates in your zip code can help you know what to expect when you get auto insurance quotes.
| Zip Code | Average Car Insurance Rate |
| --- | --- |
| 89199 | $2,525 |
| 89179 | $2,515 |
| 89166 | $2,306 |
| 89165 | $2,625 |
| 89161 | $2,611 |
| 89158 | $2,705 |
| 89156 | $2,837 |
| 89149 | $2,384 |
| 89146 | $2,895 |
| 89145 | $2,651 |
Las Vegas Car Insurance Rates by Age
Certain age ranges are statistically more likely to have car accidents, which means they pay more for auto insurance. You might expect that those in their teens and twenties pay more, but those 70 and older do as well.
Building a good driving record is an important part of keeping your insurance rates low, no matter how old you are.
| Age | Average Car Insurance Rate |
| --- | --- |
| Teenagers | $10,925 |
| 20s | $3,564 |
| 30s | $2,625 |
| 40s | $2,620 |
| 50s | $2,485 |
| 60s | $2,518 |
| 70s | $3,278 |
Driving Conditions in Las Vegas
How Many Fatal Accidents Happen in Las Vegas?
In 2019, there were 185 fatalities in Clark County, where Las Vegas is located. That's about one fatality every two days. Nearly 80% of the car accidents reported in Nevada happen in Clark County, which isn't surprising since the majority of the population lives there as well.
How Are the Road Infrastructure and Bridges in Las Vegas?
Road construction in Las Vegas seems to never end. Given the size of the city and how heavily it's used, there are always roads and bridges that need repair and maintenance. In addition, Las Vegas is focused on improving infrastructure, bicycle friendliness, and the transit system.
In 2018, Nevada as a whole received a C on infrastructure, which is an improvement from a C- several years earlier. Airports have been renovated, and a new fuel revenue tax in Clark County was used to address overdue road and bridge projects.
Minimum Car Insurance Requirements in Las Vegas
If a driver causes an accident in Nevada, they are responsible for paying for all the damages caused. That's because Nevada is an "at-fault" state. If you injure someone or cause damage to property, you can be sued to cover the costs. That's why you want to ensure you have enough car insurance coverage and the best car insurance in Las Vegas you can find.
In Nevada, the state minimums are:
Bodily Injury Liability: $25,000 per person, $50,000 per accident
Property Damage Liability: $20,000 per accident
Factors Allowed in Las Vegas Car Insurance Rates
Rating factors are allowed because they have been shown to help insurance companies predict the likelihood of accidents. When your risk as a driver is accurate, you'll pay the best rates available. As you improve your driving experience and record, your rates can go down and it can get easier to find cheap car insurance in Las Vegas.
The factors that can be used in Nevada include:
Driving record and claims history
Physical location
Gender
Age
Marital status
Type of vehicle
Credit score
Discounts for Car Insurance in Las Vegas
There are a lot of ways to save money on car insurance in Las Vegas. A multi-policy discount allows you to combine your homeowners, auto, boat, RV, or other insurance policies to pay less on each one. You can also take safe driving classes and get a discount.
Other discounts include:
Good student discount
Anti-theft discount
Good driver discount
Military discount
What Are the Penalties for Driving Without Insurance in Las Vegas?
When you drive without insurance, you're putting yourself and your financial future at risk. An accident could mean you get sued for tens of thousands of dollars, and your wages could be garnished. You can also lose assets you've spent your life saving for.
Nevada levies fines and suspends the registration of drivers who don't have insurance. You don't need to get caught, either — Nevada gets live updates from insurance companies on every registered car. If your insurance lapses, the state will send you a notice and suspend your registration.
The first time it happens, the state charges a $250 fee plus $250 to reinstate your registration. Future offenses could result in your car being impounded, much higher fines, and the requirement to have SR-22 insurance.
Get a Las Vegas Car Insurance Quote Today!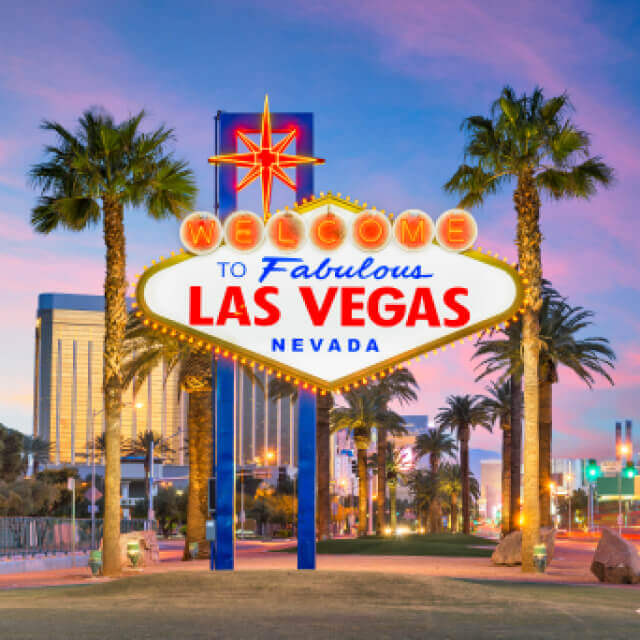 You need insurance to protect yourself and your future in case you cause an accident. State law in Nevada requires it, and the state is notified immediately if your insurance ends. Don't pay high fines when you could get cheap car insurance in Las Vegas instead.
Fortunately, Freeway is here to help you find the best car insurance for you in Las Vegas, Nevada. Get started with a quote online, or visit us at a Las Vegas office near you. You can also call us at (800) 777-5620 for a quote.