Without a doubt, Boston is one of the most-revered cities in the country. The capital of Massachusetts, Boston's 48 square miles offers a mix of city living and nature, known for Fenway Park, the Boston Marathon, and the Middlesex Fells Reservation with more than 100 miles of trails for nature lovers to enjoy. Money Magazine also declared it as the best place to live in the Northeast.
Boston's magic even extends to learning. It is home to one of the most student-dense populations in the country with an absurdly high number of colleges and universities, including Harvard and the Massachusetts Institute of Technology.
All in all, Boston residents enjoy a fine mix of arts, culture, and nature living. With all those people and visitors driving around to take in the sights, you'll want make sure you have good, affordable car insurance!*
Quick Facts
The average cost of car insurance in Boston is $49 per month.
In 2019, there were 19 reported fatal vehicle accidents in Boston.
*We use the following methodology to arrive at our average cost: male, age 30, lowest possible legal coverage allowed by state. Your rates will be determined by several factors, including your age, your gender and the amount of coverage you want to purchase.
How Much Does Car Insurance Cost in Boston?
On average, the cost of car insurance in Boston is $49 per month. This is higher than the U.S. national average of $39 and the average car insurance cost in Massachusetts, which is $43 per month.
To determine the exact auto premium to charge drivers every month, auto insurance companies take several factors into consideration. This includes driving history, age, gender, and make/model of your vehicle. Other factors include the city and town you live in. Insured persons are assessed by zip codes, with residents in some zip codes paying lower or higher premiums than residents in other zip codes.
It is very important to be covered by a comprehensive auto insurance policy. Failure to have one will result in full liability in paying damages should you be involved in an auto accident. Luckily, Boston drivers may be eligible for safe driver discounts if they have a clean driving history or a driving history without infractions/accidents for a specified period.
Boston Car Insurance Rates by Zip Code
In Boston, auto insurance premiums are subject to change depending on one's zip code. Residents of one zip code may pay higher insurance premiums than others based on that zip code's collective driving record and crime activity, such as car theft. This extends to age groups as well.
Here are the average rates for a sampling of Boston zip codes:
| Zip Code | Average Monthly Car Insurance Rate |
| --- | --- |
| 02108 | $49 |
| 02113 | $49 |
| 02118 | $49 |
| 02127 | $54 |
| 02163 | $51 |
| 02199 | $49 |
| 02215 | $49 |
Boston Car Insurance Rates by Age
In determining auto insurance premiums, age is one consideration. Some age groups pay a higher premium than others. For example, the average car insurance rate for a Boston teen is more than double than that of someone in their 30s. This is due to the collective driving record.
To keep premiums low regardless of age, it is very important to keep a safe driving record with no history of infractions or accidents.
Here is a breakdown of the average car insurance rate by age in Boston, Massachusetts.
| Age | Average Monthly Car Insurance Rate |
| --- | --- |
| Teenagers | $196 |
| 20s | $120 |
| 30s | $49 |
| 40s | $48 |
| 50s | $47 |
| 60s | $47 |
| 70s | $38 |
Driving Conditions in Boston
How Many Fatal Accidents Happen in Boston?
In 2019, there were 19 reported fatal accidents involving 24 total vehicles. Of these, there were 20 fatalities, and six accidents involved drunk drivers.
How Are the Road Infrastructure and Bridges in Boston?
When it comes to roads and infrastructure, Boston is always in different stages of new construction and maintenance/repair projects. For example, MassDOT (the transportation governing body) replaced toll booths with electronic tolling gantries for the Allston Interchange, which sees more than 150,000 vehicles pass each day.
This decade, other projects have focused on reconstructing the Massachusetts Turnpike's aging Commonwealth Avenue deck and repairing bridges under 2013's Longfellow Bridge Rehabilitation Project.
Get a Quote for Car Insurance in Massachusetts Today!
Minimum Car Insurance Requirements in Boston
Massachusetts is a "no-fault" state, which means each affected party's insurance company will pay for their own bills, regardless of who is at fault. Massachusetts drivers are required to pay for personal injury protection (PIP) coverage to compensate. Generally, this results in auto insurance companies paying out claims a lot quicker since a lot less work goes into the actual investigation. Remember, no matter who causes the accident, you are covered.
In Massachusetts, the state minimums are as follows:
$20,000 bodily injury per person; $40,000 per accident
$8,000 personal injury protection (PIP)
Uninsured: $20,000 bodily injury for person; $40,000 per accident
$5,000 property damage liability
Factors Allowed in Boston Car Insurance Rates
Here are some factors that could affect Boston car insurance rates:
Driving record
Age
Gender
Zip code
Marital status
Type of vehicle
Credit rating
Discounts for Car Insurance in Boston
Many Boston drivers may be eligible for a variety of discounts, including the following:
Military discount

Good driver discount

Anti-theft discount

Student discount
We highly recommend calling your auto insurance company every six months to a year to see if you are eligible for any discounts. Remember, the cleaner the driving record and the longer your account is in good standing, the more discounts you may quality for when purchasing car insurance.
What Are the Penalties for Driving Without Insurance in Boston?
If a Boston driver is caught driving without insurance, they can expect to pay serious penalties, ranging from $500 to $5,000. In severe cases, uninsured drivers may be imprisoned for up to 12 months. Likewise, Boston drivers with a Blood Alcohol Concentration (BAC) of 0.08 and above are subject to the same penalties, plus a potentially longer stint in jail and loss of driver's license.
Any driving without auto insurance conviction will also require drivers to file SR-22 insurance documents, which demonstrate proof of financial responsibility.
Driving without auto insurance can force your auto premiums to increase by as much as 50%. Maintain a clean driving record and pay the lowest monthly premiums possible.
Get a Quote for Car Insurance in Boston Today!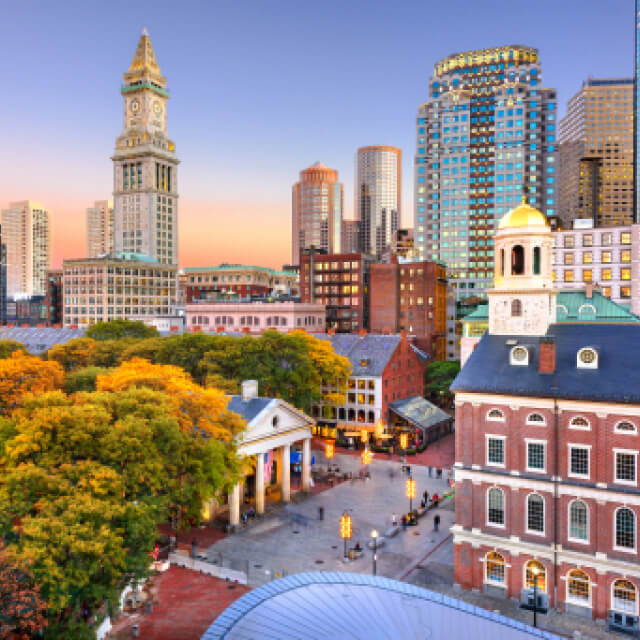 Fortunately, Freeway is here to help you find the best cheap car insurance in Boston, Massachusetts. We'll do the work for you to help find affordable, discounted auto insurance.
Get started with a quote online, visit us at a Boston office near you, or call us at (800) 777-5620 for a quote.