Lafayette, Indiana, is only a handful of miles from Purdue University, located in neighboring West Lafayette. Greater Lafayette consists primarily of Lafayette, Indiana's 10th largest city, with a population of about 67,000, and West Lafayette, populated by about 30,000 residents.
What residents are not up in the air about is how they feel about their car insurance. Lafayette car insurance rates in most zip codes are among the very lowest in the state, and the city itself takes the top spot for lowest auto insurance rates in all of Indiana.
Lowest Car Insurance Rates in Indiana
Cheap car insurance in Lafayette is not just a promotional claim. Four of the city's zip codes and two of those from neighboring West Lafayette are among the 25 Indiana zip codes with the lowest average car insurance rates. One Indiana zip code takes the top spot for auto insurance affordability.
The lowest average rates in the state are paid in Lafayette's 47909 zip code. Contrast the average premium cost paid by residents in this zip code ($2,931.05) to the average rate paid in the highest-paying Indiana zip code, 46402 in Gary ($4,747.17).
Average auto insurance rates of Lafayette/West Lafayette zip codes in the ranking of the 25 Indiana zip codes with the lowest average premiums
| Zip code | Avg. Auto Insurance Rate |
| --- | --- |
| 47901 | $2,966.62 |
| 47904 | $2,935.07 |
| 47905 | $2,951.59 |
| 47906 | $2,950.51 |
| 47907 | $2,966.91 |
| 47909 | (state's lowest rate) $2,931.05 |
| 46402 | (Gary, IN) 4,653.64 |
Listed zip codes are in Lafayette (4) and West Lafayette (2), except for the Gary zip code included for rate comparison. Figures were updated in 2021.
When analyzed as a city rather than by individual zip codes, Lafayette still takes the first ranking. The city has the lowest average auto insurance rates of all communities in Indiana, with an average premium of $2,946.28 per year. For comparison, the average rate in Gary is $4,653.64, about 50% higher than what Lafayette residents pay.
Rates Vary Among Lafayette Demographics
As in every community, car insurance rates in Lafayette vary greatly among demographic groups. Males generally pay higher premiums than females, and the youngest drivers, especially males, pay the highest average rates of all. That's because of higher incidence of accidents and moving violations among a young male population.
However, drivers start to receive much lower premium rates after they "age out" of their teen years and early 20s. Therefore, the above table rate averages are higher than what many drivers will be quoted. Clean individual driving records can also earn motorists better rates.
The 25/50/25 Rule for Minimum Coverage on Lafayette Car Insurance
One way for motorists to save money on car insurance in Lafayette is to meet the state's minimum allowable amount of coverage. In Indiana, all motorists must carry at least a minimal amount of liability car insurance. A liability policy covers the motorist's financial responsibility if at fault for an accident that results in injury or property damage to other parties.
The state follows the 25/50/25 rule for minimum liability coverage. That means motorists must have a policy that carries at least the following:
$25,000 for bodily injury or death of one individual
$50,000 for total bodily injury or death as the result of a single accident
$25,000 for property damage per accident
Get a Quote for Car Insurance in Indiana Today!
The Uninsured Driver Challenge
Uninsured drivers are a problem throughout the Hoosier State. With 16.7% of its drivers on the road without car insurance, Indiana is ranked eighth highest in that dubious category.
The penalty for uninsured drivers in Lafayette and elsewhere in the state is a license suspension at least until proof of car insurance can be established.
You must show proof of insurance under any of the following circumstances, per the Indiana Bureau of Motor Vehicles:
An auto accident
A pointable moving traffic violation within one year of receiving two other pointable moving traffic violations
A conviction for a misdemeanor or felony traffic violation
Any pointable moving traffic violation by a driver who was previously suspended for failing to provide proof of financial responsibility
Types of Car Insurance Available to Lafayette Drivers
Some drivers opt for minimum liability car insurance coverage for the sake of cost. This can include Lafayette drivers who've had DUI convictions. These motorists, once they earn the right to drive again, find that their rates have escalated to the point where many can only afford this minimal coverage. Sometimes, this 25/50/25 liability coverage is known, for that reason, as DUI car insurance.
Keep in mind, liability coverage only financially protects other parties, not you.
Other Lafayette motorists seek quotes for more extensive car insurance protection. Full coverage includes the following:
Collision — This pays off if your car is damaged in an accident, whether with another vehicle, one caused by contact with a stationary object such as a tree, or in a rollover or other single-vehicle accident.
Comprehensive — When your car is damaged, but not as the result of a collision or accident, this coverage kicks in. This might include loss of damage as the result of theft, fire, flood, vandalism, or collision with a deer or other animal.
In addition, your full-coverage policy will provide protection against uninsured or underinsured motorists.
Motorists can also control their Lafayette car insurance rates by adjusting the deductible, the amount of money the insured party is responsible for paying before the insurance begins to pay. If you have a $1,000 deductible and your car damage is for $4,000, your insurance claim would be for $3,000 after you've assumed responsibility for the first $1,000.
The higher your deductible, the lower your premiums will be. Your Freeway Insurance agent can explain the details and quote you coverage at various deductibles.
Get a Lafayette Car Insurance Quote Today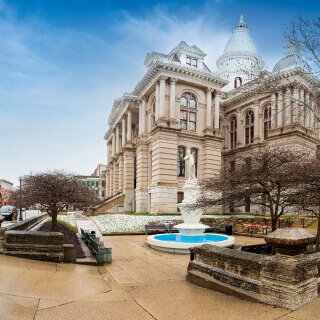 Car insurance is a necessity for Lafayette motorists. Even if it wasn't the law, it could be a catastrophic financial decision to go without. Fines and license suspensions are only the beginning of the problem if an accident occurs and you're not insured.
Fortunately, Freeway Insurance is here with cheap car insurance for Lafayette drivers. Visit your nearby Lafayette office or call Freeway Insurance at (800) 777-5620 for a rate quote today.
Select a Product or Service to request a quote
Ready to Get a Quick Quote?