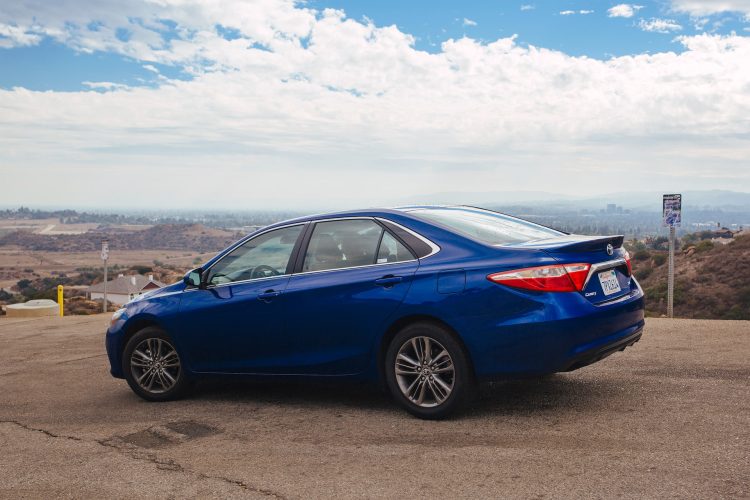 Your car is perfectly capable of telling you when things aren't working correctly. From beeping alarms to lights on the dashboard, cars today are way smarter than they used to be. Although it can be nerve-wracking to see these warning signs, they are there for your safety and protection.
One such warning light is the 'maintenance required' alert in most Toyota Camry models. It's important to stay on top of regular servicing. However, it can be a pain if the light won't turn off even after you've already serviced your car. This article will guide you step-by-step on how to reset the maintenance light on a Toyota Camry.
How To Reset the Maintenance Light on a Toyota Camry
If you're a Toyota Camry owner, you might have seen the maintenance symbol light on your dashboard. This means it's time for regular vehicle servicing. Resetting the maintenance light is a straightforward process that can help you keep track of your vehicle's maintenance schedule accurately.
This guide will give you step-by-step instructions on how to reset the maintenance light on a Toyota Camry. This can ensure a well-maintained and smoothly operating vehicle.
History and Evolution of the Toyota Camry
For over two decades, the Toyota Camry has been the best-selling mid-size car in North America. It's popular among families and commuters thanks to its reliable performance, spacious interior, and superior comfort.
After starting as the Toyota Corona in 1983, the Camry went through many changes and improvements to become the highly popular car it is today. Now in its 8th generation, it boasts a range of impressive features. Below is an overview of changes in the Toyota Camry.
The Camry was presented as a strong competitor in the small car category, going up against well-liked models like the Honda Accord, Chevrolet Citation, Ford Tempo, and Chrysler's K-cars. This marked the beginning of the Camry's long-standing rivalry with the Honda Accord.
2018 – Present: Eighth Generation
The eighth generation features Toyota's TNGA platform for the first time and is designed to take on its rival Honda Accord. It boasted improved driving dynamics, a more powerful four-cylinder engine, an optional V6 engine, and a hybrid powertrain. It also has a refreshed exterior, which includes a sleek and sporty look.
The interior is roomy and has high-tech features like Apple CarPlay and Android Auto integration. Additionally, the Camry now has advanced technology to aid in driver confidence with features like automatic emergency braking, lane departure warning, adaptive cruise control, and more.
Key Features and Specifications of the Toyota Camry
​The Toyota Camry, a midsize sedan, boasts a myriad of key features and specifications that have contributed to its enduring popularity among drivers worldwide. At the heart of its appeal lies its efficient and dependable powertrain options.
The Camry offers a range of engines, including fuel-efficient four-cylinder and robust V6 options, catering to a diverse set of driving preferences. Complementing these powertrains is the smooth-shifting automatic transmission that ensures a seamless driving experience. The Camry's reputation for reliability is upheld by its exceptional build quality, making it a durable choice for both daily commuting and long-distance journeys.
In terms of technology and comfort, the Toyota Camry doesn't disappoint. The interior is thoughtfully designed with high-quality materials, ergonomic seating, and an array of user-friendly infotainment features. The intuitive touchscreen interface supports smartphone integration, enabling easy access to navigation, music, and hands-free communication.
Additionally, advanced driver assistance systems such as adaptive cruise control, lane departure warning, and automatic emergency braking come standard or as available options, enhancing the overall safety of the vehicle. With its blend of performance, reliability, and modern conveniences, the Toyota Camry remains a top contender in the competitive midsize sedan segment, catering to a wide spectrum of drivers' needs and preferences.
Reasons For the Popularity of The Toyota Camry
After a significant success with the Toyota Corolla in the 1970s, Toyota knew it had found an excellent formula for affordable cars that could meet the needs of many buyers. With this in mind, they set out to create their second "world car" – the Toyota Camry. The Camry was designed to be practical, reliable, and well-built, with numerous features that made it popular with families and single buyers.
Some of the key features of the Toyota Camry that have contributed to its success include:
Quality & reliability: Toyota Camry models are known for longevity and durability. According to iSeeCars, a Toyota Camry can last an average of 200,000 to 300,000 miles with proper maintenance. That earned the Camry a fourth spot in iSeeCars' list of longest-lasting sedans and hatchbacks. Even more, Toyota's reputation for building reliable vehicles has lent to the Camry's popularity. According to J.D. Power, the newest Camry model has a Quality & Reliability score of 84 out of 100.
Affordability: There is one thing familiar with Japanese cars, and at the top of the list is affordability. The Camry has long been known for offering great value for its price. In fact, the price of buying a used 2020 Camry will range from $12,700 to $36,998, according to TrueCar.
Made for Families
The Toyota Camry's enduring popularity can be attributed to its strong appeal to families and individuals seeking a reliable single purchase. Known for being dependable and long-lasting, the Camry offers comfort, safety, and fuel efficiency. These are great for people that need a practical and good value.
Its spacious interior and well-designed cabin cater to the needs of families, while its refined yet understated style appeals to a broad range of tastes. Moreover, the Camry's reputation for low maintenance costs and high resale value aligns seamlessly with the preferences of those aiming for a long-term investment.
These factors collectively position the Toyota Camry as a trusted choice that seamlessly caters to both familial and individual desires for a versatile and lasting automotive solution.
The Role of Maintenance Light For A Good Performance and Safety
Car manufacturers program a maintenance light into your car to remind you to perform necessary tasks. The light's color and meanings vary from manufacturer to manufacturer, but what role does a car maintenance light play in a Toyota Camry?
The maintenance required light in the Toyota Camry is a reminder that it's time for a regularly scheduled oil change. This light is always present but will only come on when you reach an odometer reading of 5,000 miles. When the maintenance required light turns on in your dashboard, it's time to go to a certified auto shop and change the oil in your car at the service center.
After an oil change service, the light must be reset to remain off. If left unchecked, this maintenance-required light can become annoying and distracting. But here is a step-by-step guide on how to reset the maintenance light on a Toyota Camry.
What Do I Need to Start This Process?
To start, you need to check the car's manual to understand what the maintenance lights mean and what you should do when they appear. Also, having basic tools and trustworthy maintenance instructions from a mechanic or online sources helps car owners take care of issues early and keep the car running well and safely.
Step-by-step Guide To Resetting Your Light on Toyota Camry
Resetting your maintenance light is simple and can be done in a few easy steps.
Here is what you need to do:
1. Turn the ignition to the "Off" position
If your key in the ignition – is switched to the 'ON' position, turn it back to the "OFF" position.
2. Press and hold the trip reset button
Once your key is in the "OFF" position, press and hold down the trip reset button on your dashboard. It should be near the speedometer of your vehicle. Some models use the same button to switch from the odometer to the trip meters.
3. Turn the ignition to the "On" position but don't start the engine
While holding the trip reset button, turn your key to the "ON" position without starting the engine. Pay close attention to the odometer and the maintenance light as you do this.
4. Continue to hold the trip reset button until the maintenance light turns off.
Continue pressing down on the trip reset button until you see a series of dashes on the odometer. After this, a series of zeros should appear. Hold on to the trip reset button until the normal odometer reading returns to the display.
5. Use a combination of the trip reset button and odometer display
Sometimes, you might have to use both the trip reset button and your car's odometer display to turn off the maintenance light. Here's what to do: hold down the trip reset for 20 seconds, then press the odometer button for about two to three seconds. Keep doing this until your maintenance light turns off.
6. Utilize an OBD-II scanner or diagnostic tool
An OBD reader or scanner is a device that can be connected to your car's computer system. This device can scan for faults or errors in the vehicle's system and reset the maintenance light if needed. Most auto shops have an OBD-II scanner that they can use to reset the maintenance light on your Toyota Camry.
Tips for Toyota Camry Owners
It's important to take care of all the car's parts to make it last longer and run its best. Here are a few tips you should keep in mind as a Camry owner or looking for camry maintenance:
1. Regularly Scheduled Maintenance
Some of the most common questions that arise among new drivers are, "How often should I get an oil change?" or "When should I replace my brakes?" According to Toyota, most new Camry models require regular maintenance every 5,000 to 7,500 miles or at least every 6 months. This should include an oil change, tire rotation, and check-ups of vital engine components. A visit to a certified auto shop will help ensure that your car is in optimal condition and running efficiently.
2. Understanding Recommendations
Most auto shops will recommend additional services such as brake pad replacements, air filter changes, or coolant flushes. While you don't have to do all these services every 5,000 miles or six months, it's important to know each suggestion and why they're needed. Learn about these tasks so you can decide if you should do them or not.
3. Insurance Policy
Whether you have a new or used high-mileage car, having the right car insurance policy in place is crucial. A good insurance policy cover any damages you may incur, but it can also help reduce your overall maintenance costs. That's why Freeway Insurance offers specialized policies for Toyota Camry owners. You'll know you're covered.
4. Seeking Professional Assistance
Often, the best way to ensure your Toyota Camry remains in good condition is to take it to a professional. If you're ever unsure how to reset the maintenance light on aToyota Camry, don't hesitate to contact a certified auto shop. They can provide helpful advice and tips on keeping your vehicle running smoothly for years.
Maintain a well-functioning Toyota Camry with Freeway Insurance
Auto insurance is a must in the U.S. At Freeway Insurance, we understand that your Toyota Camry needs the very best. Our policies help with car accidents and financial losses.
When the worst happens, you can be sure of being covered. In addition to coverage for damages and collisions, our policies include special features such as roadside assistance, auto loan refinancing, and a one-stop DUI solution.
Whether you're looking to reset the maintenance light on Toyota Camry or need a comprehensive auto insurance policy, Freeway Insurance is here to help. Get an online quote or by phone at 800-777-5620. You can also get an agent near you with our office locator. Don't wait any longer and get the coverage you need today!
Ready to Get a Quick Quote?