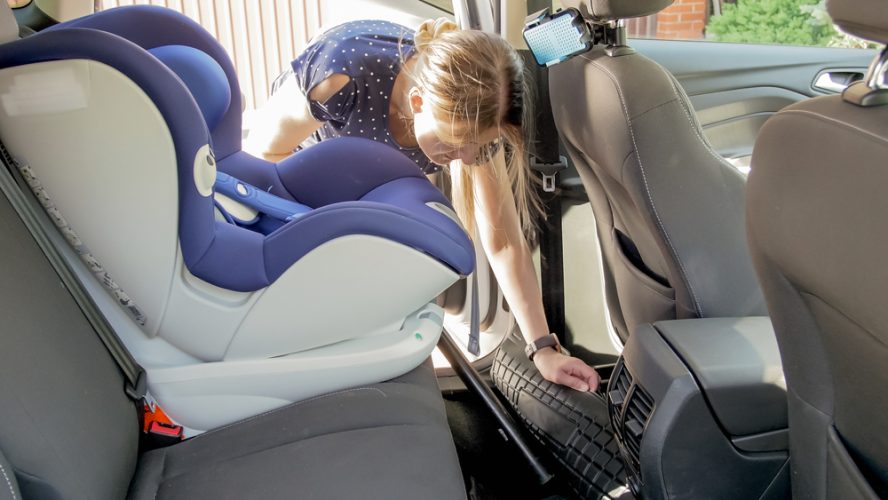 You probably want the relationship between messy kids and your clean car to be better… luckily it can be! We know how it starts though: after that first half-eaten raisin bounces from their mouths to the cup holders to the dirt on your floor mats, things start to get unclean pretty fast. Before you know it, there's water sloshing around the center console and sticky-fingered children spinning around in their seats to make handprints no DIY or professional wash can resolve.
We're here to tell you that there are ways to keep the interior fresh, safe (even safer when you have car insurance) and clutter-free. The trick is this: you have to be prepared by organizing, stocking cleaning resources, and even to go so far as creating a "clean culture" (more on this later!) to give your vehicle the best chance of surviving the trail young people can leave behind.
You and your fellow auto owners can be ready to change the clean-car-meets-messy-kids dynamic. The following tips range from spills to empathy as you preserve the interior of your car.
Have a Place for Everything
As a parent, you likely spend a lot of time trying to get your kids to not do something poorly… did you know you can re-route that behavior by empowering them to do something else well?
Giving items you are packing – such as travel games, wet wipes, tools, and snacks – a place or box to live in can encourage children to put them back where they belong. For instance, according to The American Academy of Child and Adolescent Psychiatry, research suggests including chores in a child's routine as early as age three can be beneficial.
Now, let's explore exactly what goes where!
1. Car Organizers
Organizers are containers, compartments, or dividers that separate the inside of your automobile into more manageable sections. For example, use storage bags to hang behind your seats. You can organize items such as snacks, books, and toys (plus, they are easy to reach when kids are buckled up in the back). Keeping your kids entertained by having their favorite items accessible.
You can keep the vehicle's interior clean simply by having a plastic bag for trash and a cloth bag for dirty shoes. By having organizers on hand, you'll have more control over keeping your car – and kids! – tidy.
2. Keep Loose Change Organized
Loose change is just one of many things that can create a chaotic look in your automobile. Depending on your child's age, it can also be a choking hazard. Keep coins in a central location such as a little purse or a box with a latch inside your glove compartment. That way, all your money can stay in one spot and is reachable when you pass through tolls or a drive-thru (no more searching around the door panels and in the front seats for that extra 25 cents).
3. Keep Food Sealed
First, it is important to mention that food can easily go bad when exposed to hot temperatures. That said, with kids you may opt for more enduring snack options, such as crackers, which need to be sealed. You can seal food with Tupperware, beeswax food wraps, or even in their original packaging with little clasps to close it.
Sealing food keeps treats fresh and it also sends the message to your children that there is a time and place to eat. If food is left out in the open, kids are more likely to just keep eating it as well as not notice if a particular food has gone stale. Don't let old food become part of the clutter but do make room for healthy, properly sealed snacks.
If you decide to keep food in your ride, we also recommend having water bottles to stay hydrated, too. And, to avoid the losing battle of snack crumbs gone wrong, go ahead and keep paper towels and a mini vacuum cleaner nearby as well.
Things You Must Have in Your Car
At this point, we've walked you through things you could have, but now we're getting to the really good part of things you must have. These must-haves are for any parent of messy kids who are ready to end their dirty streak once and for all.
· Trash Can
When you don't have a designated trash can, your entire vehicle becomes one big receptacle. It may start out as dust, but your misplaced trash collection will soon include an old toothbrush, old sock, and used baby wipes without a trash can in sight. That said, our favorite vehicle-friendly trash cans have lids. Another way to really boost the success of trash cans is to empty them after each ride… yes, we do mean every single time. Trash has no place in your beautiful, clean car and by maintaining a trash can you also let your children know that this is a trash-free zone.
· Silicone Cupcake Liners
Silicone cupcake liners work best when you use them to line your cup holders. Instead of allowing liquid and small things you drop to be forever lost in the area your cup should be, place the silicone cupcake liners there as both a protective barrier and a glove mitt. Silicone cupcake liners also come in wonderful colors that you can match to other major colors in your automobile.
· Handheld Vacuum
Nowadays they make small-but-mighty handheld vacuums specifically designed for your car! Not only do they have various attachments to reach tough areas, they also have their own little USB charging cords that fit right into the charging ports of your vehicle. The only thing handheld vacuums can't really solve are stains, pet hair, and mold, but we have ideas for those too, such as cleaning supplies and a lint roller.
· Glove Compartment Essentials
Speaking of getting things cleaner and cleaner while teaching your children to stay organized at the same time, dedicating the glove compartment to special cleaning items is a win-win for both parties. Here are the essentials we know you'll be thankful to have year-round:
Stash of napkins or rags
Antibacterial wipes or other cleaning products
Hand sanitizer
Swiffer duster
A mini expanding file to sort papers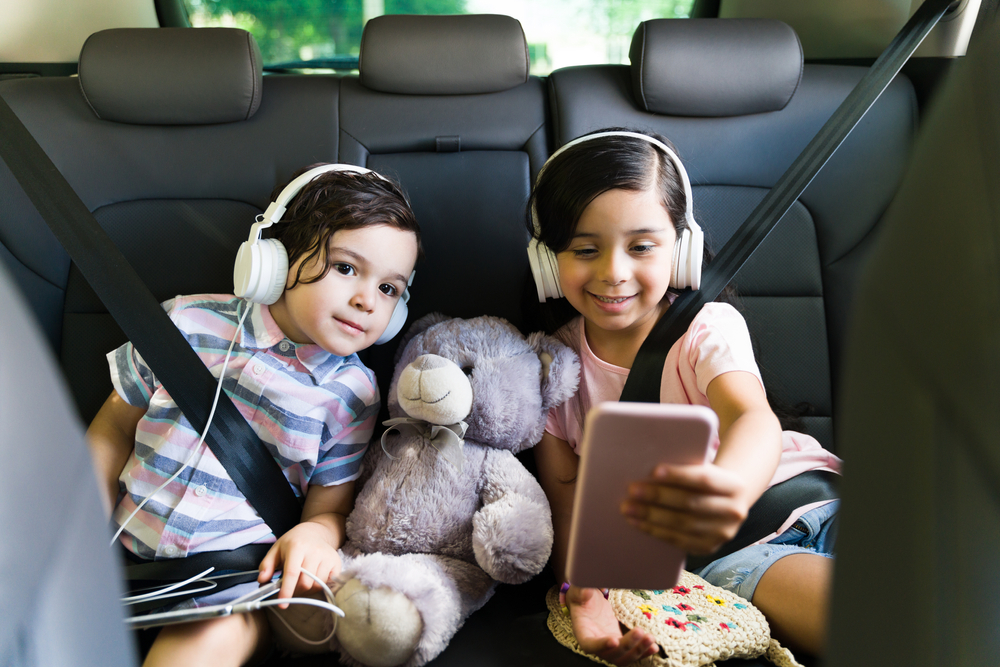 Create a Routine
Now that you have all you and your children need to keep the interior clean and organized, incorporating positive routines is the best way to reinforce the idea that your automobile isn't a place for big messes. While you may not become detailers in one day, these new habits will keep your vehicle in good condition.
· Clean Messes up Right Away
As soon as a mess of any kind happens – if you can find a safe place to pull over – you can use clean water, a foam brush or sponge, and a microfiber towel to help clean up. Making a habit of cleaning messes immediately can also help to discourage behavior that leads to making messes because your kids will see how much time and effort then goes into the removing of debris and grime.
· Whatever You Bring In, You Must Also Bring Out
You may have heard the phrase "leave no trace" and it applies here as well: either take out the same items you bring into the vehicle and/or take out as many items as you bring in. Either way – create an even exchange of objects so that your auto doesn't carry too many. The best part about bringing out whatever you bring in is that you can continue to empower your kids by kindly asking them to help you. Before long, don't be surprised if you hear one of them say, "Is there anything I can bring home from the car today?"
· Clean Your Shoes Before Stepping in the Car
Nothing can undo an expensive interior cleaning job like dirty shoes. With children especially, you may find shoe prints anywhere from formerly clean seats to hard surfaces! Take a few moments before entering the automobile to wipe down shoes (or remove child shoes entirely and place them into a simple plastic bag during the drive).
· Shake Out Floor Mats Often
As an extra special tip, try shaking out your floor mats every time you exit your ride. With kids, it may be a bit difficult to do this in the back of the car or back seat each time, but at the very least, the front is possible.
· Set Reminders to Maintain Your System
We know that being a busy parent can turn a well-intentioned cleaning routine into more stress, and that is why you should set reminders to maintain your system so that – over time – the new system becomes as natural as breathing. As your kids continue to witness your attempts at cleanliness, they will inherit those habits as well. In no time at all, you will be an entire family devoted to less messes and more fun drives.
Model It
There are many ways to show others – especially children – how to keep things neat in the car, but nothing compares to actually showing them!
Stop Using Your Car as Storage
We've helped bring to light a lot about tough stains, trash, organizing, and so on, but what we really want to add is this: stop storing bigger items in your ride! Bigger items can add weight, which will translate into using more gas. Beyond that, bigger items can get in the way of the space necessary to keep your kids safe inside. The easiest way to stop using your ride as storage is to create a separate storage space where anything you need to store can reside.
Encourage Positive Communication
At the end of the day, your car will be at its cleanest – yes, even with kids! – when you encourage positive communication about what it means to be clean, how to do it, and why it matters. For instance, educate your children on the concept that cleanliness means no food or trash thrown about, achieving that by using the trash bin and storing their snacks the right way, and that it matters because less time cleaning means more time having fun. You can even offer examples of having more fun in the automobile, such as listening to their favorite songs!
Offer choices
If you're still having trouble keeping your automobile clean with messy kids, remember that empowerment will always prevail over punishment. Giving your child the choice to lint roll the seats or wipe the dashboard once per week is an easier way to get them to do at least one of those tasks willingly. If there is a certain messy behavior you wish to curb, take a moment to think about how you can frame it as a choice for your child.
Empathize
Finally, always keep in mind it can be really hard – even for adults – to keep things clean. There is always a chance that dirt and other things will be left behind after a drive, especially if you use it a lot and traverse different terrains. Practicing empathy and a level of grace when it comes to keeping your vehicle neat and tidy with messy kids will keep a positive energy around the act of cleaning, encouraging more and more of it over time.
Get Affordable Insurance Online for Your Clean Car and Less Messy Kids
Now that you're feeling inspired to keep it clean with kids, be sure to secure affordable insurance from Freeway Insurance today. Get a fast and free quote online, give us a call at (800) 777-5620 or stop by one of our convenient locations.
Ready to Get a Quick Quote?