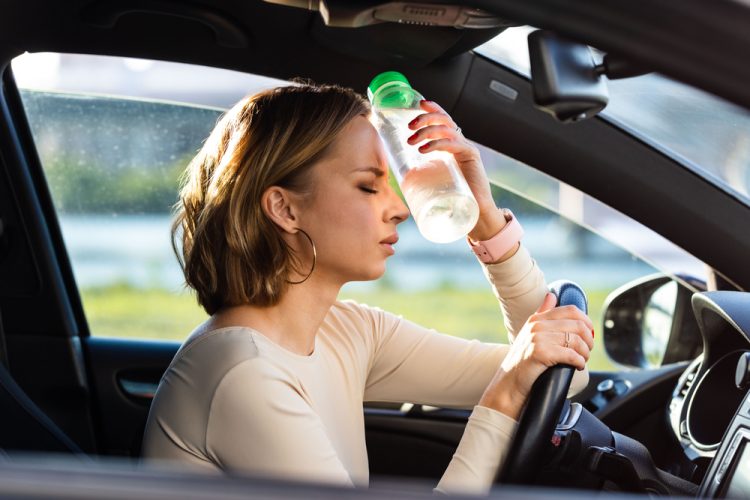 The summer road trip is as American as baseball and apple pie. Every year, friends and family get in the car to visit monuments, camp and travel with kids, or just enjoy the weather on the open road. However, while a road trip is a great opportunity for fun, there are some issues and hazards that could ruin your good time, such as accidents or car breakdowns, which is why it's important to have auto insurance before hitting the road.
Long hours in traffic can make you and your passengers bored and hungry. The heat can make you tired, thirsty, or worse. Your vacation could also end early due to a breakdown if you don't have an emergency car kit, or the right auto insurance to cover possible accidents.
Luckily, all of these situations can be prevented or remedied if you follow some basic summer driving safety tips. A little preparation can help you enjoy your journey in comfort and drive safely to whatever destination is ahead of you. Ensure a more enjoyable trip by following these safe driving tips for summer road trips.
1. Get Your Vehicle Ready for the Season
No matter if you are traveling across the country or only for a few miles, your car needs to be checked and given basic maintenance care to ensure a safe drive. The hotter summer weather can affect your car in certain ways given the heat wave. Tires expand, engines are overworked, batteries drain, and so many other issues can occur. You don't want to be stuck in the summer heat if a tire blows out or the engine overheats.
All of these are preventable and can be addressed before you hit the road. Visit a mechanic for a quick car check-up and tune up. This way your car will be in top shape and ready for a long haul. Some procedures to have done include:
Checking tire pressure
Check fluid levels for brakes, transmission, power steering, coolant, and windshield wiper fluid
Check and repair any leaks in any fluid reservoir
Check and repair any cuts, cracks, or blisters in the radiator and its hoses.
Test car battery
Inspect brake pads and replace if necessary
Test headlights, brake lights, turn signals, emergency flashers, and interior lighting
Make sure your window wiper blades are functioning properly and don't need replacement
If the mechanic notices a problem, get it fixed before you go out on a trip. Among the other driving tips, these are incredibly important because a car check-up will help lessen your chances of getting stranded on the road and usually prevents a more expensive repair later on. You may also want to talk to your insurance agent about getting some towing and labor insurance added to your policy just in case the worst happens.
2. Beat the Heat
The summer heat is more than a discomfort, it can be outright dangerous. If you are overly hot when you drive, your concentration and patience are compromised. You could also be at risk of heat stroke or worse if locked inside a hot car for too long. Be sure that your air conditioning system is working properly and that you have fans readily available for you and your passengers. Stash a cooler with bottled water to drink and rehydrate. Don't be afraid to take a break to get out of the car and relax in under a shady spot or inside an air conditioned building.
3. Prepare and Care When You Travel With Kids
A family road trip can provide a lot of great memories, but can also make a lot of bad ones, too, if you aren't prepared. Traveling with children can be stressful, but if you follow some tips for driving with kids, everyone in the car will be safe and healthy. Some preparations include:
Securely buckling in kids with their seat belts and into their car seats.
Pack a cooler with plenty of bottled water and juice
Pack plenty of healthy snacks such as fruit or nuts to ease hunger
Plan to take frequent breaks for your kids to run around, stretch their legs, and use the bathroom
Neck pillows for napping
Provide toys, books, and electronics to help them fend off boredom, but be sure that they won't distract the driver
One last safety tip is that you should never leave your child in a parked car. Even if you have the windows rolled down or the air conditioning blowing, a child's body temperature can heat up to 5 times faster than adult's. This puts them at a higher risk of heat stroke. It's best to take your children with you or have one adult remain in the car to monitor them at all times.
4. Get Ready for Additional Traffic Congestion and Hazards
You aren't the only person going on a road trip this summer. Because it is such a popular time for vacations and travel, you should know and prepare for congestion and slowdowns in traffic. It's important that you have plenty of snacks and water in case you get stuck in traffic between meal times.
However, just because you'll be in slower traffic, it doesn't mean you shouldn't stay alert. Many fellow vacationers aren't familiar with the road they're on, which could lead to unpredictable or erratic driving you'll need to distance yourself from. Bicyclists and motorcyclists love to take their bikes out in the good weather and open road, so you may need to wary of them more than usual. There is also an influx of inexperienced teenage drivers on the road either practicing their driving on summer break or going on a road trip of their own.
Summer is also a popular time for road repair since the weather is favorable for filling in cracks and potholes. This could lead to major slow downs in traffic due to road repair. It's best to plot out your path ahead of time and research to see if there is any road construction in order to plan your itinerary accordingly.
5. Have an Emergency Car Kit
A car emergency kit can help you address immediate problems if you get into an accident or breakdown on the road. It will not only help you address your issue, but keep everyone else in the car safe and pacified. There should be some comforts along with essentials in case there is a long wait before help arrives. Here are a few items you should put together for your roadside emergency kit:
Car jack, spare tire, and other tire replacement tools
Jumper cables
Road flares
Fire extinguisher
First Aid Kit
Duct tape
Cat litter (to help get tire traction over wet mud)
Gloves
Blankets
Bottled Water
Non-perishable snacks
Fully-charged external cell phone battery with charger
While all these items will help you during the summer months, it wouldn't hurt to include an ice scraper and a shovel to have for any hazards during the winter months.
Many accidents can happen while on a road trip, regardless of how prepared you are. Make sure that you have great auto insurance coverage through Freeway Insurance! Get a free car insurance quote to be better protected at a low price.
Ready to Get a Quick Quote?