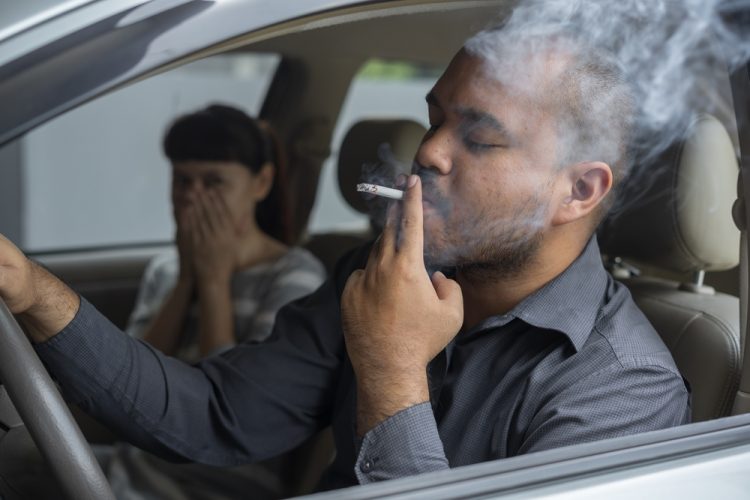 Let's face it… if someone smokes cigarettes in your car, it's going to leave a lingering "smoke smell" odor. Smoke has a way of permeating everything it touches, which makes it hard to eliminate. But not to worry – we're going to help you get the fresh-smelling vehicle you deserve!
Taking care of your car is one way to make it last longer – and even help you get a better price if you decide to sell or trade it for a newer model. Keep in mind that taking care of your car involves more than just making sure it smells good. It also means performing regular maintenance and making sure you have affordable car insurance in place before you get behind the wheel.
That said, let's dive into 7 air fresheners that are designed to help eliminate the smell of smoke, as well as some quick cleaning tips to boost that clean smell.
Easy Steps to Clean Your Car
If you make it easy to clean and freshen your car, you are more likely to do it on a regular basis. We are going to boil it down to a few easy steps so it's not a big chore, but something you can do on-the-go. You may not know it, but 50% of unpleasant odors and smoke smells can be removed by simple cleaning techniques:
Declutter: How does all that stuff get in here anyway? That's probably what you are asking yourself. Remember, for a lot of us, we spend more time in our vehicle than almost anywhere else. Keep a bag for trash in your car (even better – a recyclable one!) and use it when you have candy wrappers, fast food containers or an empty pack of cigarettes. Take it out once a week and throw it away. If you are worried about the environment, just empty it into a larger receptacle and reuse it. 
Clean Ashtray: Talk about a smelly presence! If you are a smoker (or someone smokes in your car), you should empty your ashtray every chance you get. Periodically dunk it in a bucket of warm soapy water and rinse it out. 
Vacuum: Obviously, this is not one of those totally easy steps you can do without thinking, but you should vacuum your car once a month, at least. It helps to remove some lingering dirt and odor. You can take this a step further and sprinkle baking soda on the carpets and seats before you vacuum to really absorb and eliminate smoke odors. 
Hard Surfaces: There are sprays made specially for eliminating odors, but you can use a mild solution that contains 70% alcohol. Using a microfiber cloth to wipe hard surfaces, including the center console, cup holders and doors. 
Floor mats: Whether carpet or plastic, your floor mats should be cleaned on a regular basis. Vacuum then clean. This is something you can do less frequently to help maintain your car's freshness. 
Soft Surfaces: Carpets and seats are particularly important since smoke smells can really get a long-lasting grip here. You don't want to replace your smoke smell with car mold, so don't, so don't saturate your carpets and seats. Just vacuuming these surfaces will help, but once in a while you can do a little heavier cleaning with soap and water. 
Windows: From the windshield to the windows, use a window spray and newspaper for the best results. Smoke residue can really build up here, not only smelling bad but sometimes making it hard to see! 
Vents: Periodically, you should invest in something that will help clean your air vents. Smell from cigarettes can infiltrate your vents and come rushing out every time you turn the HVAC system on. There are many products on the market that will help. 
For the best results that last a long time, keep your car interior clean on a regular basis. You'll be amazed at how much this helps. Now, let's take a look at 7 car air fresheners that are made to attack the smell of smoke!
1. PURGGO Car Air Freshener
PURGGO car air freshener takes advantage of the natural odor-absorbing properties of bamboo charcoal. Instead of masking the smell of smoke, it's designed to absorb and eliminate unpleasant odors. Bamboo is highly sustainable and this product claims to last 365 days. It's not expensive and has a 4-star rating with more than 6,000 reviews on Amazon.
2. Ozium Air Sanitizer
Proponents claim this spray works well on eliminating smoke smells and other odors. This product is not expensive and claims to eliminate smoke odors by converting smoke particles into clean air. It has a 4.5 star rating with more than 4,000 reviews on Amazon.
3. Fresh Wave Odor Removing Gel
With more than 7,000 happy customers on Amazon, this odor eliminator product has a Safer Choice rating from the EPA. Ingredients are plant-based and include lime, pine needle, clove, anise and cedarwood. Simply place the odor absorber under the seat and it claims to be effective for 30-60 days. You can purchase refills when necessary.
4. Air Purifier for Car
There are numerous battery-powered air purifiers made to fit in the car. You'll need to replace the HEPA filters periodically, but according to most of these product descriptions, you can expect the battery to last for 8 hours. Reviewers are thrilled with how well this system works. This can trend to a more expensive option.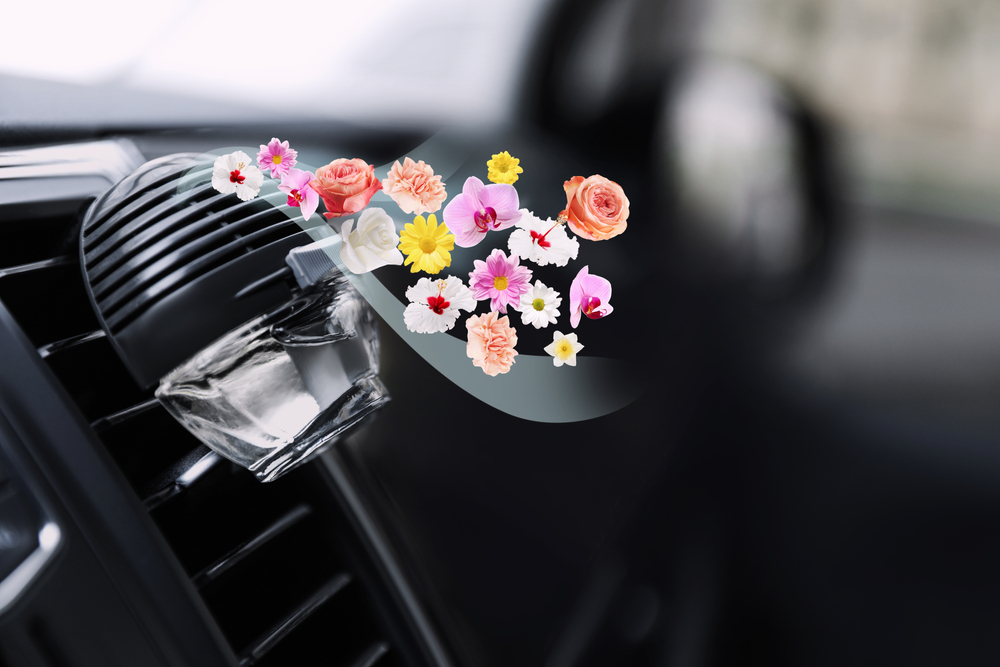 5. Natural Products
If you are like many of us, you'd rather use products that are natural. If so, you are in luck. There are a variety of natural ways to get the air in your car fresh. Here are just a few:
Essential oil air freshener spray – Pick your favorite fragrance (such as lavender) and mix 20-30 drops of essential oil in 1 cup of water. Some people add a couple tablespoons of rubbing alcohol, which helps speed drying time and increases binding.
Potpourri – You can make this by drying good-smelling things from your garden. Add a drop or two of essential oils to really pump it up.
Scented wood – Paint a piece of raw, unsealed wood with an essential oil and voila, you'll have something you can make on the cheap and stick under the seat.
Baking soda – Baking soda is the original remedy for removing odors and maintains its crown to this day. As mentioned before, sprinkle some on the soft surfaces, let sit and vacuum up. Or put some in a jar and leave open in the car overnight (just don't forget to put the lid on before you drive away).
6. Little Trees
More of a temporary masker than an actual eliminator, these cute rearview mirror hangers come in a variety of odors. When your car is clean, they make a great addition to the inside smell, but don't expect them to help eliminate the smoke smell without a good clean first.
7. Febreze
We couldn't really have a list of popular odor eliminators without including Febreze. This product claims to be safe for humans and pets and uses a chemical process to trap odor-causing molecules. There are many Febreze products you can choose from to use in your vehicle. On that seems to be especially popular is the Febreze Unstopables car vent clip, which comes in packs or 3 or more. More than 12,000 people have chimed in an Amazon to give the product a 4.5-star rating.
How Often Should I Change my Car Air Freshener?
It depends on the product. Some of these products are designed to last months and some claim to work on smoke odors for up to a year. Your air freshener will need to work harder if someone is currently smoking in the vehicle on a constant basis, which means it may not last as long as you'd wish. On the other hand, keeping your vehicle clean will help boost the efficiency of the air cleaner of your choice.
What is the Most Popular Scent?
The best-selling Little Tree scents are Black Ice, New Car and Caribbean Colada. New car smell is always a popular scent, but it's hard to replicate, since the original new car smell comes from a combination of plastics and chemicals used in modern cars. Yankee Candle, a company that has built a large following based on smells, says their most popular scents are Red Raspberry, Clean Cotton, Lilac Blossoms and Leather.
Your most popular scent will be the one you like the best. Is it a flower? How about rain? Many seem to like a freshly-washed clothes smell, like linen. And some people just don't want to smell anything at all!
Find Affordable Auto Insurance to Complement Your Clean-Smelling Car
Now that you've gotten rid of that yucky cigarette smell, all you have to do is some simple cleaning to keep your car fresh. Complement that with affordable car insurance from Freeway Insurance and you are ready to hit the road. Get a fast and free quote online, give us a call at (800) 777-5620 or stop by one of our convenient locations.
Ready to Get a Quick Quote?