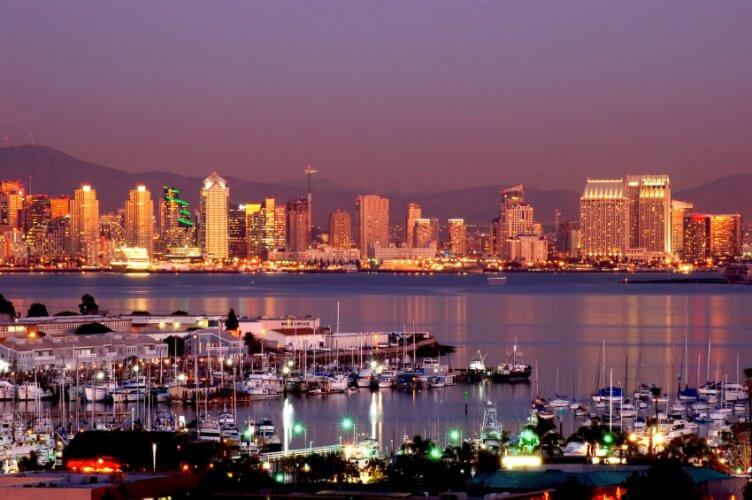 San Diego, the eighth-largest city in the United States and second largest in California, is one of the fastest-growing cities in the nation. San Diego is the birthplace of California and was the first site visited by Europeans. A favorite tourist destination, the city is known for its mild year-round climate.
San Diego is home to many of Southern California's top tourist attractions, offering a wide variety of activities from world-renowned attractions to unlimited outdoor recreation, arts and culture community events, or just kicking back for some quality rest and relaxation.
With 70 miles of beautiful beaches, countless parks and gardens, and endless opportunities for pampering at one of the numerous spas and resorts, San Diego is a prime destination.
For those captivated by nature's colors, don't miss the Flower Fields at Carlsbad Ranch, located about 30 minutes north of downtown. Every March and April, brightly colored ranunculus flowers explode into a spectacular sea of blossoms. Professional and amateur photographers gather en masse to freeze time on film with stunning close-ups of flowers in full bloom.
Another popular gathering place is Mission Bay Park, the largest man-made aquatic park in the country, covers more than 4,000 acres and offers a wide range of recreational activities including paths for walking and jogging, and playgrounds for children.
Calling all you marathon runners. If running is your thing, plan to run to the driving beat at the Rock and Roll Marathon & Half Marathon in June. With a different rock band located every mile or so along the course to help runners pick up the pace, this popular foot race attracts thousands of runners and sideline supporters each year.
If you find yourself celebrating Independence Day in San Diego, you'll want to see the amazing fireworks display – discharged simultaneously from barges placed strategically around the city's Big Bay off Shelter Island, Harbor Island, Embarcadero North, Seaport Village, Embarcadero South Marina Park, Coronado Ferry Landing and Imperial Beach.
Can't get enough Iron Man, Captain Avenger, X-Men or The Hulk? Make your plans now to attend San Diego Comic-Con International, the largest comic book and pop culture convention in the world.
Ready to Get a Quick Quote?