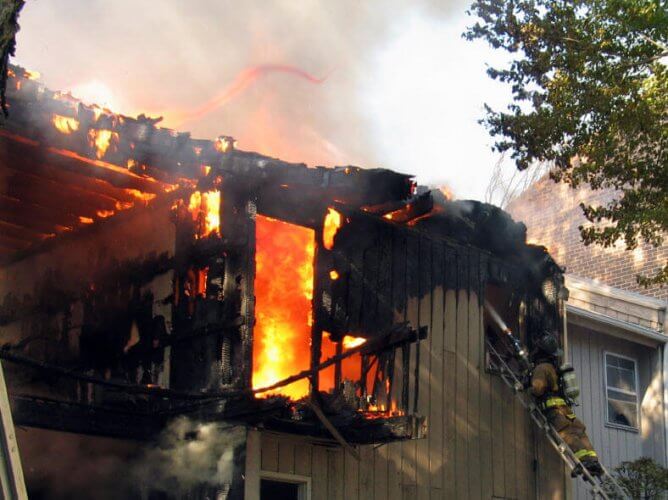 Renters in Jefferson County, Missouri, are dealing with the aftermath, after their apartment complex caught on fire, destroying all 8 units on the morning of May 8th.
All eight apartments were considered total losses. "We came out last night and grabbed stuff. Today, we came out with a trailer to try and grab the rest, anything we could find that's salvageable," said Kenny Tucker, who spent Friday evening helping his niece look for anything that could be removed in her burned down apartment.
According to fire officials, the fire started in a ground floor apartment, near a chair. Although fire officials don't believe there was foul play, they are still investigating and trying to determine the official cause of the fire. There were no injuries reported, only a dog that belonged to one of the residents died in the blaze.
Even though the apartment complex will be rebuilt, with help from the landlord's insurance, the big question for residents of the burned down complex is what to do next? Tucker said his niece didn't have renters insurance and since none of her belongings are salvageable, she'll have to start all over again. "She didn't really think about that, that she should get renters insurance…But then something like this happens and she has nothing. I think it's one of those things where it should be mandatory in all rental buildings" said Tucker. Tucker's niece isn't the only one finding herself in this dilemma. Many of the renters at the complex also said that they did not have renters insurance, putting them in a huge financial strain.
What is renters insurance? Renters insurance covers your personal property from theft, or loss due to a storm, water leakage, fire, etc. It also covers you from personal liability if someone gets hurt in your apartment and decides to sue you, and provides temporary living expenses. In this case, had the residents bought renters insurance, their belongings would had been replaced by their policy and their living expenses would had been covered until they found a more permanent home.
"You need it. No Matter what, you need it. So that's what I am going to do Monday, is get renters insurance, said Hermena Roddy, a resident who rents in a nearby building.
Do you have renters insurance? Find out more about renters insurance by contacting a Freeway Insurance agent today.
Ready to Get a Quick Quote?