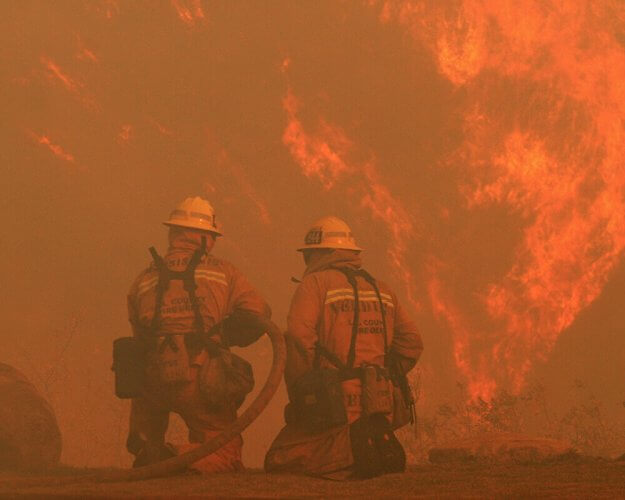 The Klamathon Fire has ripped through Siskiyou County of Northern California for the last five days. Yesterday, the blaze crossed state lines to Oregon. This is one of 15 active fires in California, and now, Oregon's only active fire.
July 5th, one day after Independence Day, is when the fire started. Cal Fire has reported destruction of 82 structures, including over 30 homes, and over 800 are listed as threatened. Additionally, 36,500 acres have been destroyed. Attempts to put out the widespread fire (currently contained at 45%) have prompted over 2,700 firefighters onto the scene, in addition to over 200 fire engines and 18 helicopters.
The fire began in the towns of Hill and Hornbrook. Throughout the weekend, the fire struck neighboring Klamath National Park and by Monday, the fire reached Jackson County, Oregon. The area is highly susceptible to wildfires as it contains deserted areas and dried landscape. Fast winds traveling up to 40 mph caused the fire to rage throughout the region.
Toni Davis, spokeswoman for Cal Fire made the following statement: "We were able to punch a (containment) line in the far north portion of the fire. With some of the terrain and areas like the wilderness above the Oregon border, I know those areas are a lot thicker and there hasn't been fire activity up there ever, so that's an area we're going to be focusing on."
So far, one life has been claimed due to the fire. Out of the 2,700 firefighters associated with the incident, three have sustained injuries, none life-threatening.
Meteorologist Mike Petrucelli spoke on the fire's expectant condition. "We're not looking at really strong winds that will be a significant concern in the afternoon," Petrucelli said. "The winds are really the driving factor. That's what causes the fire to spread in combination with relative humidity. Relative humidity will be low, but not as critical as … a couple days ago when the fire really grew."
Questions on how the fire may have started may have been answered. Although the dry NorCal area is vulnerable to wildfires, authorities believe the fire began with one of the residents. The fire was lit within one of the homes which caught onto a nearby tree (possibly due to wind) and eventually spread throughout the area.
As of today, the fire has been 45% contained.
No homeowner should go through a situation like this without insurance. Get covered for your home today with Freeway. Search free Homeowners Insurance quotes online, or call (800)777-5620.
Ready to Get a Quick Quote?