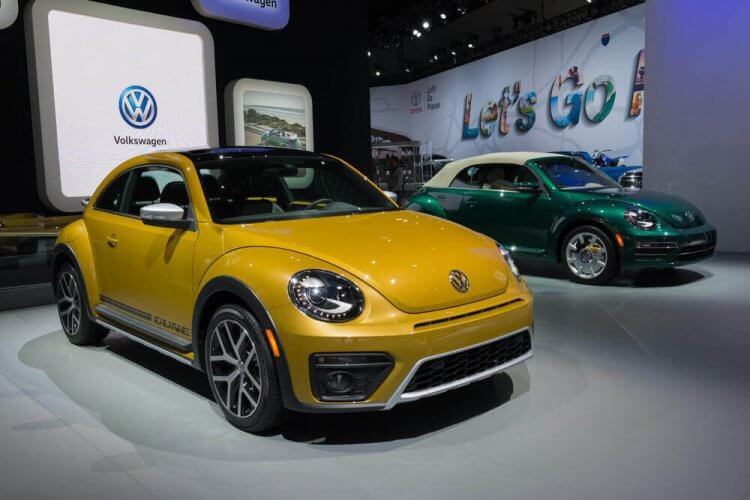 Volkswagen has announced that it has stopped worldwide production of the beetle, as the market continues to favor SUVs and crossover vehicles.
The first Beetles were manufactured in Germany in 1938, and in North America in 1964. The original bug (Type 1) ended production in 2003. The VW North American plant is located in Puebla, Mexico and it made its last third-generation beetle July 9, 2019. In its place, the plant will produce a new North American crossover that is expected to arrive in U.S. dealerships in 2021. Earlier this month, VW announced that it would take the beetle out with a nice bang.
So they introduced the 2019 Beetle SE and SEL Final Editions. The Final Edition coupes come in just two colors: Safar Uni (gloss beige) and Stonewashed Blue (light blue). The Type 1 Beetle (also known as the Ultima Edicion) was only offered in beige or light blue so many suspect that the Final Edition coupes are paying homage to the classic car. The convertibles are available in all current Beetle shades, except for Safari Uni.
All Final Edition cars have VW's turbocharged 2.0-liter four-cylinder engine. 174 horsepower, 184 pound-feet of torque and a six speed automatic transmission.
Kelley Blue Book describes the Final Edition as being "peppy and plenty powerful but not lightning fast."
All models have a leather wrapped steering wheel, keyless entry, push button start, three-color ambient lighting and more. The SE has a 6.3 inch touchscreen with Bluetooth, SiriusXM, USB port, Apple CarPlay, Android Auto, and an 8-speaker audio system. All of the Beetles have the same fuel economy of 26 mpg city and 33 mph highway.
The interior is also very modern. The SE model has rhomboid seat embroidery and SEL has diamond stitched leather. The interior's beautiful combination of black and off-white gives the car its modern and classy vibe.
The Drive described the back seats as "comfortable thrones for occupants of all sizes…"
Final Edition coupes start at $23,940 for the SE model and $26,890 for the SEL, while the SE convertible will begin at $28,190 and the SEL convertible starts at $30,890.
The Beetle is the longest-running and most-manufactured car of a single platform ever made.
No matter what kind of car you drive, Freeway Insurance can help you get affordable car insurance. Freeway specializes in providing quality auto insurance at affordable rates. Call (800) 777-9620 to speak with an agent to get a free, no-obligation car insurance quote.
Sources:
https://www.businessinsider.com/volkswagen-vw-beetle-discontinued-2018-9
https://www.msn.com/en-us/news/other/vw-sends-off-the-beetle-with-final-edition-coupes-and-convertibles/ar-AAE86Yz
https://www.caranddriver.com/reviews/a24734728/2019-volkswagen-vw-beetle-final-edition-drive/
https://www.nydailynews.com/autos/news/2019-volkswagen-beetle-final-edition-article-1.4043123
https://www.roadandtrack.com/car-culture/a6828/volkswagen-mexico-factory-things-we-learned/
Ready to Get a Quick Quote?