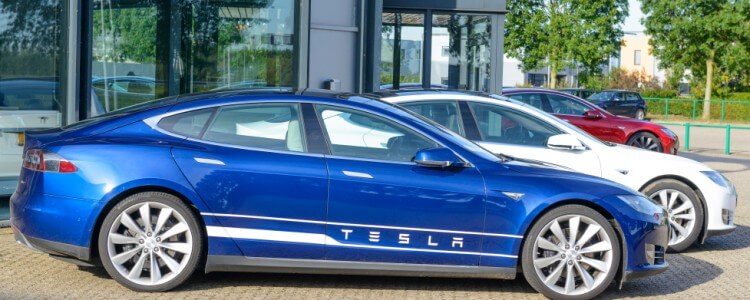 If Elon Musk, chairman and CEO of Tesla Motors has his way, a 500-mile range luxury vehicle could soon be a reality. While the most successful electric-car company in the world plans to sell just 52,000 cars this year, Musk has been less than shy about boasting of his ambition to produce millions of electric cars per year – and even of becoming bigger than GM.
Bold claims to say the least – but, that doesn't seem to be considered much of a leap for Musk, who says a 500-mile range Tesla could absolutely be done "right now with current batteries."
However, he stresses that the cost of proceeding with such a plan would be too high to make sense and that the load impact on the vehicle would also be greatly affected. Furthermore, front and rear trunk space could be compromised as both would be required for additional batteries – not to mention – passenger room and comfort would undoubtedly suffer as well.
With Tesla's new Nevada GigaFactory expectations of beginning battery-cell production in 2016 ahead of schedule, Musk is counting on the operation to vastly improve the overall cost of the cells, which could be the secret to making cars more affordable.
As it stands now, the company's flagship Model S has a starting base price of $70,000–$75,000, keeping many non-luxury car buyers away. That could change with the upcoming Model 3, Tesla's first mass market vehicle. Comparable in size to the BMW 3 Series or Audi A4, the Tesla 3 is touted as having "great acceleration, good driving feel and great cargo space."
And, more importantly, the projected $35,000 price tag will make it more attractive to would-be buyers on a budget, when it makes its debut in March 2016 and goes into full-fledged production in 2017.
Tesla also intends to enter the SUV market with the introduction of the Model X. But, the new SUV will be accompanied by a similar price tag to the Model S, and possibly a little more. On the positive side, the result could be the influx of consumers normally tuned to BMW, Mercedes, and Rover SUV's to take a closer look at the Model X.
It's evident that Tesla Motors is planning a major expansion, not only in the production of battery-cells, but in reaching the lofty goals set by Elon Musk, who believes the improvements they make in battery life and affordability will lead them to become a formidable competitor to GM in the auto industry.
Of course, for that to happen, Tesla will have to greatly increase the number of cars it expects to deliver this year, by building more gigafactories and manufacturing plants. But, the belief at the Baron Investment Conference in October of this year was that, if anyone can do it – it's probably Musk. Only time will tell.
Driving without auto insurance is the last thing you want to do. If you need auto coverage, cheap auto insurance in California is easier to find than you might think. So, why not get a free auto insurance quote comparison today?
Would you buy a Tesla if it had a range of 500 miles on a single charge? Feel free to share your thoughts in the comments section below?
Ready to Get a Quick Quote?