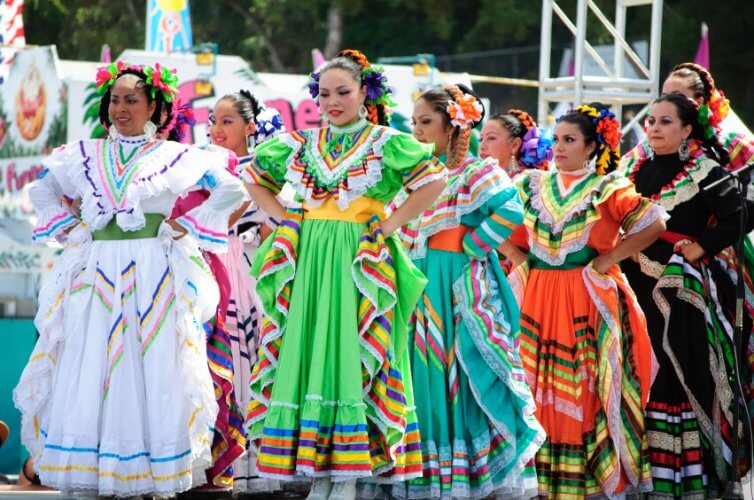 It's Hispanic Heritage Month!
Each year, from September 15 to October 15, millions of Americans observe National Hispanic Heritage Month. With its roots going back to 1968 as Hispanic Heritage Week, the observance was expanded to National Hispanic Heritage Month in 1988 by President Ronald Reagan.
Over the 30-day period, the histories, cultures and contributions of American citizens whose ancestors came from Spain, Mexico, the Caribbean and Central and South America are celebrated. The start date of September 15 is significant as it relates to the anniversary of independence of five Latin American countries: Costa Rica, El Salvador, Guatemala, Honduras and Nicaragua. In addition, Mexico, Chile and Belize also mark their independence days during this 30-day span.
For those wishing to participate in the festive celebrations, we've included a few places and things to do below.
Southern California
Fiesta Dancers (Sept. 26, 2015)
Traditional, beautifully costumed performers will entertain with Spanish, Mexican and Caribbean dances and will teach the audience how to perform their own dance. A free event, it takes place at the Mark Taper Auditorium of the Central Library in Downtown L.A. from 2 p.m. to 3 p.m. on Saturday, Sept. 26. (Los Angeles Central Public Library – 630 W. Fifth St., Los Angeles, CA 90071).
Latinos in Hollywood (Sept. 15 – Oct. 15, 2015)
A special photo exhibition at Plaza de la Raza – featuring famous Latinos, both past and present, and their accomplishments in film and television throughout the history of Hollywood. This year's exhibit kicks off the celebration with Academy Award-winning actor Anthony Quinn's 100th birthday and a screening of the Oscar-winning film, Zorba the Greek on Sept. 18. Anthony Quinn's son, Alex, will also be present. (Plaza de la Raza – 3540 N. Mission Rd., Los Angeles, CA 90031).
An Evening with Los Lobos (Sept. 27, 2015)
Come join GRAMMY Award winning L.A. band, Los Lobos, as they enter their fifth decade with the release of their new album, Gates of Gold. On Sept. 27, the GRAMMY Museum presents An Evening with Los Lobos at the Clive Davis Theater, featuring Los Lobos. (GRAMMY Museum at L.A. LIVE – 800 W. Olympic Blvd., Suite A245, Los Angeles, CA 90015).
Latino LA Festival (Oct. 3, 2015)
Make it a family celebration by joining LHLA at the 30-acre Wilmington Waterfront Park at the Port of Los Angeles on Saturday, Oct. 3, 2015. Kids can enjoy rock climbing, arts and crafts, face painting and an obstacle course throughout the day. Meanwhile, adults will be free to enjoy art exhibits and a live musical performance by Mayaztek, after which there will be an outdoor screening of the critically acclaimed animated feature, The Book of Life. (Port of Los Angeles – 425 S. Palos Verdes St., San Pedro, CA 90731)
Northern California
Northern California Latin American Festival – Sacramento (Saturday, Oct. 10th)
A one-day event celebrating the traditions, cultures, food, and music of the diverse Latin American people living in the United States.  It is the closing ceremonies for Hispanic Heritage Month. Saturday, October 10, 2015 from 11:00 AM to 6:00 PM at River Walk Park – 651 2nd Street West Sacramento, CA 95605.
Mexican Museum – San Francisco (September 23rd)
The Mexican Museum features Latino art and creative expression. Exhibits include the Tequila Don Julio Collection, which opens to the public on Sept. 23. The Mexican Museum is located at Fort Mason Center, 2 Marina Boulevard Building D, San Francisco, CA 94123.
While we've listed only a handful of events, there are many more going on through the duration of Hispanic Heritage Month, which ends on October 15. Check your local cultural events calendar so you won't miss the upcoming celebrations in your area.
As you travel from event to event – be sure to drive safely and share the road. If you feel your current auto insurance company is charging you too much for your coverage, why not switch to the best auto insurance rates available by getting a free auto insurance quote comparison today? Call 888-871-7555 for a free quote!
Ready to Get a Quick Quote?