Raleigh, North Carolina, is one of the premier Southern metropolises that boasts a central location to mountains and an ocean, a flourishing tech scene, and lots of career opportunities. There are plenty of places to visit for nature lovers, as well.
You can explore places like Hemlock Bluffs Nature Preserve and its majestic trees, along with the 1,000-mile Mountains-to-Sea trail. North Carolina is also home to the 28-acre Juniper Level Botanic Garden that showcases close to 30,000 plant species, many of which are not found anywhere else in the world.
Located in North Carolina's Research Triangle Region, Raleigh is well known for its cleantech growth opportunities, advanced manufacturing, IT/technology, and life sciences. It also boasts one of the highest concentrations of tech job openings, rivaling major tech hubs like San Francisco and Seattle.
To drive to work or your favorite nature trail, all Raleigh drivers are expected to carry car insurance to protect themselves and fellow motorists. Keep reading to learn all about car insurance in Raleigh, N.C.
Quick Facts
The average monthly cost of full coverage car insurance in Raleigh is $127.
In 2019, there were a total of 57 people involved in fatal traffic accidents.
How Much Does Car Insurance Cost in Raleigh, N.C.?
The monthly average for full coverage car insurance in Raleigh is $127, while the state-required minimum is $46 per month. For the state as a whole, drivers pay on average $110 per month for full coverage and $34 on average for the state-required minimum car insurance. This is close to the national minimum at $47 and below the national average for full coverage at $161.
See the breakdown below for how much you can expect to pay in monthly car insurance premiums in other North Carolina cities.
| City | Full Coverage Insurance | Liability Insurance Coverage |
| --- | --- | --- |
| Raleigh | $127 | $46 |
| Charlotte | $156 | $59 |
| Greensboro | $123 | $42 |
| Winston-Salem | $102 | $34 |
| Durham | $130 | $42 |
Raleigh Affordable Car Insurance Rates by Zip Code
When evaluating the cost of premiums, insurers factor in your zip code. Some zip codes have a higher incidence of theft, vandalism, and other crimes that force the average premiums paid by each resident to rise.
Here is a breakdown of the monthly average car insurance rate by zip code in Raleigh, NC.
| Zip Code | Full Coverage Insurance | Liability Insurance Coverage |
| --- | --- | --- |
| 27601 | $127 | $46 |
| 27603 | $121 | $41 |
| 27604 | $127 | $46 |
| 27605 | $110 | $39 |
| 27606 | $111 | $40 |
| 27607 | $107 | $38 |
| 27608 | $110 | $39 |
| 27609 | $126 | $45 |
| 27610 | $125 | $45 |
| 27612 | $110 | $38 |
| 27613 | $109 | $37 |
| 27614 | $112 | $39 |
| 27615 | $111 | $38 |
| 27616 | $125 | $45 |
| 27617 | $109 | $38 |
| 27695 | $112 | $40 |
Raleigh Low-Cost Car Insurance Rates by Age
Car insurance costs vary depending on your age. In Raleigh, drivers in their 40s, 50s, and 60s enjoy the lowest average monthly rates, whereas (unsurprisingly) drivers ages 16 to 19 pay the highest average monthly rate.
Here is a breakdown of the average car insurance rate by age in Raleigh, NC.
| Age | Full Coverage Insurance | Liability Insurance Coverage |
| --- | --- | --- |
| Teenagers | $274 | $101 |
| 20s | $130 | $45 |
| 30s | $109 | $38 |
| 40s | $107 | $37 |
| 50s | $98 | $34 |
| 60s | $101 | $36 |
| 70s | $109 | $39 |
Unless otherwise specified, we use the following methodology to arrive at our average cost: male, age 30, lowest possible legal coverage allowed by state. Your rates will be determined by several factors, including your age, your gender and the amount of coverage you want to purchase.
Driving Conditions in Raleigh, N.C.
How Many Fatal Accidents Happen in Raleigh?
In 2020, there were 40 reported fatal crashes in Raleigh. Of those, three involved alcohol, 13 involved pedestrians and one involved a bicycle.
How Are the Road Infrastructure and Bridges in Raleigh?
Raleigh's bridges, roads, and infrastructure are constantly in a state of flux. As part of President Biden's recent infrastructure bill (2022), billions will be earmarked, going towards North Carolina's highway projects, bridge replacement/repairs, electric vehicle charging stations, improvements to broadband access, clean drinking water, and public transportation.
Get a Quote for Car Insurance in North Carolina Today!
Minimum Car Insurance Requirements in Raleigh, N.C.
North Carolina is an at-fault state. Drivers determined to be at fault for an accident are expected to cover the cost of all damages, either out-of-pocket, through their insurance provider, or a combination of the two.
The minimum coverage required under North Carolina state law is as follows:
Bodily injury liability coverage per person: $30,000
Bodily injury liability coverage per accident: $60,000
Property damage liability coverage: $25,000
We always recommend enrolling in a policy with coverage limits above the state minimums. Even a single accident could result in damages falling outside coverage limits, resulting in out-of-pocket expenses.
What Are the Penalties for Driving Without Insurance in Raleigh?
Driving without car insurance in North Carolina is not a good idea.
A first offense will assess a $50 civil penalty and a $50 license reinstatement fee. A second offense will assess a higher civil penalty of $100 and a $50 license reinstatement fee, and any third/subsequent offense will assess a $150 civil penalty and a $50 license reinstatement fee.
Each offense will also suspend your registration for 30 days until proof of insurance is submitted, along with the possibility of jail time or probation for 1-45 days on subsequent offenses.
Factors Allowed in Raleigh Car Insurance Rates
Outside of your selected coverage limits and deductibles, the most important factors used in determining Raleigh car insurance rates include:
Age
Driving record
Accident history
Type of vehicle
Zip code
Credit score
Discounts for Car Insurance in Raleigh, N.C.
Every auto insurer has a long list of discounts drivers may qualify for, based on a clean claims history and safe driving behaviors, such as enrollment in defensive driving courses, autopay, or paperless billing. Even bundling homeowners and auto insurance together can result in a multi-line discount.
Some discounts include but are not limited to:
Safety features discount

Good driver discount

Anti-theft discount

Good student discount

Military discount

Loyalty discount
Insurers are continually updating rates based on your driving record. Therefore, it is a good idea to call your insurer every six months to determine eligibility for discounts. Even a single call could drop your premiums by 10%, so it doesn't hurt to ask.
Get an Online Quote for Low-Cost Car Insurance in Raleigh, North Carolina Today!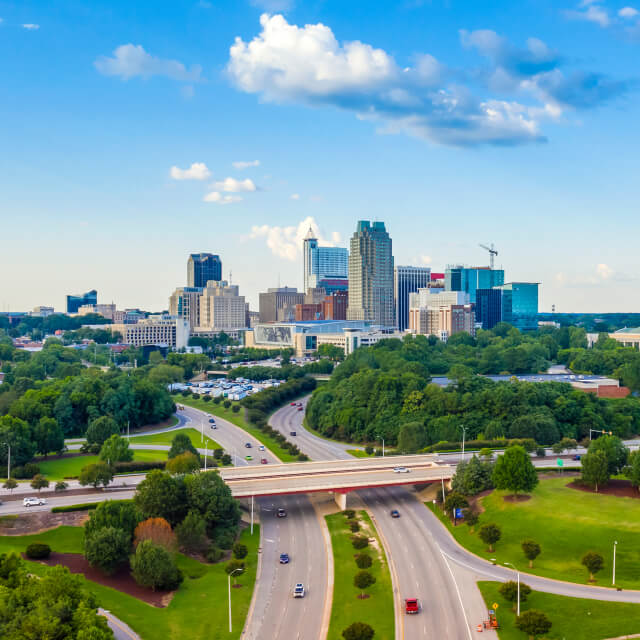 Freeway Insurance is ready to help all Raleigh drivers find the best policy. Remember, the law requires that all drivers carry insurance.
Feel free to request a quote online, visit us at a Raleigh office near you, or call (800) 777-5620 to speak with one of our friendly representatives.
Select a Product or Service to request a quote
Ready to Get a Quick Quote?