Located in Upstate New York, Rochester is a global center for science, technology, and research and development companies. With an estimated population of 205,695, it is the third-largest city in the state of New York, behind New York City and Buffalo.
Quick Facts
The average cost of car insurance in Rochester is about $1,296 per year.
The number of fatal accidents in Rochester is higher than the state average.
How Much Does Car Insurance Cost in Rochester?
Car insurance is more affordable in Rochester than it is in many parts of New York. Drivers pay an average of $1,296 per year for car insurance in Rochester. That's over 31% less than the state average of $1,704 and about 19% below the national average of $1,548.
| City | Average Car Insurance Cost |
| --- | --- |
| Hempstead | $3,133 |
| New York City | $3,004 |
| Rochester | $1,704 |
| Buffalo | $1,699 |
| Syracuse | $1,417 |
Rochester Car Insurance Rates by Zip Code
The zip code you live in can impact how much your car insurance will cost. There are 40 different zip codes in Rochester, and each one can be subject to different auto insurance rates. Other factors about the zip code area, such as the number of accidents or car thefts, also affect the car insurance rates.
| Zip Code | Average Car Insurance Cost |
| --- | --- |
| 14624 | $971 |
| 14609 | $1,173 |
| 14626 | $1,236 |
| 14612 | $1,173 |
| 14616 | $1,156 |
| 14602 | $1,012 |
| 14604 | $871 |
Rochester Car Insurance Rates by Age
Your age is a significant determining factor in how much you'll pay for car insurance in Rochester. Teenagers who've just gotten their driver's license will have to pay over twice as much as drivers in their 20s, 30s, 40s and 50s. Drivers older than 70 will also have to pay about $192 more for car insurance than they did when they were in their 60s.
| Age | Average Car Insurance Cost |
| --- | --- |
| Teenagers | $4,109 |
| 20s | $1,721 |
| 30s | $1,287 |
| 40s | $1,263 |
| 50s | $1,213 |
| 60s | $1,251 |
| 70s | $1,443 |
Driving Conditions in Rochester
How Many Fatal Accidents Happen in Rochester?
Fatal accidents in Rochester are higher than the average in New York state. In 2019, 14 people were killed in 12 fatal accidents in Rochester, New York. One of those fatal accidents was due to a drunk driver.
How Are the Road Infrastructure and Bridges in Rochester?
City streets in Rochester are the responsibility of the city's Department of Environmental Services. The city administers street improvement projects that are funded by the state or Monroe County.
In 2018, the city of Rochester started a Complete Streets Makeover (CSM) program to bring attention to complete street design as a critical factor in creating safe streets for drivers, pedestrians, bicyclists, and transit riders.
Minimum Car Insurance Requirements in Rochester
Since New York is a no-fault state, you'll have to use your own car insurance policy to cover any damages or injuries you receive if you get in an accident. That is probably why the minimum car insurance coverage in Rochester and New York state is more extensive than in other states.
For liability coverage, New York follows the 25/50/10 rule:
$25,000 for Bodily Injury Liability per person
$50,000 for Total Bodily Injury Liability
$10,000 for Property Damage Liability
In addition to this liability coverage, drivers in Rochester are also required to carry:
$50,000 for individual personal injury protection
$25,000 for individual uninsured/underinsured bodily injury
$50,000 for per accident uninsured/underinsured bodily injury
Factors Allowed in Rochester Car Insurance Rates
Many factors affect the car insurance rates that you will pay in Rochester. For example, married drivers can save about $4 per year on car insurance premiums more than single drivers.
Your driving record, such as tickets you've gotten for speeding or fender benders you've been in, is one of the most significant factors impacting your insurance rates. Other factors include:
Age
Gender
Marital status
Credit Score
Vehicle make, model and year
Education
Occupation
Discounts for Car Insurance in Rochester
You can save money on car insurance premiums in New York state by proving you are a safe driver by completing a DMV-approved New York defensive driving course. The New York Internet Point and Insurance Reductions Program (IPIRP) is an online course that provides those who pass it a mandatory 10% insurance discount for three years. By taking the course, you also get a four-point reduction on your driving record.
Insurance companies may also offer different discounts on policies. Some other discounts that may be available include:
On-time payment discount

Good student discount

Military discount

Anti-theft discount

Senior discount

Multi-car discount

Multi-policy discount
What Are the Penalties for Driving Without Insurance in Rochester?
You can face some steep fines if you drive in Rochester without car insurance. All vehicles registered in New York must carry the minimum insurance required. If you are pulled over without the mandatory insurance, you must surrender your vehicle plates to the DMV and face a penalty of between $150 and $1,500. You could also have your car impounded or end up in jail for up to 15 days for the infraction.
In the worst-case scenario, your driver's license and registration will be revoked, and it will cost $750 to get it reinstated. If you let the lapse in your insurance coverage last more than 90 days, your driver's license will also be suspended, and you will face fines for each day of the suspension.
Get a Quote for Car Insurance in Rochester Today!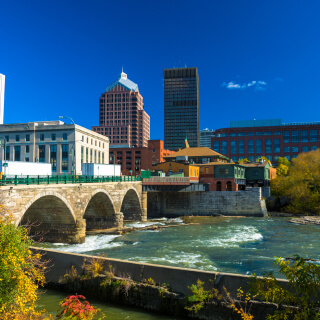 Finding a cheap car insurance plan that provides you with at least the minimum coverage required in your state can end up costing you less down the road if you should be pulled over without it.
Contact Freeway Insurance today. Get started with a quote online, visit us at a Rochester office near you, or call us at (800) 777-5620 for a quote.