New York City is not only the largest city in the United States, but it is also one of the most populous cities in the entire world. If the population wasn't enough, New York is a popular travel destination that brings millions of visitors each year.
With so many people in one place, car accidents are inevitable. Car insurance exists to ensure that drivers do not face personal liability for the cost of an accident. This is especially important in NYC, given that New York is a "no-fault" state. A "no-fault" state requires drivers to seek compensation through their own insurance policy after a crash.
Quick Facts
New York is the largest city by population in the United States.
New York City had 277,971 vehicle accidents in 2018 alone.
How Much is Car Insurance in NYC?
The average cost of car insurance in NYC is $3,004. This is well above the state average for car insurance and more than double the national average. Given the large population and enormous volume of vehicle collisions each year, these costs should come as no surprise. That said, your exact New York car insurance cost will vary depending on certain circumstances.
| City | Average Annual Premium |
| --- | --- |
| Hempstead | $3,133 |
| NYC | $3,004 |
| Freeport | $2,902 |
| Mount Vernon | $2,524 |
Different rating factors determine the price of car insurance in New York City. These factors are numerous and include your zip code, age, or gender. A history of speeding tickets and accidents will also dramatically increase the cost of insurance.
You must carry the necessary amount of car insurance at all times. When you are without adequate insurance, you could be on the hook for any damages you cause during an accident. While the cost of insurance in NYC might seem high, there are ways a Freeway Insurance agent could lower your rate.
NYC Car Insurance Rates by ZIP Code
One factor that might impact your car insurance costs more than you realize is your ZIP code. Studies have found that accidents are more common in certain ZIP codes, and insurance companies charge New Yorkers that live in those areas more. Given the size of the city, it should come as no surprise that there are more than 100 ZIP codes in NYC.
| Zip Code | Average Car Insurance Rate |
| --- | --- |
| 10023 | $5,780.61 |
| 10021 | $5,783.72 |
| 10024 | $5,793.64 |
| 10028 | $5,819.47 |
| 10019 | $5,827.81 |
| 10022 | $5,828.18 |
| 10036 | $5,828.18 |
| 10017 | $5,830.45 |
| 10016 | $5,842.83 |
| 10010 | $5,847.38 |
NYC Car Insurance Rates by Age
Age is another common factor in determining the cost of car insurance. For the most part, teenagers pay far more in insurance premiums than any other age group. However, over the years, the cost of insurance will drop drastically. Once a driver reaches their 70s, the rates are likely to increase again. Regardless of your age, building a record as a safe driver is one of the best ways to keep your costs low.
| Age | Average Car Insurance Rate |
| --- | --- |
| Teenagers | $8,913 |
| 20s | $3,893 |
| 30s | $2,990 |
| 40s | $2,959 |
| 50s | $2,831 |
| 60s | $2,874 |
| 70s | $3,246 |
Driving Conditions in NYC
How Many Fatal Accidents Happen in New York City?
On average, there are 316 traffic fatalities in New York City each year. This represents 1.6 deaths for every 100,000 New Yorkers each year. The age group with the most traffic fatalities are individuals aged 20 to 24.
How Are the Road Infrastructure and Bridges in NYC?
Infrastructure is a constant battle in New York City. The city relies heavily on public transportation, and there are a large number of bridges located within the city. NYC has also made the news for the number of signs of degraded infrastructure, including subway flooding.
Statewide, New York earns a C- grade for infrastructure. This is the same grade that the majority of states receive.
Minimum Car Insurance Requirements in New York City
Just like in every city, there are state requirements for minimum insurance coverage in NYC. Because New York is a "no-fault" state, motorists are required to carry more mandatory insurance than in many other states. This is because state law requires most drivers to pursue compensation through their own policy before filing a lawsuit against the other driver. In NYC, the insurance minimums are:
$50,000 in personal injury protection
$25,000 per person for bodily injury coverage
$50,000 per accident for bodily injury coverage
$10,000 per accident for property damage
Additionally, drivers must also carry uninsured motorist coverage or UIM. UIM provides the insured driver with benefits when they are injured by an uninsured driver. This coverage must include at least $25,000 per person and $50,000 per accident for bodily injury claims.
Factors Allowed in NYC Car Insurance Rates
There are a wide number of factors that could be used to determine the price of your auto insurance in NYC. While your driving record is a major factor, there are other issues you should be aware of as well. Some of the most important factors include:
Driving history
Insurance claims history
Credit score
Age
Gender
Zipcode
Marital status
Type of vehicle
Even if you face high insurance costs, you could reduce the price of your premiums through several different discounts.
Discounts for Car Insurance in NYC
Good student discount

Anti-theft discount

Multi-policy discount

Good driver discount

Military discount
What are the Penalties for Driving Without Insurance in NYC?
There are serious penalties related to driving without insurance in NYC. If convicted, you could pay hundreds of dollars in fines and even up to 15 days in jail. You could also face the impounding of your car or be required to carry SR-22 insurance.
Get an NYC Car Insurance Quote Today!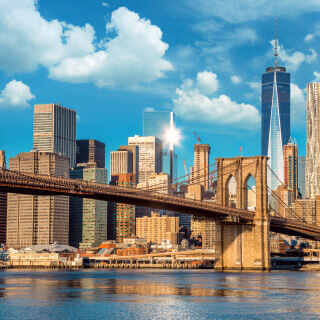 Before you get behind the wheel in New York City, it is vital that you first protect yourself from an accident. Collisions might be unavoidable, but the financial strain of a vehicle crash can be. Car insurance is your protection from personal liability following a motor vehicle crash.
Freeway Insurance is ready to help you find the coverage you need at a price that is in your budget. You can get started with a quote online or visit an NYC office near you. You can also call us at (800) 777-5620 for a free quote.