Buffalo has a vibrant nightlife and a list of notable architectural accomplishments, including the second-highest number of Frank Lloyd Wright homes in the United States.
Unfortunately, the city is also home to an unusually high number of traffic accidents. These collisions can have a detrimental impact on your physical and financial health. Thankfully, the appropriate level of auto insurance coverage could help you avoid any hardship following a crash.
Quick Facts
The population of Buffalo was 256,480 as of 2019.
Buffalo drivers are involved in an accident on average every 7.9 years. The national average is 10.57 years.
The average cost of car insurance in Buffalo is $1,699.
How Much is Car Insurance in Buffalo?
The average cost of car insurance in Buffalo is $1,699. That amount is roughly in line with the average cost of coverage throughout New York, but it is notably higher than the national average. It is worth remembering that your premiums might not match the average, depending on the factors in your life. The specific cost of your New York car insurance will depend on things like your age, gender, and driving history.
| City | Average Annual Premium |
| --- | --- |
| Hempstead | $3,133 |
| Yonkers | $2,373 |
| Buffalo | $1,699 |
| Syracuse | $1,479 |
There are other rating factors that apply to your premiums as well, including the type of car you drive and your zip code. Younger drivers with multiple previous accidents will likely pay more than older drivers with a clean record.
The most important thing is to ensure that you have the right amount of insurance coverage if an accident happens. If you are at fault for a collision, you could be held responsible financially for any damage you cause. Your liability insurance could protect you from these third-party claims.
Buffalo Car Insurance Rates by Zip Code
You might be surprised to learn that your zip code could play an important part in determining the cost of your car insurance. Studies have shown that accidents are more likely in certain zip codes compared to others. For that reason, the ZIP code you live in can raise or lower the cost of your insurance.
As the second-largest city in New York, Buffalo covers 30 ZIP codes. Understanding the rates that apply to these ZIP codes could show you what your policy might cost.
| Zip Code | Average Car Insurance Rate |
| --- | --- |
| 14201 | $3,080 |
| 14202 | $3,070 |
| 14203 | $3,135 |
| 14204 | $3,156 |
| 14206 | $2,764 |
| 14207 | $2,948 |
| 14208 | $3,081 |
| 14209 | $3,066 |
| 14210 | $2,764 |
| 14211 | $3,175 |
Buffalo Car Insurance Rates by Age
The age group, a driver, falls into is a major factor in determining the cost of liability insurance. Generally, younger drivers will face the highest premiums. Those premiums will fall over time but increase again from drivers in their 70's or above.
| Age | Average Car Insurance Rate |
| --- | --- |
| Teenagers | $5,422 |
| 20s | $2,253 |
| 30s | $1,688 |
| 40s | $1,661 |
| 50s | $1,600 |
| 60s | $1,647 |
| 70s | $1,901 |
Driving Conditions in Buffalo
How Many Fatal Accidents Occur in Buffalo?
In 2019, there were a total of 13 traffic fatalities in Buffalo. These fatalities occurred in 12 separate collisions and involved 20 different vehicles. Four of those fatalities occurred at the hands of a drunken driver.
How are the Road Infrastructure and Bridges in Buffalo?
Like most cities, Buffalo is constantly seeking to improve their infrastructure. In 2021, Buffalo completed a multimillion-dollar paving project covering major roadways in town. The Mayor of Buffalo also testified before Congress on the growing infrastructure needs of American cities.
Minimum Car Insurance Requirements in Buffalo
Every state—including New York—has a minimum level of liability insurance that drivers must carry. This insurance serves to protect other drivers from negligent drivers. These insurance minimums include:
$25,000 for bodily injuries per person
$50,000 for bodily injuries per accident
$20,000 for property damage per accident
Unlike most other states, New York also requires uninsured motorist coverage. This coverage kicks in when a driver is injured by a motorist that is uninsured or underinsured. The minimum level of coverage is $25,000 for bodily injuries per person and $50,000 for bodily injuries per accident. The state also mandates at least $50,000 in personal injury protection or PIP.
Factors Allowed in Buffalo Car Insurance Rates
There are numerous factors that could impact the cost of your car insurance. Each of these factors will combine to determine the final cost of your premiums. Over time, your rates could go down as you improve in certain categories. Some examples of these factors include:
Age
Gender
Zip Code
Credit Score
Type of Vehicle
Driving Record
Marital Status
Discounts for Car Insurance in Buffalo
Multi-policy discount

Anti-theft discount

Military discount

Good student discount

Good driver discount
What are the Penalties for Driving Without Insurance in Buffalo?
There are stiff penalties that come with driving without insurance in Buffalo. A conviction could cost you a fine between $150 and $1,500 and even 15 days in jail. Additionally, the state has the power to impound your vehicle if you are found to have not obtained the necessary insurance coverage. You might also be required to maintain SR-22 insurance in the future. These penalties are typically lower if you had coverage at the time of your ticket but simply failed to have proof in your possession.
Get a Buffalo Car Insurance Quote Today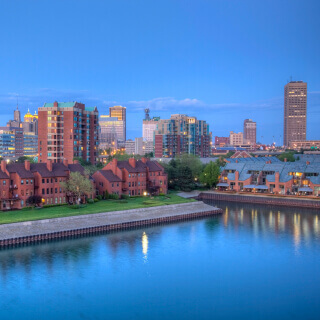 Car insurance is a key part of protecting yourself and your family. While state law requires drivers to maintain minimum levels of liability insurance, you will find that this coverage plays an important part in securing your peace of mind. If you don't have insurance, you could face steep fines and the potential for out-of-pocket expenses after an accident.
The good news is that Freeway Insurance is here to help you find the right coverage for the right price. To get started, request a free quote online or contact a Buffalo office near you. You can also call us at (800) 777-5620 for a quote.