Henderson began as a town that housed workers for the Hoover Dam and today is the second-largest city in Nevada. It is located near Las Vegas, making it an ideal location for those who want access to the excitement of Vegas without living directly in the city. Henderson has a growing economy and endless recreational opportunities, offering a more laid-back lifestyle full of charm and natural beauty. Home to over 300,000 residents, Henderson offers almost 300 sunny days a year and a wide variety of employment opportunities. Residents love to check out the Galleria at Sunset mall, the Green Valley Ranch Resort, and unique dining options. If you're going out, though, you need to ensure you have appropriate auto insurance.
Quick Facts
The average cost of car insurance in Henderson is $2,312 per year.
There are around 3,000 traffic accidents per year in Henderson.
How Much Does Car Insurance Cost in Henderson?
You'll pay an average of $2,312 per year for car insurance in Henderson. This is higher than the U.S. national average of $1,548 and the Nevada state average of $1,974. A majority of this cost attributes the time people spend driving and traffic volume in the Las Vegas metro area. The exact amount you pay in Nevada car insurance depends on where you live.
| City | Average Annual Premium |
| --- | --- |
| Las Vegas | $2,640 |
| Henderson | $2,312 |
| Carson City | $1,736 |
| Reno | $1,733 |
Some of the significant factors that influence your car insurance rates include your age, zip code, type of car you drive, and driving habits. For instance, young drivers who have less experience are more prone to accidents and will pay more. You'll also want to consider your coverage limits. It's essential to have enough to pay for damages in an accident, but not so much that you break your budget.
Henderson Car Insurance Rates by Zip Code
The zip code you live in has a significant impact on your car insurance. Why? Because a zip code can tell the insurer a lot about average accident rates in the area, the likely cost of other vehicles, and how common crimes like auto theft are.
Henderson has 12 zip codes, and each one may have different auto insurance rates. This may be because one area has more uninsured drivers, more expensive vehicles, or more frequent insurance claims. Here's a table showing the average cost for liability insurance in three zip codes.
| Zip Code | Average Cost for Liability Only Insurance |
| --- | --- |
| 89074 | $1,903 |
| 89052 | $1,852 |
| 89015 | $1,765 |
Henderson Car Insurance Rates by Age
How old you are impacts your car insurance because statistics show that specific age ranges are more prone to accidents than others. For instance, when you're young and don't have much experience, you're likely to get into accidents. As you get out of your 20s, car insurance tends to go down as long as you maintain a good driving record.
| Age | Average Car Insurance Rate |
| --- | --- |
| Teenagers | $9,492 |
| 20s | $3,121 |
| 30s | $2,299 |
| 40s | $2,292 |
| 50s | $2,174 |
| 60s | $2,203 |
| 70s | $2,863 |
Driving Conditions in Henderson
How Many Fatal Accidents Happen in Henderson?
Fortunately, the number of fatal car accidents in Henderson, NV, is low. In 2019, there were ten fatal accidents, five of which involved drunk driving. Eighteen people were involved in those accidents, and ten people were killed. By comparison, there were 284 fatal crashes in all of Nevada in 2019.
How Are the Road Infrastructure and Bridges in Henderson?
In 2020, Henderson Public Works repaired 99 miles of residential streets and removed 12.1 million pounds of pollutants from the city; 41,131 inspections were completed, and over 1,000 street work orders were finished as well.
Henderson invests heavily in its infrastructure, reviewing hundreds of traffic and drainage studies each year and completing thousands of traffic work orders.
Nevada as a whole receives a C on infrastructure in 2018, which is an overall improvement in the last several years. Clark County was able to levy a fuel revenue tax that allowed the area to address overdue road and bridge projects. The airports have also improved.
Minimum Car Insurance Requirements in Henderson
In Nevada, a driver who causes an accident is responsible for paying for the damages caused. Someone injured by another driver can sue for the cost to repair their vehicle and pay for medical bills. That's why it's so important to have enough car insurance coverage.
The state minimums for Nevada are:
Bodily Injury Liability: $25,000 per person, $50,000 per accident
Property Damage Liability: $20,000 per accident
Factors Allowed in Henderson Car Insurance Rates
There are a lot of elements that can influence your car insurance. Each rating factor has been statistically shown to correlate with higher rates of accidents and claims.
The factors used in Nevada include:
Driving record and claims history
Physical location
Gender
Age
Marital status
Type of vehicle
Credit score
Discounts for Car Insurance in Henderson
There are a lot of ways to find cheap car insurance in Henderson. For instance, you can take a Defensive Driver class to get a discount on your insurance. You can also bundle policies so that you get a multi-policy discount.
Other discounts include:
Good student discount
Anti-theft discount
Good driver discount
Military discount
What Are the Penalties for Driving Without Insurance in Henderson?
Driving without insurance is never a good idea. If you're in an accident, you could be sued for damages. This might result in garnished wages and loss of assets.
You'll also face fines from the state if you drive without insurance. You don't have to be pulled over, either — Nevada uses live updates from insurance information on every registered car. As soon as your insurance lapses, the state will suspend your registration and send you a notice and a fine.
You'll pay a $250 fee plus $250 to reinstate your registration for a first offense. Future offenses could result in car towing, higher fines, and the requirement to carry an SR-22 on your insurance.
Get a Henderson Car Insurance Quote Today!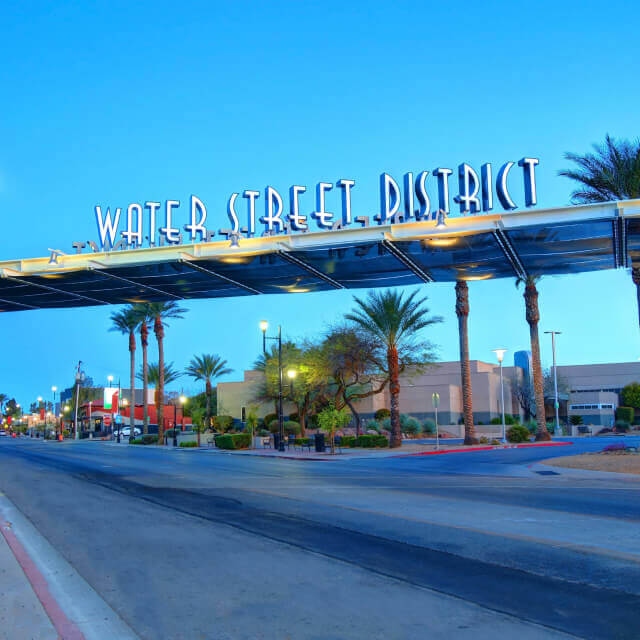 Insurance is an essential way to protect yourself in case you cause an accident. Nevada requires insurance, and they will know right away if your coverage lapses. Don't get caught with high fines and even higher fees from a lawsuit. Get started with a quote online, or visit us at a Henderson office near you. You can also call us at (800) 777-5620 for a quote.