Massachusetts' fourth-largest city, Springfield, is a thriving metropolis located within the Pioneer Valley: a hip destination that features a nice mix of college towns, urban fare, and nature reserves.
Some of Springfield's biggest attractions include the Naismith Memorial Basketball Hall of Fame, the Forest Park Zoo, and the Springfield Science Museum. It is even home to the Dr. Seuss National Memorial Sculpture Garden, which offers a remarkable look at arguably the greatest children's author of our time. Also on tap is the Springfield Armory National Historic Site, which covers the intriguing history behind the Springfield Armory and its role in military lore.
The city of Springfield, Massachusetts, has a healthy mix of urban fare, attractions, and nature to suit people of all ages and personalities.
Quick Facts
The average cost of car insurance in Springfield is $69 per month*.
In 2019, there were nine reported fatal vehicle accidents in Springfield.
*We use the following methodology to arrive at our average cost: male, age 30, lowest possible legal coverage allowed by state. Your rates will be determined by several factors, including your age, your gender and the amount of coverage you want to purchase.
How Much Does Car Insurance Cost in Springfield?
On average, the cost of car insurance in Springfield is $69 per month. This is higher than the U.S. national average of $39 and higher than the average car insurance cost in Massachusetts, which is $42 per month for the state required minimum.
There are many factors that can cause your car insurance premiums to fluctuate, including minor and major traffic violations, the number of at-fault accidents, the number of comprehensive claims filed, age group, and the zip code in which you reside. A lapse in auto insurance can also be a factor, as it may indicate a problematic driving history.
For full protection of you, your family and your property, obtaining a comprehensive auto insurance policy is recommended. Most drivers have many options when it comes to choosing their car insurance coverage, including taking advantage of the state minimum liability insurance, choosing lower deductibles and higher premiums or vice versa, and more – depending on their personal situations.
Springfield Car Insurance Rates by Zip Code
In Springfield, like in other cities, your zip code plays a role in how much your auto insurance premium will cost. Expect certain zip codes within a geographic area to pay higher premiums than others based on collective driving history, and statistics related to crimes against vehicles, like vandalism and theft. Remember, the lower number of claims filed within a zip code, the lower the average auto insurance premium paid by each resident.
Springfield, Massachusetts, has 10 zip codes. The average rate for every zip code is $69, except for 01109, which is $67 per month.
Springfield Car Insurance Rates by Age
Auto insurance premiums are partially determined by age. Some age groups pay higher average premiums than others based on collective driving record and the number of claims made.
Here is a breakdown of the average car insurance rate by age in Springfield, Massachusetts:
| Age | Average Monthly Car Insurance Rate |
| --- | --- |
| Teenagers | $227 |
| 20s | $144 |
| 30s | $69 |
| 40s | $68 |
| 50s | $66 |
| 60s | $66 |
| 70s | $53 |
Driving Conditions in Springfield
How Many Fatal Accidents Happen in Springfield?
In 2019, there were nine reported fatal accidents involving 13 total vehicles. Of these, there were nine fatalities, and four accidents involved drunk drivers.
How Are the Road Infrastructure and Bridges in Springfield?
There are constant road infrastructure projects happening in Springfield, MA. In 2021, the U.S. Senate passed a $1 trillion federal infrastructure plan with a portion of it developed to track and station upgrades.
Get a Quote for Car Insurance in Massachusetts Today!
Minimum Car Insurance Requirements in Springfield
Massachusetts is a "no-fault" state. In no-fault states, insurance companies pay for their insureds' bills, regardless of who is at fault. This is done through personal injury protection (PIP), which every insured person is required to have. Remember, no matter who causes the accident, you are covered.
In Massachusetts, the state minimums are as follows:
$20,000/$40,000 bodily injury per person/accident
$8,000 personal injury protection
$5,000 property damage liability
$20,000/$40,000 bodily injury per person/accident for uninsured motorist
There are many ways to save money on car insurance. Some of the ways to save money on car insurance include increasing deductibles, excluding miscellaneous coverage options (e.g., car rentals in the event of an accident), and most of all keeping a safe driving record free of any infractions, accidents, or claims, no matter how large or small.
Factors Allowed in Springfield Car Insurance Rates
Different states set different limits on what factors insurance companies can take into consideration when determining your rates. Here are some factors that could affect Springfield car insurance rates:
Driving record
Age
Gender
Zip code
Marital status
Type of vehicle
Credit rating
Discounts for Car Insurance in Springfield
Discounts on your car insurance are a good way to save money. There are many discounts to be had, but you won't know if you qualify if you don't ask your insurance agent. You should check with your agent on a regular basis, especially if your circumstances change. For example, if you are working from home now, perhaps you are putting less mileage on your vehicle. This could result in a discount. A few of the more common car insurance discounts in Springfield include:
Military discount

Good driver discount

Anti-theft discount

Student discount
Our recommendation is to call your insurance company every six months to a year to see what discounts, if any, you may be eligible for as your situation changes.
What Are the Penalties for Driving Without Insurance in Springfield?
Expect to pay serious penalties if you are caught driving without insurance in Springfield. Driving without insurance in Springfield constitutes a civil motor vehicle infraction that could result in a $500 to $5,000 fine, possible year-long imprisonment, and increased penalties for every subsequent offense.
There is the option to dispute civil motor vehicle infractions through a hearing, which must be requested within 20 days of the alleged infraction. This requires additional filing fees paid to the Massachusetts Registry of Motor Vehicles (RMV).
Get a Quote for Low-Cost Car Insurance in Springfield Today!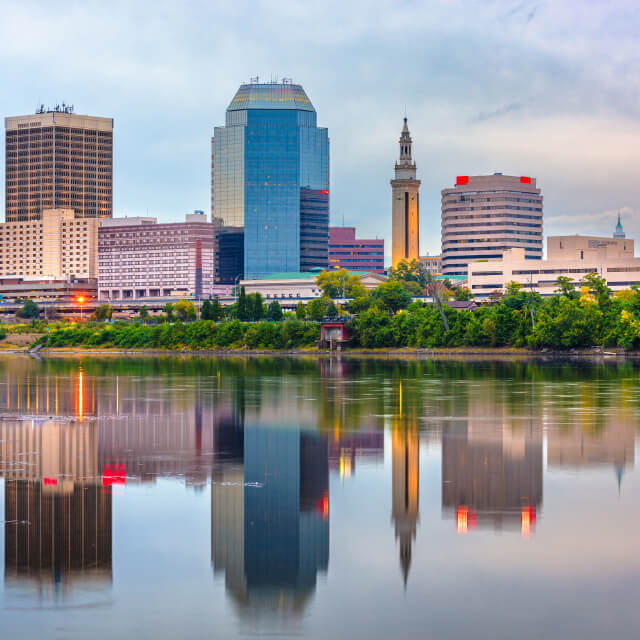 We hope this information about Springfield, MA has been helpful! Freeway Insurance is also here to help you find the best and most affordable car insurance for you and your family in Springfield.
Get started with a quote online, visit us at a Springfield office near you, or call us today at (888) 792-5340 for a quote.