The Town of Barnstable is the largest community on Cape Cod and the county seat of Barnstable County, Massachusetts. This quiet, idyllic community won the All-America City Award in 2007.
Barnstable might be peaceful, but car accidents are still a reality. Freeway offers Barnstable drivers the chance to avoid financial hardship after an accident by providing car insurance coverage at the right price.
Quick Facts
The average cost of car insurance in Barnstable town is $1,833 per year
The population of Barnstable Town is approximately 45,000
How Much is Car Insurance in Barnstable?
The average cost of car insurance in Barnstable each year is $1,833. This is above both the national average as well as the average for Massachusetts. This is due in part to the higher cost of living associated with this area of the county. The exact amount of your Massachusetts car insurance will depend on a number of factors.
| City | Average Annual Premium |
| --- | --- |
| Barnstable | $1,833 |
| Brockton | $2,437 |
| Boston | $1,765 |
| Lowell | $1,654 |
Some of the factors that could impact the cost of your car insurance include your driving record, claim history, age, and gender. While the cost of car insurance might seem high at times, it is important to remember that these costs are drastically lower than the expense of being involved in an accident without adequate insurance.
Barnstable Car Insurance Rates by Zip Code
You might be surprised to learn that your zip code could impact the rate you pay for auto insurance. Drivers that live in zip codes with a large number of accidents are more likely to see higher rates compared to those who live in areas with fewer accidents.
The town of Barnstable is located within a single zip code: 02630. However, Barnstable County is made up of a series of other zip codes as well.
| Zip Code | Average Car Insurance Rate |
| --- | --- |
| 02630 | $1,833 |
| 02668 | $1,831 |
| 02648 | $1,900 |
| 02637 | $1,801 |
| 02601 | $1,845 |
| 02647 | $1,821 |
Barnstable Car Insurance Rates by Age
The age of a driver will also play an important part in setting the cost of car insurance. In general, insurance rates are higher for teenagers compared to older adults. The cost of insurance usually drops over the course of a person's lifetime, before steadily increasing again when that driver reaches their 70's.
| Age | Average Car Insurance Rate |
| --- | --- |
| Teenagers | $5,854 |
| 20s | $2,331 |
| 30s | $1,783 |
| 40s | $1,717 |
| 50s | $1,631 |
| 60s | $1,554 |
| 70s | $1,639 |
Driving Conditions in Barnstable
How Many Fatal Accidents Occur in Barnstable?
In 2018, there were a total of three fatal car accidents in Barnstable Town. Together, these accidents involved a total of five vehicles and five fatalities. One of those accidents involved a pedestrian, and four involved intoxicated drivers.
How Are the Road Infrastructure and Bridges in Barnstable Town?
Despite its small size, infrastructure is as important to Barnstable Town as any other city in the state. In addition to constantly updating the condition of local roads, Barnstable is also focused on an expansive 30-year sewer project.
Statewide, Massachusetts was awarded an Infrastructure Report Card grade of C-. This is the same grade that most states throughout the country have also received. According to the report, 9% of all bridges in Massachusetts were deficient. The report also found that 25% of all roads were in poor condition.
Get a Quote for Car Insurance in Massachusetts Today!
Minimum Car Insurance Requirements in Barnstable Town
Every state has a requirement for financial liability following an accident, and Massachusetts is no exception. Like most states, Massachusetts meets this requirement by mandating liability insurance for every driver. The minimum level of insurance coverage includes:
$20,000 in Bodily Injury Liability Per Person
$40,000 in Bodily Injury Liability Per Accident
$5,000 in Property Damage Liability
$8,000 in Personal Injury Protection (PIP)
Factors Allowed in Barnstable Town Car Insurance Rates
There are various factors that insurance companies rely on when setting car insurance rates. Because these factors are so numerous, two individuals with similar backgrounds could face very different insurance rates. Some of the factors that could impact the cost of your auto insurance might include:
Gender
Age
Driving history
Claim history
Physical location
Zip code
Type of vehicle
Credit score
Discounts for Car Insurance in Barnstable Town
While there are different ways to save money on car insurance, the best option usually involves finding the right discounts. Freeway offers multiple discounts for auto insurance, including:
Military discounts

Good driving discounts

Good student discounts

Paperless billing discounts

Anti-theft discounts
What Are the Penalties for Driving Without Insurance in Barnstable Town
Driving without insurance is a criminal offense in Barnstable Town. Under Massachusetts law, it is categorized as a civil motor vehicle infraction, but the consequences of a conviction could be serious.
A conviction for driving without insurance could lead to as much as a $5,000 fine and up to one year in jail. Additionally, you could also have your driving privileges revoked on a conviction. This license suspension could last up to 60 days for a first offense. For subsequent offenses, it could last up to a year. In addition to the penalties written into the statute, you might also be required to carry SR-22 insurance.
Get a Quote for Car Insurance in Barnstable Town Today!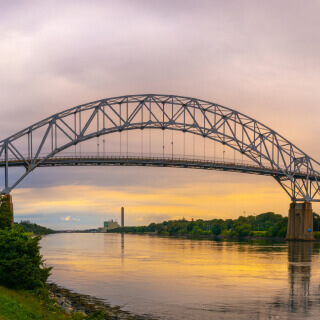 Every driver in Barnstable Town should protect themselves and their family with the support of an auto insurance policy. Not only are these policies required under the law, but they could also help you avoid sudden financial hardship following an accident.
The good news is that Freeway can help you get the right policy for a fair price. Get started with a quote online, visit us at a Barnstable Town office near you, or call us at (800) 777-5620 for a quote.