Every year, NASCAR fans descend on Indianapolis, the "Racing Capital of the World." The Indy 500, which is held over Memorial Day weekend, is the largest single-day sporting event in the world.
But there's more to Indianapolis than just motorsports. This city of over 864,000 people is also home to the world's largest children's museum and the largest collection of monuments honoring U.S. war veterans outside of Washington, D.C.
Although you might love to watch the cars race around the Indianapolis Motor Speedway, you should watch your speed on the streets of this city and make sure you are protected by car insurance in case you ever get in an accident in Indianapolis.
Quick Facts
The average cost of car insurance in Indianapolis is $1,464 per year for full coverage.
In 2019, there were 101 fatal accidents in Marion County, out of a total of 37,726 collisions, making Marion County, where Indianapolis is located, the number 1 ranked county in Indiana for accidents.
How Much Does Car Insurance Cost in Indianapolis?
Drivers pay an average of $1,464 per year for full coverage car insurance in Indianapolis. That's a little more than the state average of $1,254 and quite a bit less than the national average of $1,674. In the table below, we show you what other cities in Indiana pay on average for full coverage and the minimum required by the state of Indiana.
| City | Average Annual Car Insurance Costs |
| --- | --- |
| Gary | $1,692/$576 |
| Evansville | $1,356/$516 |
| Terre Haute | $1,344/$468 |
| South Bend | $1,272/$456 |
Indianapolis Car Insurance Rates by Zip Code
The zip code you live in can impact how much your car insurance will cost. There are 36 different zip codes in Indianapolis, and each one can be subject to different auto insurance rates. Other factors about the zip code area, such as the number of accidents or car thefts, also affect the car insurance rates. In the table, you can see the average full coverage and minimum required coverage.
| Zip Code | Average Annual Car Insurance Cost |
| --- | --- |
| 46227 | $1,404/$516 |
| 46254 | $1,368/$492 |
| 46237 | $1, 284/$480 |
| 46226 | $1,440/$492 |
| 46219 | $1,404/$492 |
| 46224 | $1,392/$480 |
| 46220 | $1,356/$492 |
| 46203 | $1,428/$480 |
Indianapolis Car Insurance Rates by Age
Like it or not, you may also have to pay more for car insurance in Indianapolis because of your age. Car insurance companies consider age when determining premium rates because some age brackets have a higher likelihood of getting in an accident. For example, drivers in their teens and 20s will pay more than those in their 30s, 40s, and 50s. Older adults over 70 are also likely to be charged higher car insurance rates.
| Age | Average Annual Full Coverage Car Insurance Cost |
| --- | --- |
| Teenagers | $7,236 |
| 20s | $3,228 |
| 30s | $1,380 |
| 40s | $1,320 |
| 50s | $1,260 |
| 60s | $1,212 |
| 70s | $1,320 |
*Unless otherwise specified, we use the following methodology to arrive at our average cost: male, age 30, lowest possible legal coverage allowed by state. Your rates will be determined by several factors, including your age, your gender and the amount of coverage you want to purchase.
Driving Conditions in Indianapolis
How Many Fatal Accidents Happen in Indianapolis?
The Indianapolis Motor Speedway isn't the only dangerous road in town. In 2019, there were 101 fatal accidents in Marion County, out of a total of 37,726 collisions, making Marion County, where Indianapolis is located, the number 1 ranked county in Indiana for accidents.
Drunk drivers caused 25 of those fatal accidents, and 26 of the accidents involved pedestrians.
How Are the Road Infrastructure and Bridges in Indianapolis?
In 2021, the Indianapolis Department of Public Works embarked on over $17 million in bridge projects and more than $72 million in road projects.
Motorists in Indiana spend an extra $638 per year in costs associated with driving on state roads in need of repair, according to the 2021 Report Card for America's Infrastructure put out by the American Society of Civil Engineers (ASCE). The ASCE estimates that 23 percent of the state's roads are in poor condition, and almost 6 percent of Indiana's 19,284 bridges were found to be structurally deficient.
Get a Quote for Car Insurance in Indiana Today!
Minimum Car Insurance Requirements in Indianapolis
Drivers in Indianapolis are required by state law to carry at least liability insurance. The minimum car insurance required in Indianapolis is:
$25,000 for Bodily Injury Liability per person
$50,000 for Total Bodily Injury Liability
$25,000 for Property Damage Liability
These minimums, however, may not be enough to cover a typical incident in Indiana. Medical bills from an injury suffered in a car accident can easily exceed $25,000. Also, liability only covers the cost of injury or damage to another person in an accident. To cover your expenses, you should consider adding collision and comprehensive coverage to your car insurance policy.
Factors Allowed in Indianapolis Car Insurance Rates
Car insurance companies are allowed some discretion regarding what factors they look at to determine your premiums. Factors impacting your car insurance rate can be:
Age
Gender
Marital status
Credit score
Occupation
Homeownership
Employer
Traffic citations or accidents can send the cost of your auto insurance rates through the roof. In Indianapolis, drivers charged with reckless driving could see their insurance rates jump up about 50%. Speeding tickets and tickets for drinking under the influence (DUIs) can also increase your rates significantly.
Discounts for Car Insurance in Indianapolis
Most insurance carriers in Indiana offer discounts that can provide you with more affordable car insurance in Indianapolis. For example, if you have a clean driving record with no tickets, accidents, or claims, you can receive a Good Driver Discount. Teen drivers who maintain a "B" average or higher in high school also may be eligible for a Good Student Discount. Indiana does not allow insurance companies to offer discounts for customer loyalty.
Other discounts that could be available to Indianapolis residents include:
Vehicle Safety Discount – You could be eligible for a discount if your car has certain vehicle safety equipment, such as anti-lock brakes, airbags, and anti-theft devices.
Bundling Discount – Many insurance companies offer discounts when you purchase multiple policies with them, such as your car and homeowners' insurance.
Defensive Driver Discount – Drivers may qualify for a discount on their car insurance if they complete a defensive driving course.
Continuously Insured Discounts – You can save up to 25% if you have been insured for six months or more.
Military Discount – Have you or are you serving in the Armed Forces?
Full premium payment up front.
What Are the Penalties for Driving Without Insurance in Indianapolis?
The penalties for driving without insurance in Indianapolis can be harsh. All drivers in the state must be able to show a certificate of compliance (COC), which your insurance company will file electronically with the Indiana Bureau of Motor Vehicles (BMV). If you are involved in an auto accident or receive a traffic violation, the BMV will verify that they have proof you have the required minimum liability insurance.
If you are caught without the required car insurance in Indianapolis, you could have your driver's license suspended and be forced to pay up to $1,000 in fees to reinstate it. You'll also be required to hold an SR-22 insurance certificate for three to five years.
Get a Quote for Cheap Car Insurance in Indianapolis Today!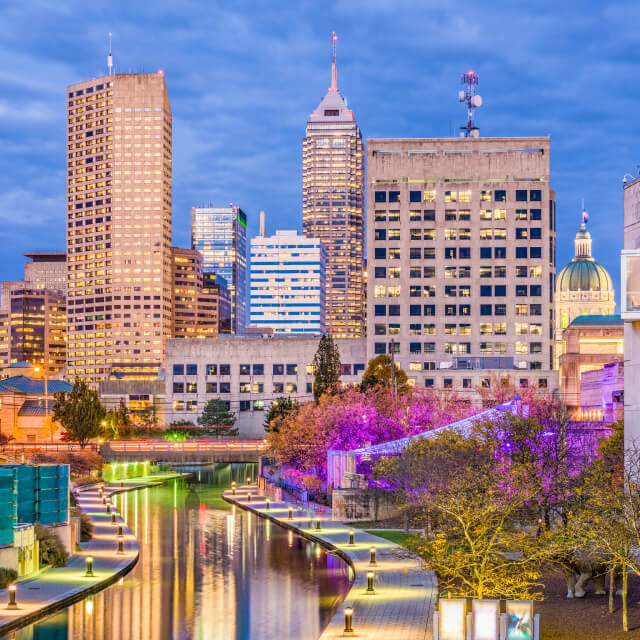 With the lower cost of car insurance premiums in Indianapolis, it's a good idea to make sure you at least have the minimum liability coverage required by the state of Indiana.
Get started with a quote online, visit us at an Indianapolis office near you, or call us at (800) 777-5620 for a quote.
Select a Product or Service to request a quote
Ready to Get a Quick Quote?