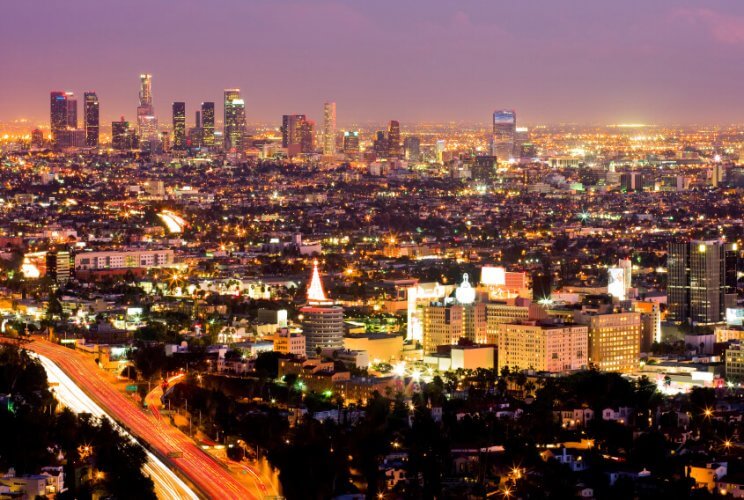 Los Angeles–the name conjures up a collage of images – a free n' easy lifestyle, movie stars holding court poolside at a swanky Beverly Hills hotel, paparazzi following celebrities like bloodhounds, and of course, New Year's Day weather that leaves East coast residents wishing for an invite to the Pasadena Rose Bowl game. This mecca for entrepreneurs is also home to almost 200,000 small businesses, which is twice as many small businesses that can be found in any other region of the United States.
Los Angeles has the dubious distinction as "the car-chase capital of the world" – a good reason to keep your car insurance up to date.
After New York City, it's also the second most populous city in the country; the economy of the surrounding county is larger than that of forty-six of the fifty states. That goes hand-in-hand with the vibrant lifestyle, as there's always something to do in this city that's in constant motion. If you're feeling energetic, you're near the beach for some serious surfing in the morning and can still hit the mountains for snowboarding in the afternoon. Just make sure you've got medical insurance in case you get too up close and personal with nature.
From horses to cars, Los Angeles is seriously obsessed with horsepower – whether it runs on four legs or four tires. For some high-stepping horse racing, check out the 30th   running of the Breeders' Cup World Championships at Santa Anita Park on Nov 1 & 2.
If you're into machines, visit the Petersen Automotive Museum on Wilshire Boulevard, The 300,000 square foot museum houses an impressive collection of more than 300 cars, trucks, motorcycles and other powered vehicles from all eras.  Hope they have a multi-car discount on their car insurance policy! It's interesting to note that Wilshire was also home to various "firsts" including dedicated left-turn lanes and the first timed traffic lights in the United States. These innovations have undoubtedly contributed towards safer driving and cheaper car insurance rates. (HYPERLINK)
For something different to do at night, take in an outdoor concert under the stars at the world-famous Hollywood Bowl. Awarded Pollstar magazine's Best Major Outdoor Venue eight years in a row, the Hollywood Bowl is the largest natural outdoor amphitheater in the United States.
For all our Los Angeles-based readers, we want to hear your thoughts about your city! Feel free to chime in and share with us in the comment sections below.
Ready to Get a Quick Quote?