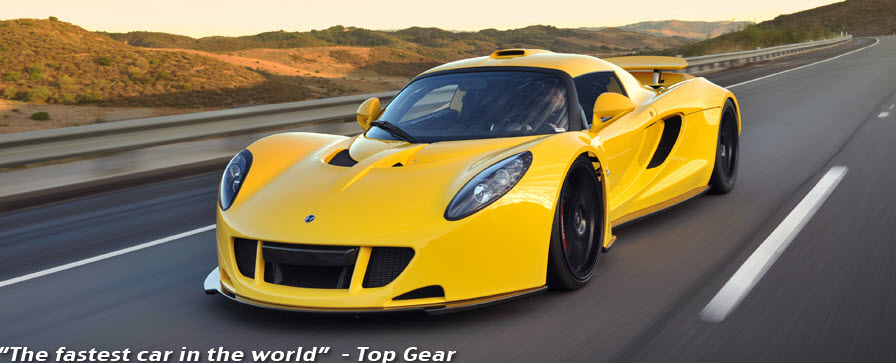 Move over, Bugatti, there's a new king of speed in town. This past Valentine's Day, the Hennessey Venom GT set a new world speed record for two-seater sports cars by reaching a road-eating top speed of 270.49 mph. The previous record, held by the Bugatti Veyron Super Sport, was clocked at 267.80 mph. Spoiler alert: If you have to ask about this car's car insurance rates, you probably couldn't afford it.
Conducted at NASA's Kennedy Space Center in Florida, the Texas-based supercar rocketed down the Center's 3.2-mile Space Shuttle landing runway, shattering the previous record, even faster than the space shuttle's touchdown speed (225 mph).
With a heart-pounding 1,244 horsepower engine under the hood, racing driver/test engineer Brian Smith pushed the outer limits of speed, and was still accelerating when he ran out of road and had to hit the brakes.
Although, the Venom GT claims the title of "World's Fastest Production Car" for the U.S., it's not officially recognized by Guinness World Records. Guinness requires two runs "over a flying kilometer in opposite directions", then takes an average of the two speeds. Unfortunately, there isn't enough roadway at Kennedy to meet these conditions, and NASA wasn't able to authorize a second run.
However, Guinness currently recognizes the Venom GT as the world's fastest accelerating car from 0-300 km/h – 186.4 mph — which it reaches in an amazing 13.86 seconds.
And, speed thrill seekers are already lined up to buy their own Venom GT – out of the initially scheduled 29-unit run, all but four have been sold.
The Venom GT at a glance
•    Base price – $1.2 million
•    Powered by a twin-turbocharged, V8 engine
•    1,244 horsepower
•    0-200 mph – 14.51 sec.
•    Each car is custom-ordered
•    Takes six months to build
Hennessey Performance owns and operates Lonestar Motorsports Park – a 1/4 mile dragstrip located on the grounds. The track and series of private roads are used to test and tune their vehicles as well as to give clients demonstration rides in a safe and legal environment. Lonestar is also open to the public 2 – 3 times per month and plays host to area enthusiast events and track-days.
While owning a Venom GT may be out of reach for more most of us, finding affordable car insurance is not.  Ask for a quote now and see how much you can save.
Have you ever driven an exotic car or plan to? Feel free to share your thoughts in the comments
Ready to Get a Quick Quote?