Sugar Land is one of the best places to move or even live within Texas. About 19 miles outside of Houston, this city provides its own cultural quirks and charms to help anyone fall in love with the area. Once a major sugar plantation, this town is fittingly now the headquarters for Imperial Sugar!
There is plenty to drive and see around Sugar Land, but to do so, you need the right car insurance. On top of that, you need to know how safe or how dangerous a simple drive through the city can be.
Our guide will walk you through these key facts so that your visit to Sugar Land goes off without a hitch!
Quick Facts
The average cost of car insurance in Sugar Land is $1,398
It is a very safe city, with only two traffic-related fatalities in 2015
How Much Does Car Insurance Cost in Sugar Land?
Texas is a very big state. As you might expect, the cost of your Texas Car Insurance can vary quite a bit from city to city. In Sugar Land, you can expect to pay an average car insurance cost of $1,398. This is actually cheaper than the average cost of car insurance in many Texas cities, including nearby Houston, Texas.
| City | Average cost of full-coverage car insurance |
| --- | --- |
| Houston | $2,146 |
| San Antonio | $1,837 |
| Dallas | $2,093 |
| Austin | $1,796 |
| Fort Worth | $1,856 |
Remember, your zip code may be one of the primary factors for the cost of your car insurance. If you are in an area that has a lot of accidents, a high crime rate, or simply has a large number of people filing claims, your car insurance costs may be higher.
Sugar Land Car Insurance Rates by Zip Code
Sugar Land, Texas, only has five zip codes. The lowest you can expect to pay in terms of insurance premium is $1088, while the highest you can expect to pay is $1671. Generally speaking, you can expect to pay more for car insurance in the 77479 zip code, which has a population of 74,514. Prices are a bit cheaper in 77498, with a population density of 49,906. And prices are lowest in 77478, where the population is 24,739.
| ZIP | Average cost |
| --- | --- |
| 77479 | $1671 |
| 77498 | $1398 |
| 77478 | $1088 |
Sugar Land Car Insurance Rates by Age
Age is one of the primary factors when it comes to car insurance costs. Teenagers are typically more expensive to insure, and prices start leveling out as you get older. Below, we have average car insurance rates by age in the Sugar Land area.
| Age group | Average cost |
| --- | --- |
| Teens | $238.22 |
| 20s | $148.68 |
| 30s | $106.88 |
| 40s | $91.23 |
| 50s | $87.72 |
| 60s | $82.33 |
| 70+ | $99.63 |
Driving Conditions in Sugar Land
How Many Fatal Accidents Happen in Sugar Land?
Relatively speaking, there are very few fatal car accidents in Sugar Land each year. While there are a fair number of non-fatal accidents (1,820 accidents in 2015), most do not result in death. In 2016, only two accidents were fatal.
How Are the Road Infrastructure and Bridges in Sugar Land?
In Sugar Land, the city's engineers are steadily making improvements to the road infrastructure. This includes widening Highway 6 from six lanes to eight lanes, improving safety and mobility of roads, and safely removing trees that may be in the way of infrastructure improvements.
Sugar Land's infrastructure is arguably better than much of Texas. The American Society of Civil Engineers recently gave the Lone Star state a "C" on their 2021 report card. This shows the need to focus more on infrastructure efforts throughout the state.
Minimum Car Insurance Requirements in Sugar Land
Sugar Land shares the same minimum car insurance requirements as the rest of Texas. Incidentally, the state is considered a "fault" state, allowing you to receive damages and sue drivers who are at fault in a car accident.
Minimum car insurance requirements:
$30,000 for injury/death to one person
$60,000 for injury/death to more than one person
$25,000 for property damage
Factors Allowed in Sugar Land Car Insurance Rates
Many Texas drivers want to see how insurance companies calculate the cost of their premiums. And many more want to know if they can do anything to drive their monthly payment down. Below, we have a list of the different factors that insurance companies in Sugar Land use to determine how much you will pay:
Age
Zipcode
Education & occupation
Marital status
Credit score
Gender
Discounts for Car Insurance in Sugar Land
Neither Texas as a state nor Sugar Land as a city have their own unique discounts for car insurance. Instead, it is up to individual car insurance companies to offer discounts. Below, we have some common things you can do to receive a discount from your insurance company.
Good driver discounts
Customer loyalty discounts
Good student discounts
Safety features and anti-theft systems
What Are the Penalties for Driving Without Insurance in Sugar Land?
Relative to other states, Texas penalties for driving without insurance aren't that bad. But the penalties do get more severe over time.
For your first offense, you may be charged a fine of anywhere between $175 and $350. For the second offense, the penalty may range from $350 to $1000. Repeat offenses may also result in a license suspension and your car being impounded.
The real danger, though, is your legal liability for any damage that you cause while driving uninsured!
Get a Sugar Land Car Insurance Quote Today!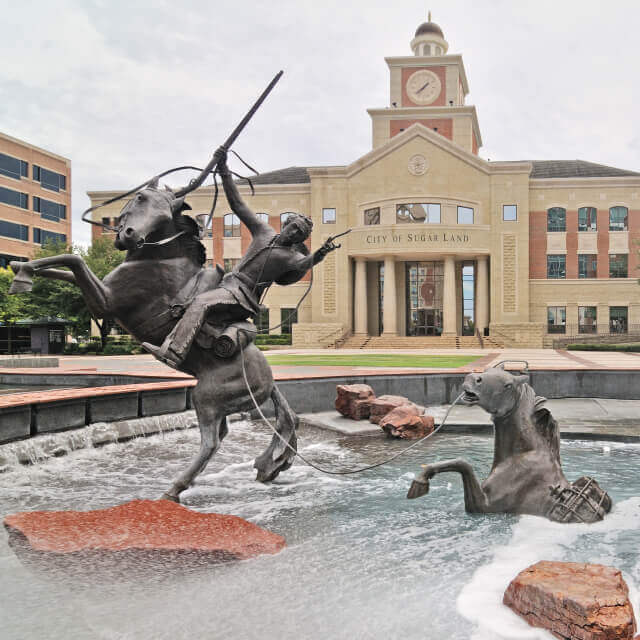 Now you know the important details about Sugar Land car insurance. On the other hand, what if you could get affordable rates tailored to your exact situation at the touch of a button?
We are happy to help you get started with a quote online. If you'd rather visit in person, you can always come to one of our local Sugar Land offices. Or if you'd rather just pick up the phone, you can always call us at (800) 777-5620 for a quote today!