The fifth-largest city in Texas, Fort Worth is located in the Mid-Cities region, just a few miles away from Dallas and Arlington. Nearly a million residents call this city — affectionately nicknamed Cowtown for being the center of Texas Longhorn cattle trades and ranching — home. Fort Worth's growing population means its streets and roads tend to get congested at peak traffic times. Auto insurance is essential for drivers in Fort Worth, as the area reports hundreds of vehicle accidents every year at particular intersections, including East Lancaster Avenue at Riverside Drive, the Airport Freeway along Texas 360 at Texas 183, McCart Avenue at Interstate 20, South Sargent Street and East Lancaster Avenue, and North Freeway (I-35W) at Meacham Boulevard. Despite being named one of the best U.S. cities for drivers in recent years, accidents can still happen on the roads of Fort Worth, making it important to have reliable car insurance coverage.
Get Low-Cost Texas Auto Insurance
Quick Facts
In 2021, Fort Worth's average annual car insurance premium for full coverage is $1,446 — that's nearly 2.2% more than the annual statewide average of $1,415.
Fort Worth reported 83 fatal crashes in 2019 that resulted in 99 fatalities. That's roughly 4.7% of all fatal crashes in Texas that year.
How Much Does Car Insurance Cost in Fort Worth?
You will pay an average of $1,446 for full coverage car insurance in the Fort Worth area. When compared with other major cities in Texas, Fort Worth drivers pay around $37 more than drivers in less populated cities and towns. Due to the amount of time drivers spend on the highways, consumer protection laws and Texas car insurance provide some of the best coverage in the U.S.
| City | Average Annual Premium |
| --- | --- |
| Fort Worth | $1,508 |
| Dallas | $1,680 |
| Fort Worth | $1,446 |
| Houston | $1,671 |
| San Antonio | $1,501 |
Your zip code and your age are two factors that insurers use to determine your car insurance rates. Statistics from the zip code area, which may include the average number of accidents, average income, population, and crime rates, are also typically considered. Because younger drivers have not had much time on the road, they are considered high risk and will typically pay more for coverage than more experienced drivers.
Fort Worth Car Insurance Rates by Zip Code
Fort Worth has 47 zip codes. Zip code 76137 has the highest average premium at $1,548, while 76135 is around $365 less, at $1,183.
Average rates are based on zip code statistics. While population density between the zip codes 76028 and 76179 are within range — with 774 and 890 people per square mile, respectively — other zip code statistics also play a significant role. For instance, the median home value in 76028 is roughly $9,082 higher than 76179, indicating that residents in the pricier zip code might buy more expensive vehicles, including luxury cars, which contribute to higher premiums.
The table below lists several zip codes in the Fort Worth area and the average insurance rates drivers will pay:
| Zip Code | Average Premium |
| --- | --- |
| 76102 | $1,337 |
| 76103 | $1,009 |
| 76104 | $1,348 |
| 76105 | $1,258 |
| 76111 | $1,111 |
| 76123 | $1,333 |
| 76137 | $1,550 |
| 76155 | $1,439 |
| 76164 | $1,367 |
Fort Worth Car Insurance Rates by Age
While marital status and gender can be factored in to determine a driver's insurance rate, this information generally has a minimal influence on premium costs. As mentioned earlier, zip code and age tend to play a larger role in calculating premium rates.
Younger drivers will pay more for car insurance until they have spent more time on the road and have gained experience. Once a young adult is in their 20s, insurance rates will begin to drop.
| Age | Average Annual Premium |
| --- | --- |
| Teenagers | $3,003 |
| 20s | $1,687 |
| 30s | $1,165 |
| 40s | $1,089 |
| 50s | $963 |
| 60s | $977 |
| 70s | $1,101 |
A driving record with no accidents or tickets will keep your rates low.
Driving Conditions in Fort Worth
How Many Fatal Accidents Happen in Fort Worth?
In 2019, Texas reported 1,764 fatal crashes that resulted in 1,867 deaths. Compared to the state, Fort Worth had a much lower number, with figures from the Texas Department of Transportation showing that this metropolitan area had a total of 83 fatal crashes resulting in 99 deaths that same year.
Of those crashes in the Fort Worth area, 10 were alcohol-related, with blood-alcohol levels above the legal limits. These DUI crashes resulted in 16 deaths. This is roughly 2.33% of the 428 crashes that occurred throughout Texas during 2019.
How Are the Road Infrastructure and Bridges in Fort Worth?
Fort Worth's highway and transportation network is served by several Interstate Highways, including I-20 and I-30, which both run east and west. Limited-access freeways include U.S. Highway 287 and State Highway 360. Fort Worth drivers can also access State Highway 161 (the George Bush Turnpike), which runs north and south and makes any commute in the Metroplex a roughly 30-minute drive.
As roads deteriorate, potholes form and repair work is needed. Similarly, bridges and guardrails age and surfaces wear down, also needing repair or replacement. The City of Fort Worth's Transportation & Public Works Department handles infrastructure repair and replacement work, overseeing 7,518 lane miles of city street surfaces, 883 traffic signals, and 66,000 street lights.
As of 2021, more than 7,000 bridges in the Fort Worth area have been found in need of repair, while an additional 1,250 bridges need to be replaced.
In 2021, the American Society of Civil Engineers (ASCE) released its report card for infrastructures across the U.S. and gave Texas an overall grade of C. While the ASCE gave the state's bridges and public transit a B-, the organization gave Texas' highways and roads a D+ for not properly distributing the funds and resources generated by the state's gas tax to keep up with the state's projected growth.
Minimum Car Insurance Requirements in Fort Worth
In terms of minimum coverage requirements, Texas is an at-fault state, though its insurance requirements make it more of a "comparative fault" state. In Texas, each driver has to take financial responsibility for any crash in which they are more than 50% at fault. For this reason, most Texas drivers carry liability insurance.
Texas Transportation Code §601.072 details the minimum amount of car insurance drivers must carry in the state, which is 30/60/25. That means car insurance coverage must provide:
$30,000 for bodily injury to or death of one person in one accident;
$60,000 for bodily injury to or death of two or more persons in one accident, and
$25,000 for damage to or destruction of property of others in one accident.
Factors Allowed in Fort Worth Car Insurance Rates
Across the country, there are criteria insurers use to determine your car insurance rates. In Fort Worth, Texas, the criteria used are:
Age
Gender
Marital status
Credit score
Driving record
Level of coverage
Discounts for Car Insurance in Fort Worth
If you're a Fort Worth driver looking to save money, you might want to take advantage of discounts available through your auto insurance carrier. These might include:
Good driver discount
Multi-car discount
Anti-theft discount
Student discount
Military discount
Multi-policy discount
Mature, retired, or senior discount
What Are the Penalties for Driving Without Insurance in Fort Worth?
Auto insurance is not an option in the state of Texas — it's mandatory. Drivers must carry the minimum amount of coverage or pay penalties, especially those found driving without coverage. First offense uninsured drivers can expect to pay fines between $175 and $350. That amount rises sharply if you're caught driving without insurance again. Fines for second offenders within three years of an initial offense will cost between $350 and $1,000. A repeat offender also risks having their license revoked and their vehicle impounded.
Get a Quote for Car Insurance in Fort Worth Today!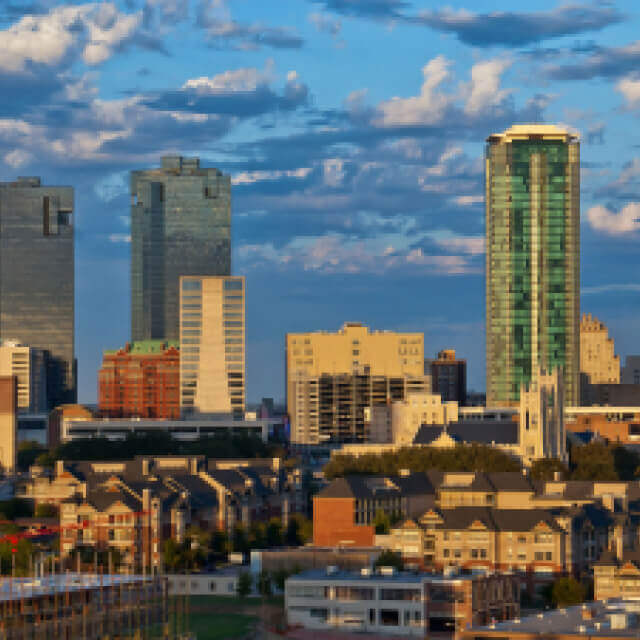 Insurance is more than just a legal requirement. It's an inexpensive way to protect yourself from the tremendous risks of daily driving in Fort Worth. Don't let yourself be bogged down with substantial medical expenses and car repair bills that often result from collisions. Get started with a quote online, visit us at a Fort Worth office near you, or call us at (800) 777-5620 for a quote.