With a name that literally means "the pass," El Paso serves as a kind of crossroads between two U.S. states and the Mexican border. More than 681,700 Texans live in this historic border city, which is located on the Rio Grande. Every year, thousands of vehicles make their way through El Paso, and this has caused congestion worries. Auto insurance is essential for drivers in El Paso, as sitting in traffic delays for several hours can increase the likelihood of accidents occurring. In recent years, two El Paso roads — specifically, the stretch of I-10 that runs from North Mesa Street to U.S. 54 and the stretch of North Mesa Street from Executive Center Boulevard to Texas Avenue — have ranked among the top congested roadways in the state of Texas. Spending several hours sitting in traffic delays is pretty common in El Paso.
Get Low-Cost Texas Auto Insurance
El Paso's average annual car insurance premium in 2021 for full coverage is $1,442 — that's almost 1.9% more than the annual statewide average of $1,415.
In 2019, El Paso reported 65 fatal crashes that caused 67 fatalities. That's roughly 3.7% of all fatal crashes in Texas that year.
How Much Does Car Insurance Cost in El Paso?
Anyone living in El Paso, Texas, who's seeking full coverage car insurance should expect to pay an annual premium of around $1,442. Drivers in El Paso pay much less for car insurance than drivers in other Texas cities. Compared to drivers living in Dallas, for example, El Paso drivers save around $238 per year on their auto policies. In recent years, consumer protection laws have paved the way for Texas car insurance to include the best coverage options available in the U.S.
| City | Average Annual Premium |
| --- | --- |
| El Paso | $1,442 |
| Dallas | $1,680 |
| Fort Worth | $1,446 |
| Houston | $1,671 |
| San Antonio | $1,501 |
Two factors generally determine how much you'll pay for car insurance: your zip code and your age. When insurers calculate premiums, they look at where you live to determine how much traffic your neighborhood experiences, how many people are living there, how much they typically earn, and whether the area's affected by crime. All of these factors influence how much you'll pay.
How old you are also influences how much you'll pay. Insurers assume older drivers have much more experience behind the wheel than younger ones. That's why older drivers typically pay much less for car insurance than younger drivers do.
El Paso Car Insurance Rates by Zip Code
There are 37 zip codes in the El Paso area. While rates generally average around $2,550 across various El Paso zip codes, drivers living in heavily-traversed areas, particularly near I-10, may have to pay a little more for car insurance coverage. El Paso drivers living in zip code 79901, which covers the Downtown El Paso, El Centro, and Magoffin areas, and zip code 79936, which includes the neighborhoods of Rancho del Sol and Quail Run, have this interstate cutting through the area, boosting not just the volume of traffic these areas see but also car insurance rates for drivers living here anywhere between $30 and $80.
The table below lists several zip codes in the El Paso area, along with the average insurance rates these drivers are expected to pay.
| ZIP Code | Average Premium |
| --- | --- |
| 79901 | $2,583 |
| 79912 | $2,564 |
| 79907 | $2,571 |
| 79934 | $2,552 |
| 79930 | $2,663 |
| 79905 | $2,606 |
| 79922 | $2,520 |
| 79936 | $2,634 |
| 79934 | $2,552 |
El Paso Car Insurance Rates by Age
While some insurers might take marital status and gender into account when they're calculating how much you'll have to pay for car insurance, where you live and how old you are are the two most important factors they consider.
How much experience you have behind the wheel counts a lot, too. It's the reason why young drivers typically pay higher rates — they lack the know-how that older, more experienced drivers have on the road. Drivers can expect their rates to drop considerably as they age and gain driving experience.
Here are the annual average rates El Paso drivers pay based on age.
| Age | Average Annual Premium |
| --- | --- |
| Teenagers | $3,538 |
| 20s | $1,861 |
| 30s | $1,418 |
| 40s | $1,379 |
| 50s | $1,246 |
| 60s | $1,280 |
| 70s | $1,549 |
How well you drive is another important factor insurers consider. Someone with a clean driving record and no accidents or tickets during the past three to five years will pay lower rates than someone in a crash or ticketed a time or two during that time.
Driving Conditions in El Paso
How Many Fatal Accidents Happen in El Paso?
In 2019, Texas reported 1,764 fatal crashes that resulted in 1,867 deaths. Compared to state statistics, El Paso had a much lower number, with figures from the Texas Department of Transportation showing that the city reported a total of 65 fatal crashes resulting in 67 deaths that year.
Of those 2019 fatal crashes in the El Paso area, 17 were alcohol-related, with blood-alcohol levels well above the legal limits. These DUI-related crashes resulted in 18 deaths. That's roughly 3.97% of the 428 crashes that occurred throughout the state of Texas in 2019.
How Are the Road Infrastructure and Bridges in El Paso?
El Paso's highway and transportation network is served by two Interstate Highways, I-10, which runs east to west, and I-110, which runs north to south. San Antonio drivers also have access to several other roadways, like U.S. Highway 54, which leads to Alamogordo, New Mexico, as well as U.S. Highway 62, U.S. Highway 85, or U.S. Highway 180, which all lead to cities and towns in Mexico.
The El Paso County Public Works Department maintains and repairs the area's infrastructure and roadway system. Its transportation program carries out several county-wide projects that aim to reduce congestion, improve air quality, and provide residents greater mobility and quality of life.
In 2021, the American Society of Civil Engineers (ASCE) gave Texas an overall grade of C for its infrastructure. While the organization gave the state's bridges and public transit a B-, it gave Texas' highways and roads a D+ for not properly distributing the funds and resources generated by the state's gas tax to keep up with projected growth.
Minimum Car Insurance Requirements in El Paso
Even though Texas is an at-fault state, its insurance requirements make it more of a "comparative fault" state. In Texas, every driver must assume financial responsibility for any crash in which they are more than 50% at fault. That's why Texas drivers carry liability insurance.
Texas Transportation Code §601.072 details the minimum amount of car insurance that drivers must carry in the state, which is 30/60/25. That means car insurance coverage must provide:
$30,000 for bodily injury to or death of one person in one accident;
$60,000 for bodily injury to or death of two or more persons in one accident, and
$25,000 for damage to or destruction of property of others in one accident.
Liability insurance compensates for personal injury that you cause in a crash as well as property damage. Comprehensive or collision insurance does not meet vehicle financial responsibility requirements.
Factors Allowed in El Paso Car Insurance Rates
Insurers across the U.S. use specific criteria to calculate their car insurance rates. In El Paso, Texas, the criteria typically used include:
Age
Gender
Marital status
Credit score
Driving record
Level of coverage
Discounts for Car Insurance in El Paso
Insurance companies typically extend discounts to their policyholders. If you're an El Paso driver looking to save money, you might want to consider looking into these offers, like a:
Good driver discount
Multi-car discount
Anti-theft discount
Student discount
Military discount
Multi-policy discount
Mature, retired, or senior discount
What Are the Penalties for Driving Without Insurance in El Paso?
In Texas, auto insurance is mandatory. All drivers must carry the minimum amount of coverage or pay hefty penalties. The first time you're caught driving without insurance coverage, you can expect to pay fines between $175 and $350. That'll grow somewhere between $350 to $1,000 if you're caught driving without insurance a second time within three years of the initial offense. Repeat offenders also risk having their licenses revoked and their vehicles impounded. As they say: Don't mess with Texas.
Get a Quote for Car Insurance in El Paso Today!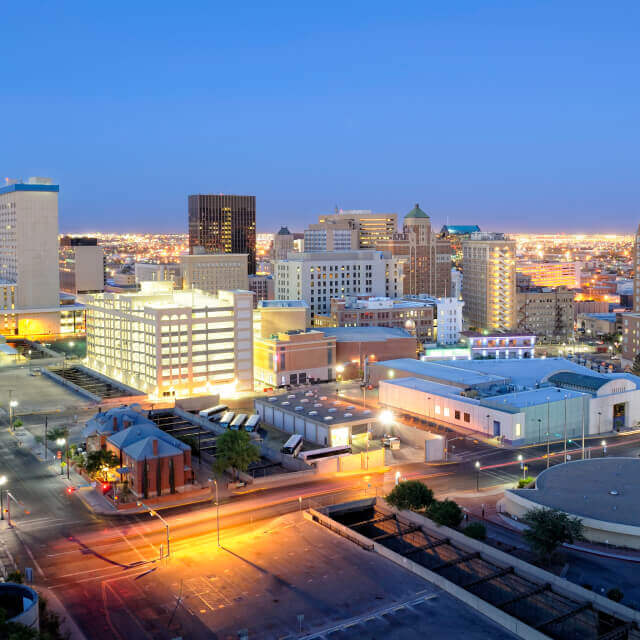 When you're on the roads of El Paso, the right insurance coverage will keep you protected against all sorts of risks. That peace of mind goes a long way, and it all starts with a quote from us. Get your rate online or by giving us a call at (800) 777-5620. You can also visit us at an El Paso office near you.