Dallas is the bustling commercial capital of Texas and ranked 308th most congested city in the world. It fares better in traffic congestion than many other cities worldwide. Dallas reported in 2019 that drivers lost 96 hours waiting in rush hour traffic, 4 days. That's just enough time to walk from Dallas to San Antonio. But even walking, if you are a pedestrian injured in a car accident, the driver's liability auto insurance will cover your personal injuries.
Get Low-Cost Texas Auto Insurance
Quick Facts
Dallas's average annual car insurance premium is $1,359.
Dallas's traffic fatalities were lower than the state average at 12.99 deaths per 100,000 people.
How Much Does Car Insurance Cost in Dallas?
Full coverage car insurance premiums cost an average of $1359 in the Dallas area. With Texas having more highways and streets than other states across the U.S., it's good practice to protect yourself and other drivers with solid insurance coverage. Coverage rates in Dallas are similar to other metropolitan areas in the state.
| City | Average Annual Premium |
| --- | --- |
| Houston | $1,454 |
| Dallas | $1,359 |
| San Antonio | $1,249 |
| Austin | $1,188 |
| Fort Worth | $1,137 |
| El Paso | $1,020 |
Two criteria that will determine your insurance rate are your age and the zip code of the city or town in which you live. Insurance premium calculations are based on features of your zip code or area statistics. These may include your city or town's population, the average income, crime rates, the average number of accidents, and possibly common automobiles owned in the area.
Dallas Car Insurance Rates by Zip Code
Your location in Dallas is an indicator of how much you'll pay for your car insurance. Zip code 75216, the Cedar Crest area, has the highest average premiums at $1,543, while 75287 has the lowest premium at $1,309.
Car insurance is mandatory in Texas. Below is a variety of zip codes in Dallas and the average car insurance premium rate:
| ZIP Code | Average Premium |
| --- | --- |
| 75052 | $1,561 |
| 75067 | $1,422 |
| 75287 | $1,309 |
| 75243 | $1,454 |
| 75228 | $1,454 |
| 75056 | $1,310 |
| 76116 | $1,209 |
| 76179 | $1,201 |
| 75043 | $1,386 |
Dallas Car Insurance Rates by Age
Age plays a significant part in how much car insurance will cost. Younger drivers are considered higher risk drivers because of their inexperience on the roads, so their policies may cost more.
Below are the average car insurance premium rate for age groups:
| Age | Average Annual Premium |
| --- | --- |
| Teens | $4,281 |
| 20s | $2,182 |
| 30s | $1,654 |
| 40s | $1,611 |
| 50s | $1,460 |
| 60s | $1,511 |
| 70s | $1,861 |
If you'd like to see your car insurance rates go down in costs, change your driving habits. Maintaining a good, clean driving record without accidents or tickets is the goal.
Driving Conditions in Dallas
How Many Fatal Accidents Happen in Dallas?
2019 Texas statistics show that there were 1.26 fatalities per 100,000 people. Dallas accident numbers were higher than the rest of the metropolitan areas, except for Houston. There were nearly 37,000 accidents in Dallas or 12.99 deaths per 100,000 people.
Many of these deaths might have been avoided. The 2019 statistics for Dallas list 185 total traffic deaths, with just over 23% of these fatalities (43) due to drivers having blood-alcohol levels beyond the legal limits. Fatal accident numbers for Dallas due to individuals disregarding the seatbelt law were not available; however, Texas recorded 42.42% statewide.
How Are the Road Infrastructure and Bridges in Dallas?
Within the Dallas city limits, the Dallas Department of Public Works is responsible for road infrastructures. This department is responsible for resurfacing worn-down roads, clearing overgrowth, maintaining bridges and guardrails, and taking care of repairs for traffic lights and street lamps. They also send out teams to fill potholes or place signage.
In their 2021 report, The American Society of Civil Engineers (ASCE) released a report card for America's overall infrastructure. Texas received a mediocre overall grade of C, with roads in even poorer condition, receiving a D+. Bridges received a B-. Dallas is growing, and so is the increase in traffic congestion, as well as wear and tear on the roads.
The ASCE, despite the Dallas ratings, is quick to note that the roads do not reflect a thoroughness on the part of local agencies and their maintenance of the roads and highways infrastructures. With Texas being one of the most populated states, wear and tear is expected. Ratings like these assist local agencies in focusing their efforts to where they are most needed, especially when there are limited resources.
Minimum Car Insurance Requirements in Dallas
$30,000 for each injured person
$60,000 for injuries per incident
$25,000 for property damage
Factors Allowed in Dallas Car Insurance Rates
Education & occupation
Age
Marital status
Zip code
Credit score
Gender
Driving record
Discounts for Car Insurance in Dallas
Discounts can help Dallas drivers save money on their auto insurance. Some of the possible discounts available to drivers include the following:
Military discount
Multi-policy discount
Multi-car discount
Good driver discount
Anti-theft discount
Student discount
Mature, retired, or senior discount
What Are the Penalties for Driving Without Insurance in Dallas?
Car insurance is a requirement in the state of Texas. If you are uninsured or found driving without insurance, the first offense will cost you upwards of $175-$350. Dallas drivers who are caught driving uninsured a second time will be fined $350-1,000, with a possible suspension of their driver's license. Your vehicle may also be subject to impoundment.
Get a Quote for Car Insurance in Dallas Today!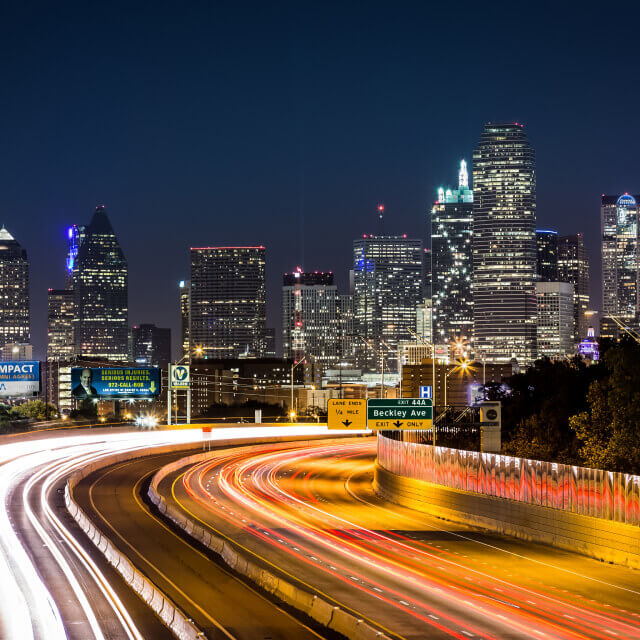 It's more than just a legal requirement. Insurance is an inexpensive way to protect yourself from the tremendous risks of daily driving in Dallas. Don't let yourself be lassoed with considerable medical expenses and car repair bills that often result from collisions. Get started with a quote online, visit us at a Dallas office near you, or call us at (800) 777-5620 for a quote.