Undocumented immigrants in Nevada can drive legally with a driver authorization card (DAC), which can be issued without the same requirements for identification as a driver's license. This is due to Senate Bill 303, which became Nevada state law in 2014.
A driver authorization card looks very similar to a Nevada driver's license, but there are differences. There are also some restrictions on how immigrants can use a DAC. Additionally, there are some reassurances on someone's status when applying for a DAC.
The Difference Between a Driver Authorization Card and a Driver's License in Nevada
A DAC looks very much like a driver's license but there are some differences. Unlike a driver's license – and now, the Real ID – a DAC cannot be used for boarding an aircraft, voting or to apply for state benefits.
Who Needs a DAC and Who Can Get a Driver's License?
What type of license you qualify for is determined by your legal status as an illegal immigrant or non-citizen resident.
Non-citizen: In the United States, a non-citizen national does not have citizenship, but can receive U.S.-issued immigration documents that enable them to receive a regular driver's license and ID cards.
Illegal immigrant: Someone who has entered a foreign country without following the governmental rules to establish a right to be in that country legally. Those who are in questionable immigration status may not take advantage of the benefits offered to legal citizens, such as a driver's license and an automatic voter registration.
Documented immigrant: A documented immigrant is a non-citizen status and people with this residency status can get a regular driver's license.
Foreign citizen: If you are legally visiting Nevada from another country and have a license from that country, you can legally drive in Nevada.
Can I Get Car Insurance with a DAC in Nevada?
Yes. You can use your DAC to purchase auto coverage, which is required by law in order to drive in Nevada – or anywhere in the United States. Almost all insurance companies require a driver's license for someone trying to purchase car insurance. States that will not issue a driving privilege card or DAC to illegal aliens face a dangerous level of uninsured motorists on the roads. Drivers without insurance are a big problem, especially when they cause an accident.
States, such as Nevada, that issue a DAC help to lower the number of uninsured drivers on the roads. Undocumented drivers still need to go to work and pick their children up from school. Other states that allow undocumented residents to earn some form of a driver's license include:
California
Colorado
Connecticut
Delaware
Hawaii
Illinois
Maryland
Massachusetts
Minnesota
New Jersey
New Mexico
New York
Oregon
Rhode Island
Utah
Vermont
Virginia
Washington
District of Columbia
Many non-citizens are scared that the Department of Motor Vehicles (DMV) will turn them into ICE or the feds if they apply for a driver's license or DAC, but that is not true.
Will the DMV Give My Information to ICE?
No. According to Nevada laws, it is illegal for anyone at the DMV to provide your personal information to Immigration and Customs Enforcement (ICE) or anyone else for that matter. It's not a new law, but that may not mean much to someone who is terrified of being deported. However, it's more important to get a DAC or a driver's license than to be caught driving without one.
Anybody caught driving without some form of a driver's license or a DAC in Nevada can be arrested, fined and possibly even face jail time. Anytime an illegal alien gets in trouble with law enforcement, ICE or the feds may become involved. You won't get turned in to ICE to apply for and receive a DAC, but you could if you drive without one.
If you get caught driving without insurance in Nevada, you could face fines and be subject to paying even more for your insurance. You may be required to file an SR-22 certificate, which can double or even triple your insurance rates.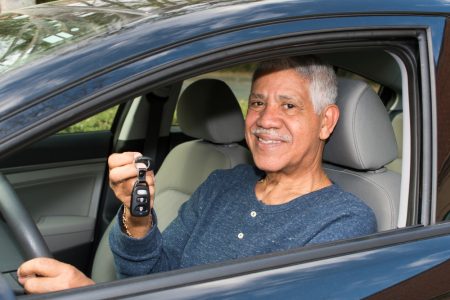 How Much Does It Cost to Get a DAC in Nevada?
The cost to obtain a DAC is $22.25. There is also a $25 fee for any testing that may be required.
What is the Process for Getting a DAC in Nevada?
Applicants are required to file for a DAC in person at a DMV office. Offices are located in Las Vegas, Reno, Carson City and Henderson and you'll need to make an appointment.
You'll be required to present proof of identity, proof of Nevada residency and translations of any non-English documents with your application. Documents must be originals, not photocopies. You can go here to see a full list of items you can use to prove your identity, residency and how to translate documents into English. Some documents you can use include:
2

Translations of any documents not in English

3

Proof of Residency Status
Proof of Identity
Applicants may provide any of the documents required for a standard license,
OR one of the following documents:
A Military Identification Card
A Military Dependent Identification Card
A DD Form 214 – "Certificate of Release or Discharge from Active Duty"
U.S. Certificate of Degree of Indian Blood OR two of the following documents:
A driver's license or identification card issued by another state, the District of Columbia, or any territory of the United States
A driver authorization card issued by another state, the District of Columbia, or any other territory of the United States
A passport issued by a foreign government
A birth certificate issued by a foreign government
A consular identification card
Any document issued by a foreign government that the Department determines is substantially similar to a consular identification card
For a complete list of the current requirements, please see Residency and Proof of Identity. All documents must be originals. The Nevada DMV does not accept photocopies. Documents with an expiration date must be valid and unexpired.
Procedures for New Drivers Aged 18 and Older
If you are someone who has never had a driver's license in the states before and you are at least 18 years of age, you'll need to provide proof of identity in an application process and take three tests: vision, knowledge and skills.
After passing the vision and written test, you can choose to receive an Instruction Permit or to take a driving test. If you choose to get an Instruction Permit, you'll need to have someone in the front seat at all times who has possessed a license for at least one year and is at least 21 years old.
If you feel you have the ability to pass a skills test, you can schedule one.
Procedures for Teen Drivers (Ages 16 and 17)
In Nevada, anyone under 18 applying for any type of license to drive, must first prove they are attending school under Nevada's attendance requirements. Teen drivers must also complete a classroom driver education course, consisting of course hours and behind-the-wheel experience. Teens can receive an instruction (learner's) permit after presenting the proper identifying documents.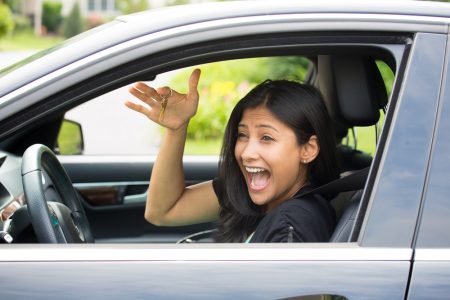 Can I Use a DAC as a License to Drive a Commercial Vehicle?
No. Since many of the rules governing commercial drivers fall under commercial licensing laws, you must have a Real ID or a regular license to receive a commercial license.
Driving in Another State with a Nevada DAC
Once you receive a Driver's Authorization Card from one state, you should be able to drive across the state lines into another state. However, since laws vary greatly from state to state, you should check with the Department of Motor Vehicles of the state you are planning to visit.
Find Affordable Auto Insurance Online Today
Once you've received your DAC or your regular driver's license, Freeway Insurance can help you find the cheapest insurance to fit your needs. It's simple to get started. You can get a quick and free online quote for auto insurance, give us a call at (800) 777-5620 or stop by one of our locations!